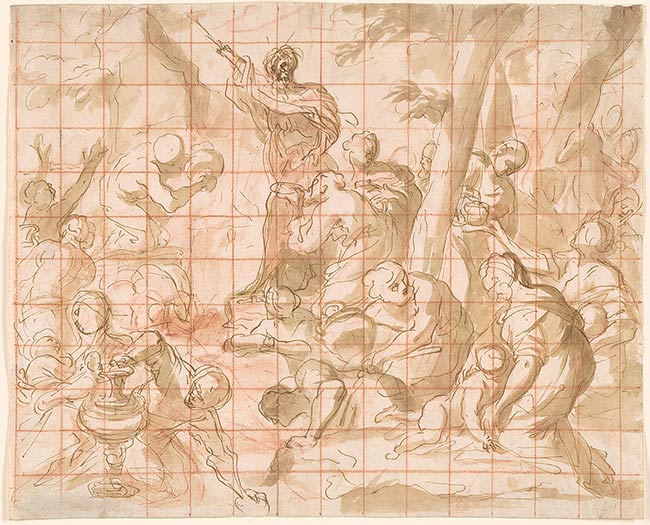 Pen and brown ink, with brown wash, over red chalk, on paper; squared for transfer in red chalk.
11 9/16 x 14 3/16 inches (293 x 360 mm)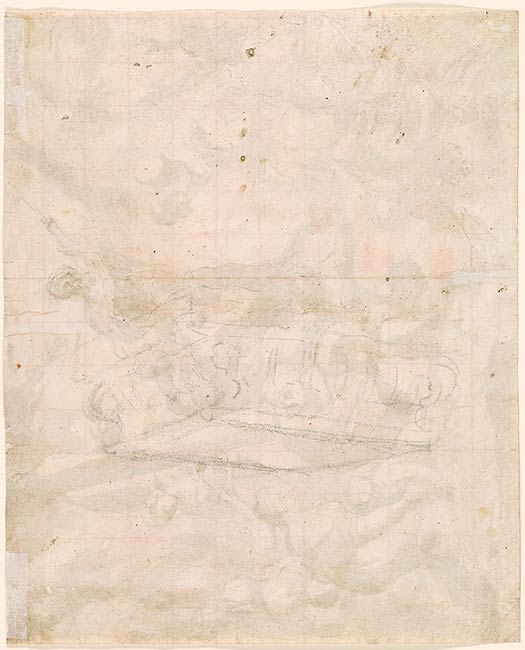 Provenance:
Giovanni Piancastelli, Rome (see Lugt S. 2078a); Edward and Mary Brandegee, Boston (see Lugt S. 1860c); János Scholz, New York (see Lugt S. 2933b).
Bibliography:
Italian Baroque Drawings from the János Scholz Collection. Columbia, S.C. : Columbia Museum of Art, 1961, no. 62.
Notes:
This drawing has been generally identified as Moses striking the Rock, but it might very well represent The Gathering of Manna.
The attribution has wavered between Molinari and Pellegrini, but the name of Pellegrini is preferred by George Knox and is well substantiated by a comparison with the two paintings at Serpoukoff - Knox, Antonio Pellegrini, Oxford 1995, 15 [14-16] - which he suggests were decorations for the staircase of the Scuola Grande della Misericordia in Venice, dated 1698-1700, and which represent these two subjects. GK also noted the former existence of a large lost ceiling by Pellegrini, The Gathering of Manna, painted for the Cappuccine di Castello at an unknown date, and celebrated by Zanetti, Cochin and Pilkington.
This is evidently not a study for a ceiling, but the squaring indicates that it was very large, probably 15' x 16', with life-sized figures. This immediately invites a comparison with equally vast Moses and the Brazen Serpent of San Moisé (Knoz 1996 [39]). It is possible that this subject was explored as an early possibility for San Moisé. The isolated figure of Moses in both designs is very striking.
Finally the drawing must be considered in association with the drawing, Moses striking the Rock, in Milan, Castello Sforzesco (Mercedes Precerutti-Garberi, Disegni del Settecento, Milan 1969 [2], as Pellegrini; Knox in Antonio Pellegrini, Padua 1998 [p. 98] as Pellegrini, though miserably reproduced). This again harks back to the Serpoukoff design, and is close in style to the present drawing, though in ink rather than black chalk.--George Knox, September 2009
Associated names:
Piancastelli, Giovanni, 1845-1926, former owner.
Brandegee, Edward, former owner.
Brandegee, Mary, former owner.
Scholz, János, former owner.