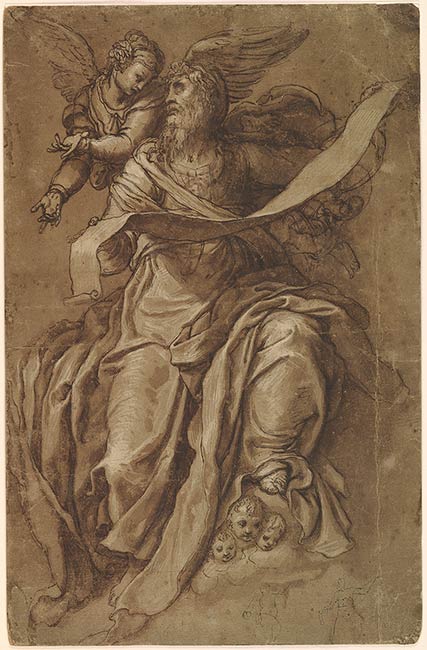 Saint Matthew, Seated, with Angel, and Two Small Sketches of a Figure Holding a Scroll
Pen and brown ink and wash, white opaque watercolor, on gray-brown paper; squared in red chalk; small sketches at lower right in pen and black ink. Losses at corners. Lined.
16 x 10 3/8 inches (405 x 264 mm)
Purchased as the gift of the Fellows.
Inscription:
Inscribed at lower right, in graphite, "Farinat[i]"; at lower center, in black chalk, "16"; on verso of lining, at lower center, in graphite, "Drawing by Old Master"; and on paper label pasted on verso of lining, in brown ink, "11".
Provenance:
Hugh N. Squire, London; P & D Colnaghi and Co., London.
Description:
One of the more able followers of Taddeo Zuccaro in Rome, Trometta remains a shadowy figure despite some documentary evidence of his artistic projects.1 A native of Pesaro, he is first documented in Rome in 1561, when he was employed on the decoration of the Casino of Pope Pius IV in the Vatican gardens. In 1562, he was one of the founding members of the artists' association that was to become the Academy of St. Luke. By 1565, when he was commissioned to paint a chapel in Santa Maria della Consolazione, Trometta had established himself as an independent master. That same year, the Franciscan friars of the church of Santa Maria in Aracoeli commissioned him to paint the vault of the new choir of their church. It was to show scenes from the life of the Virgin, encompassing the legend of how the Tiburtine Sibyl revealed to Emperor Augustus a vision of the Virgin and Christ child standing on the altar of Heaven (ara coeli), supposedly at the site where the church was later built. The decorations were paid for by Flaminia Margani.2 Signed and dated 1568, the fresco decoration is considered Trometta's masterpiece; Giovanni Baglione offered the verdict that "this is the best work that he ever painted."3 It includes a central oval of the Virgin and Child with Angels in Glory set between large rectangular compartments depicting Augustus and the Sibyl and Augustus Sacrificing at the Altar, and smaller rectangular frescoes of the Birth and Presentation of the Virgin. Four frescoes of the Evangelists fill the corners. The present drawing is a study for the fresco of St. Matthew, on the right at the end closer to the nave of the church, as was first noted by John Gere in 1963.
Gere published a series of studies by the artist that relate to the choir frescoes in Santa Maria in Aracoeli. Four of these, depicting Augustus Sacrificing at the Altar, the Virgin and Child with Angels in Glory, and two versions of the Presentation of the Virgin, are in the Graphische Sammlung, Munich.4 One, for a group of angels in the central oval, is in the Hessisches Landesmuseum, Darmstadt.5 Furthermore, a sheet of figure studies, including a woman holding a dish and jug, for the Birth of the Virgin was sold at auction in 1963 as in the collection of Rev. Richard Bagley, Cambridge, and a second study for the Presentation of the Virgin was with Giancarlo Baroni in Paris in 1963.6 A full compositional study of the Birth of the Virgin—unusual in that it is drawn in a spidery, hesitant line on pink washed paper, whereas all the other studies are on blue or cream paper— appeared at auction in 2002 as a study by Trometta for the fresco in Santa Maria in Aracoeli. Although fresco and drawing differ quite substantially from each other, individual figures and groups recur, supporting the attribution and connection.7 Lastly, a drawing sold at auction in London in July 2015 has also been tentatively associated with the Santa Maria in Aracoeli fresco by Marco Simone Bolzoni, a somewhat more tenuous connection since there is not a single figure that corresponds exactly.8
The large figure of the Evangelist in the Morgan drawing convincingly engages with the gesticulating angel by his side—his attribute—who has come up behind him in a flutter of billowing garments. The mass and volume of the main figure is conveyed by Trometta's characteristic firm, silhouetting line, aqueous washes applied in several layers, and generous white heightening brushed on in curved lines and wider patches. Two thumbnail sketches at lower right reveal the artist's early attempts to fix the pose of the figure.
—REP
Footnotes:
For an overview of Trometta's known biography, see Bernardetta Nicastro in DBI 1960–, 71 (2008), "Martinelli, Nicolò, detto il Trometta."
Heideman 2001, 501 and note 5. For the fresco decorations, see Frattarelli 1981, passim.
Baglione 1642, 126: "questa è l'opera migliore che egli mai colorisse."
Inv. 34856, 2606, 6651, and 41596 respectively; Gere 1963, 16, pls. 1, 2b, and 2a, and, for inv. 2606, see Munich 1977, 18.
Inv. 1397; Gere 1963, pl. 3.
Sotheby's, London, 12 March 1963, lot 122; see Gere 1963, 14, no. 3. The Paris drawing is Gere 1963, 18, no. 40.
Sotheby's, New York, 25 January 2002, lot 41, and again Christie's, New York, 29 January 2015, lot 6; published as autograph for the fresco by Bolzoni 2014, 78–79, fig. 4.
Christie's, London, 7 July 2015, lot 6; see Bolzoni 2014, 79, fi 5. For the fresco, see Bolzoni 2014, 93, fig 6.
Bibliography:
Rhoda Eitel-Porter and and John Marciari, Italian Renaissance Drawings at the Morgan Library & Museum, New York, 2019, no. 114.
Selected references: Gere 1963, 10, 17, no. 31, pl. 3; Fellows Report 13 1964, 91; New York 1965-66, 78-79, no. 143.
Frederick B. Adams, Jr. (ed.), Thirteenth Report to the Fellows of the Pierpont Morgan Library 1963 & 1964, New York, 1964, p. 91 (as Trometta).
Felice Stampfle and Jacob Bean, Drawings from New York collections. I: The Italian Renaissance, The Metropolitan Museum of Art and The Pierpont Morgan Library, New York, 1965, pp.78-79, no. 143.
J.A. Gere, "Drawings by Niccolò Martinelli, Il Trometta," Master Drawings 1, no. 4, Winter 1963, pp. 10, 17, no. 31, repr. (n.p.) pl. 4.
Frederick B. Adams, Jr., A review of acquisitions, 1949-1968 / Pierpont Morgan Library, New York, 1969, p. 155.
A review of acquisitions, 1949-1968 / Pierpont Morgan Library. New York : The Library, 1969, p. 155.
Notes:
Watermark: none visible through lining.
Study for the Vault Fresco of the Choir, S. Maria in Aracoeli, Rome.
Associated names:
Squire, Hugh N., former owner.