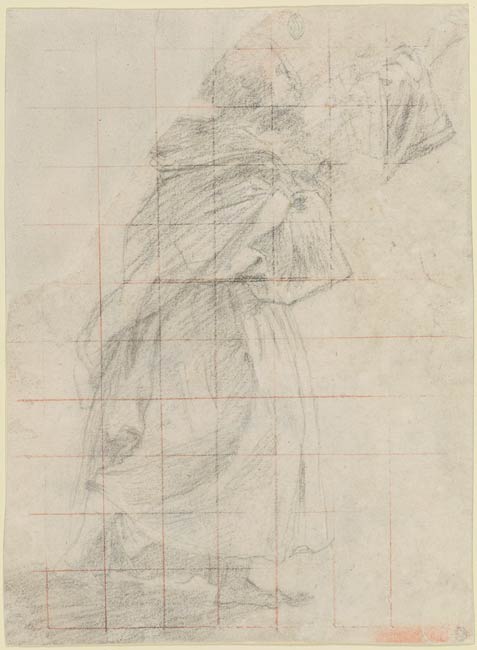 Draped Male Figure Facing Right and Looking Upward. Verso: Man's Head in Profile
Black chalk, squared in red chalk, on paper; verso: black chalk.
9 7/16 x 7 inches (240 x 177 mm)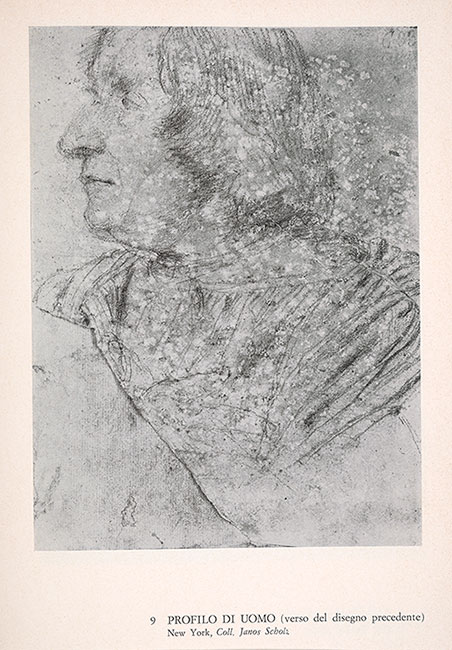 Provenance:
Giuseppe Vallardi (1784-1863; Lugt 1223 and Lugt S. 1223a), MIlan; Franz Kieslinger (1891-1955), Vienna; János Scholz, New York (1903-1993; no mark; see Lugt S. 2933b).
Description:
Born in Venice and evidently trained there, Lotto spent much of his career away from his native city, having moved to Treviso by 1503 and afterward working in Rome, the Marche, and Bergamo before returning to Venice in 1525. Like many of his Venetian contemporaries, among them Titian, Pordenone, and Palma Vecchio, Lotto seems to have made extensive use of drawing, but not in a regular, systematic pattern. Despite spending time in Rome and Lombardy, he was more like his Venetian contemporaries in his working practice. Moreover, as is also the case for most of his fellow Venetians, his drawings have generally not survived, and there are only around twenty sheets that can be securely attributed to him. Although damaged, the Draped Male Figure thus stands as an important testament to Lotto's drawing practice. Indeed, so typically Venetian is the sheet in handling that it was attributed to Titian when first published by Franz Kieslinger in 1936.
Hans Tietze and Erika Tietze-Conrat first recognized the drawing as Lotto's work, observing that the draped figure was a study for the Apostle at left (perhaps St. Thomas) in Lotto's Assumption of the Virgin in the parish church of Santa Maria Assunta in Celana, a small town northwest of Bergamo. Signed and dated 1527, this altarpiece was executed in Venice, but Lotto had presumably received the commission for the painting when he was still in Bergamo.1
Two other drawings have been linked to the same painting, but questions can be raised about both. The first of these, in the Puech collection at the Musée Calvet in Avignon, is according to Rearick, a study for the same Apostle as the Morgan drawing, although more recently the drawing has been linked instead to Lotto's Assumption in San Francesco alle Scale, Ancona.2 The study is probably by Lotto, but it relates neither to the Apostle in the Celana Assumption of 1527 nor to the Ancona painting of 1549–50 but rather to the Apostle at far left in Lotto's earlier Assumption (Pinacoteca di Brera, Milan), originally the central panel in the predella of his Entombment altarpiece of ca. 1511–12 (now in the Museo Civico, Jesi). The second drawing linked to the Celana altarpiece, a compositional drawing in the Accademia Carrara, Bergamo, is even more problematic given that both the links to the painting as well as the attribution might be questioned.3 To demonstrate the diversity of Lotto's working methods, however, one might also cite two further drawings for similar figures in these paintings. First, a red chalk study in the Pinacoteca di Brera also relates to the ca. 1511–12 Assumption panel, in which the Apostle at left puts his hand on the shoulder of his companion.4 The red chalk sheet, however, seems awkward and hesitant in comparison with the other drawings, and it might be a copy after the painting rather than a study for it. The scarcity of surviving drawings by Lotto makes it difficult to form a definitive judgment. An additional drawing, the British Museum's more finely finished St. Simon, is for a figure very similar to that in the Avignon and Morgan studies.5 This drawing's attribution to Lotto seems utterly secure, but the differences in handling between it and the previously mentioned studies illustrate how Lotto's manner of drawing could vary from work to work.
A Portrait of a Man on the verso of the Morgan sheet is no longer visible. Kieslinger and Pouncey both discussed the portrait, and it was illustrated in Pouncey's 1965 monograph on Lotto as a draftsman, but by that time, the drawing had already been laid down, for Bean and Stampfle in the same year described the drawing (then in the collection of Janos Scholz) as having "originally" had on the verso a portrait of a man with aristocratic features.6 Because it is on the verso of a sheet definitively by Lotto, this portrait would provide an important benchmark for Lotto's portrait drawings, but the backing sheet cannot be safely removed. Examination with transmitted light also reveals the portrait to be only fragmentary, and it may have been extensively restored even at the time that the only known photograph was taken.7
—JJM
Footnotes:
On the Celana altarpiece, see Humfrey 1997, 93–94.
Rearick 2001, 88; Béguin, Di Giampaolo, and Malgouyres 1998, no. 3.
Inv. 428. See Rossi 1985, no. 8, which gives a history of the disputed attribution. The link to Lotto was made by Rearick, who compared it to a drawing in his own collection.
Bergamo 2017, 50–51 and no. 3.
Inv. 1958,1213.2. See London 1994, no. 77. The drawing is for Lotto's V altarpiece of ca. 1538–46 in Ancona.irgin and Child Enthroned with Saints
New York 1965–66, no. 44.
Bibliography:
Rhoda Eitel-Porter and and John Marciari, Italian Renaissance Drawings at the Morgan Library & Museum, New York, 2019, no. 61.
Selected references: Kieslinger 1934-36, 140, 173; Tietze and Tietze-Conrat 1944, no. 779; Banti and Boschetto 1953, 81; Venice 1953, 183, no. 3; Berenson 1955, 95, 130, 222; Pignatti 1957, 386; Venice 1957, no. 11; Bloomington and elsewhere 1958, no. 28; Oakland and San Francisco 1959, no. 29; Cologne 1963-64, no. 88; New York 1965- 66, no. 44; Pouncey 1965, 12-13; Washington and New York 1973-74, 117, no. 95; Montgomery 1976, no. 11; Oldfield 1996, 19:714-15; Béguin, Di Giampaolo, and Malgouyres 1998, 6; Florence 2001, 248; Rearick 2001, 88; Bergamo 2017, 51-52.
Ryskamp, Charles, ed. Eighteenth Report to the Fellows of the Pierpont Morgan Library, 1975-1977. New York : Pierpont Morgan Library, 1978, p. 274.
Oberhuber, Konrad, and Dean Walker. Sixteenth Century Italian Drawings From the Collection of Janos Scholz. Washington, D.C. : National Gallery of Art ; New York : Pierpont Morgan Library, 1973, no. 95, repr. (includes previous bibliography and exhibitions).
Venetian Drawings from the Collection of Janos Scholz, exhibition catalogue by Diane J. Gingold, Montgomery Museum of Fine ARts, Montgomery, Alabama, 1976, no. 11, repr.
Pouncey, Philip. Lotto disegnatore: ventotto tavole. Vicenza: Neri Pozza Editore, 1965, no. 9, repr.
Notes:
Watermark: none.
Study for apostle in lower left of "Assumption of the Virgin" in the parish church of S. Maria Assunta in Celana, Bergamo, signed and dated 1527.
Old photographs reveal a Portrait of a Man drawn on the verso of this sheet. The paper is, however, extremely brittle, and before the work was given to the Morgan, it was laid down to preserve the sheet, which had begun to crumble. Removal of this backing would put the work at undue risk, but the old photograph is included here for reference.
Associated names:
Vallardi, Giuseppe, 1784-1861, former owner.
Kieslinger, Franz, former owner.
Scholz, János, former owner.