Death Strangling a Warrior
Pen and brown ink and wash, with white opaque watercolor, on paper washed in brown.
14 5/8 x 11 1/8 inches (373 x 283 mm)
Purchased by Pierpont Morgan (1837-1913) in 1909.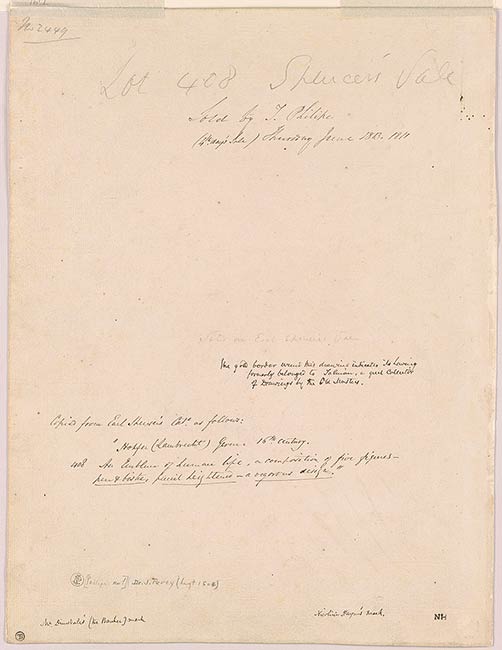 Inscription:
Inscribed in lower left corner, in pen and brown ink, by the artist, "1597 / IL (monogram)"; in a cartouche at the top, "La morte e fin d'una prigion'oscura"; at right, "si mosse; e disse: o tu donna che vai"; at left, "nel mezo del camin di nostra vitta"; at lower right, "Dopo l'imprese perigliose et vane"; at lower center, "e di tua vita il termine non sai"; on verso, at upper left corner, in graphite, "No 2449"; below that and to the right, "Lot 408 Spencer's Sale"; below this, in pen and brown ink, "Sold by T. Philipe / (4.th day's sale) Thursday June 1813.1811"; at center, in graphite, "Sold in Earl Spencer's Sale"; below that, in pen and brown ink, "the gold border around this drawing indicates its having / formerly belonged to Talman, a great Collector / of Drawings by the Old Masters"; below that and to the left in pen and ink, "Copied from Earl Spencer's Cate[e superscript]. as follows: / "Hopfer (Lambrecht) Germ. 16th[th superscript] century. / 408 An Emblem of human life, a composition of five figures - / pen and bistre, pencil heightened - a vigorous design".
Provenance:
Possibly John Talman (1677-1726; no mark; see Lugt 2462), Hinxworth, Hertfordshire; Nicola Francesco Haym, London (1679-1729; Lugt 1970); the Earls of Spencer, Althorp House, Northamptonshire (Lugt 1530); Spencer sale, London, T. Philipe, 13 June 1811, lot 408 (as Lambert Hopfer, "An emblem of hum lige, a combination of five figures - pen and bistre, pencil heightened - a vigorous design. Monks on back of drawing"); Thomas Dimsdale, London (1758-1823; Lugt 2426); Hogarth [presumably J. Hogarth & Sons, London]; Dr. John Percy (1817-1889; Lugt 1504), London, 1876; his sale, Christie's, London, 24 April 1890, lot 1466 (as Lambert Holfer [sic Hopfer]); Charles Fairfax Murray (1849-1919), London and Florence; from whom purchased through Galerie Alexandre Imbert, Rome, in 1909 by Pierpont Morgan (1837-1913), New York (no mark; see Lugt 1509); his son, J. P. Morgan, Jr. (1867-1943), New York.
Description:
Taken from Petrarch, the verse "Death is the end of a dark prison" in a cartouche at the top of the drawing serves as the unusually upbeat motto for this violent scene. The gaunt figure of Death—inspired by the illustrations of scorciati, or dissected figures, known through contemporary anatomical literature such as Andreas Vesalius's De humani corporis fabrica (On the Fabric of the Human Body), first published in 1543—is seen throttling a fallen soldier with his toe and pulling out the soldier's tongue. The soldier's broken sword, shield, and plumed helmet lie on the ground at his side. Death clamps down with his teeth on a fold of the dress of the fleeing woman, thus halting her escape. A girl, and a boy on a hobbyhorse holding a windmill, are tethered by a rope to Death's waist and will likewise soon be dragged away by him.
As identified independently by Lia Markey and Lubomír Konečný, most of the neatly penned inscriptions are taken from Petrarch's "Triumph of Death" in his allegorical poem I Trionfi.1 The drawing also bears the famous opening lines of Dante's Divine Comedy, "nel mezo del camin di nostra vitta [sic]," below the figures of the children. Even without the inscriptions, the drawing reads clearly as an allegory on the inevitability of death and a warning that it can strike in the middle of life's trajectory or even in infancy.
The artist's monogram, consisting of a ligated capital I and L joined by a crossbar surmounted by a cross, appears at lower left. A subtle imitation of the IHS Christological monogram, it was long mistaken for that of the German printmaker Lambert Hopfer.2 Previous owner Charles Fairfax Murray seems to have been the first to attribute the drawing to Ligozzi; he and John Percy also recognized that the composition is based on Hans Burgkmair the Elder's chiaroscuro woodcut of 1510 depicting Lovers Surprised by Death (British Museum, London, inv. 1845,0809.640).3 Ligozzi, however, updated the scene by clothing the woman in fashionable, contemporary dress and removing the Venice-inspired architectural background to ensure a timeless quality. He also added the motif of the children. The figure of the fleeing woman recurs, in reverse, in a painting of the Rape of the Sabine Women (ca. 1605–15), a work attributed to Ligozzi when it appeared at auction in 1990.4 Several other drawn allegories of death and of the vanity of human action by Ligozzi are known; four of these, less finished and elaborate than the Morgan sheet, are in the Louvre, and the Accademia in Venice and the National Gallery of Canada in Ottawa have one each.5
In 1587 and 1588, Ligozzi made a sequence of at least seven pen drawings—now dispersed among collections at Christ Church Picture Gallery, Oxford, the Albertina in Vienna, and the Louvre in Paris—illustrating Dante's Divine Comedy possibly for an unrealized series of prints and relating to similar studies by Johannes Stradanus and Lodovico Cigoli.6 As noted by Konečný, they may have been created as a precondition to Ligozzi's election to the Accademia degli Alterati, a literary circle in Florence devoted to the study and interpretation of Dante, of which he became a member on 13 August 1590. The present drawing, however, is dated ten years later and, considering it combines Dante and Petrarch, is unlikely to have been connected to this series. The high degree of finish, the fact that the drawing is signed and dated, and the erudite subject matter likewise suggest that this sheet, like many of the artist's drawings, was produced as an independent work of art. It was probably made for a collector among Ligozzi's circle of courtly and educated patrons rather than as a study for a painting, fresco, or engraving.
—REP
Footnotes:
Lia Markey, verbal communication and annotation in electronic file, 13 July 2005, while Research Assistant in the Department of Drawings and Prints at the Morgan Library & Museum. Konečný, based on a talk given in Prague in October 2005. "Si mosse, e disse: o tu donna che vai," "E di tua vita il termine non sai," and "Dopo l'imprese perigliose et vane," Petrarch, Triumph of Death, I, lines 34, 36, and 98, which translate as "Came near, and said: 'O you, woman, who goes,'" "And you don't know of your life's end," and "After enterprises perilous and vain." "La morte é fin d'una prigion' oscura" is Triumph of Death, II, line 34, which translates as "Death is the end of a dark prison."
See Florence 2014, 186.
For the Burgkmair print, see Tilman Falk in Bartsch, 11: no. 40. Fairfax Murray's note on the old mount, now in the file, reads: "This monogram is found on drawings att. to Ligozzi at Florence who made some designs for chiaroscuro prints and I think it is likely that this drawing is by him CFM." Another note on the old mount, by Percy, reads: "See Brulliot, Dict. des Monogrammes, vol. I, no. 2388: this is the monogram at the bottom left hand corner, said to belong to an Italian painter of unknown name. This is not the mark of Lambert Hopfer. The drawing seems to be somewhat altered copy of Hans Burgmair's well-known chiaroscuro woodcut, and is on that account interesting. Bought of (?) Hogarth. J[ohn].P[ercy]. March 12. 1876." Ligozzi seems to have often used prints as sources for other drawings. On this topic, see Giorgio Marini in Florence 2014, 304–9.
Sotheby's, New York, 11 January 1990, lot 71. The painting was subsequently offered at Sotheby's, New York, 27 January 2016, lot 21, and again 26 May 2016, lot 35.
Musée du Louvre, Paris, inv. 5033, 5034, 5035, 5036; see Viatte 1988, 1: nos. 258–61. Gallerie dell'Accademia, Venice, inv. 587; see Prosperi Valenti Rodinò 1989, no. 128. National Gallery of Canada, Ottawa, inv. 36789; see Florence 2014, no. 77. A drawing of Death Breaking His Scythe, and Two Putti, sold as by Jacopo Ligozzi at auction (Christie's, New York, 24 January 2001, lot 19) is instead by Federico Zuccaro. On the theme of death and vanity in Ligozzi's draftsmanship, see Lucilla Conigliello in Florence 2014, 186–91.
Brunner 1999, 88–92, 134–38, and 296–304, nos. JL 1–8d.
Bibliography:
Rhoda Eitel-Porter and and John Marciari, Italian Renaissance Drawings at the Morgan Library & Museum, New York, 2019, no. 102.
Selected references: Fairfax Murray 1905-12, 1: no. 91; Voss 1920, 1:422n1; Byam Shaw 1956, passim; Daniel 1964, no. 205; New York 1965-66, no. 146; McGrath 1967, 32; Stechow 1967, 195n28; New York 1969, no. 4; Kenseth 1975, no. 18; Byam Shaw 1976, under no. 222; Dreyer 1979, under no. 70; Florence 1986-87a, no. 2.19; Paris 2005, under nos. 40-41; Konec̆ný 2006, no. 3; Florence 2014, 187, 307; New York 2017, 241n2.
Collection J. Pierpont Morgan : Drawings by the Old Masters Formed by C. Fairfax Murray. London : Privately printed, 1905-1912, IV, 91, repr.
Stampfle, Felice, and Jacob Bean. Drawings from New York collections. I: The Italian Renaissance. New York : Metropolitan Museum of Art : Pierpont Morgan Library, 1965, p. 80, no. 146, repr.
Notes:
Watermark: none.
The drawing is based on a chiaroscuro woodcut of 1510 depicting Lovers Surprised by Death by Hans Burgkmair the Elder (1473-1531).
Associated names:
Talman, John, 1677-1726, former owner.
Haym, Nicola Francesco, former owner.
Dimsdale, Thomas, 1758-1823, former owner.
Percy, John, 1817-1889, former owner.
Murray, Charles Fairfax, 1849-1919, former owner.
Morgan, J. Pierpont (John Pierpont), 1837-1913, former owner.
Morgan, J. P. (John Pierpont), 1867-1943, former owner.