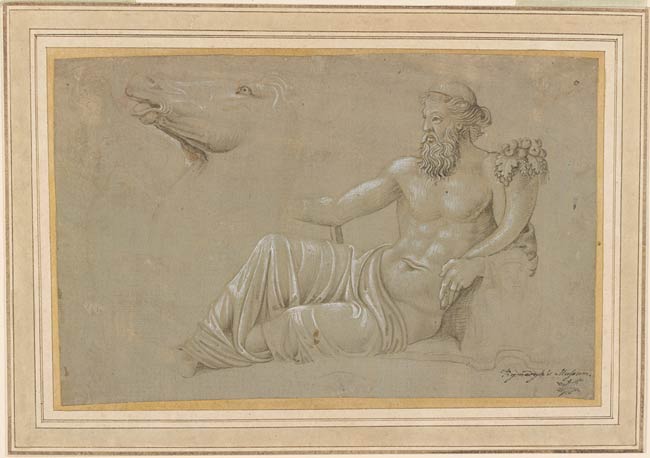 Copy of Two Antique Sculptures: Horse-Tamer and River Nile
Pen [or point of brush?] and brown ink, white opaque watercolor, over metalpoint or stylus indentations [?], on gray prepared paper.
6 9/16 x 10 1/8 inches (167 x 257 mm)
Purchased by Pierpont Morgan (1837-1913) in 1909.
Inscription:
Inscribed on verso of mount, in pen and brown ink, with Richardson's pressmarks, "Zg. 66 / L. 68. / BB. 48. / Zk. / Lz. 50. r".; at lower center, in graphite, "22".
Provenance:
Jonathan Richardson, Sr. (1665-1745), London (Lugt 2183); Jan van Rijmsdyk (before 1730-ca. 1788/1789), Bristol and London (Lugt 2167); probably William Tighe (1766-1816), Woodstock House, Inistioge, Co. Kilkenny (according to Fairfax Murray); Charles Fairfax Murray (1849-1919), London and Florence; from whom purchased through Galerie Alexandre Imbert, Rome, in 1909 by Pierpont Morgan (1837-1913), New York (no mark; see Lugt 1509); his son, J. P. Morgan, Jr. (1867-1943), New York.
Description:
Both studies are after antique sculptures once on the Capitoline hill in Rome. The reclining figure in the foreground representing the river Nile was moved from the Piazza del Quirinale to the Capitoline hill in 1517, subsequently restored and finally placed in its present location in front of the left-hand steps leading up to the Palazzo del Senato in the period 1565 to 1568.1 At the time when the drawing was made it would have been near the Via Corneliorum still on the Quirinal and was thought to represent Bacchus. The head of the horse copied from one of the Dioscuri or Horse Tamers, two well-known antique sculptural groups also in the Piazza del Quirinale; the figure of the man holding him is barely visible since it exists only in the metalpoint underdrawing and not in pen and ink.2
Both sculptures were commonly copied by artists visiting Rome in the fifteenth century. In 1958, Philip Pouncey suggested an "almost Umbrian" origin for the drawing (unpublished opinion recorded in the departmental file), then classified as Florentine, and in 1979 Francis Russell considered it to be by a pupil of Perugino, with whose style it has much in common, or by an artist from his immediate circle.3 It is also noteworthy that Pinturicchio used the figure of the river-gods as a pair for grotesque decorations on the vault in the Palazzo Colonna (formerly Palazzo Giuliano della Rovere), Rome, ca. 1490.4 More recently, Hans-Joachim Eberhardt has attributed the Morgan sheet to Giovanni Maria Falconetto.5
Footnotes:
Bober and Rubinstein 1986, 102, no. 65B–a.
Bober and Rubinstein 1986, 159-60, no. 125.
For a subsequent publication, see Russell 1986, 193.
Steinman 1898, 25.
Verona 2006, 335-36, no. 93.
Bibliography:
Selected references: Fairfax Murray 1905-12, 4: no. 5, repr. (as Florentine school); Degenhart and Schmitt 1960, 125-26, under no. 13 (as north Italian, second half of the fifteenth century); Russell 1986, 193 (as circle of Perugino, ca.1480-90); Bober and Rubinstein 1986, 102, no. 65B-a (as Umbrian, late fifteenth century); Nesselrath, in Rome 1988, 216, no. 64 (as Umbrian, second half of fifteenth century); Thielemann 1996, 33; Tonkovich 2005, 158; Verona 2006, 335-36, no. 93 (as Giovanni Maria Falconetto); Morét, 2008, 32 (as Giovanni Maria Falconetto); Bober and Rubinstein 2010, 112, no. 65B-a (as Umbrian, late fifteenth century).
Collection J. Pierpont Morgan : drawings by the old masters formed by C. Fairfax Murray. London : Privately printed, 1905-1912, IV, 5.
Notes:
Watermark: none visible through lining.
Formerly attributed to Perugino (ca. 1450-1523); Giovanni Maria Falconetto (1468-1535); Florentine School; Davide Ghirlandaio.
Associated names:
Perugino, approximately 1450-1523, Formerly attributed to.
Falconetto, G. M. (Gian Maria), 1468-1535, Formerly attributed to.
Ghirlandaio, Davide, 1452-1525, Formerly attributed to.
Richardson, Jonathan, 1665-1745, former owner.
Rymsdyk, Jan van, active 1750-1788, former owner.
Tighe, William, 1766-1816, former owner.
Murray, Charles Fairfax, 1849-1919, former owner.
Morgan, J. Pierpont (John Pierpont), 1837-1913, former owner.
Morgan, J. P. (John Pierpont), 1867-1943, former owner.