Madonna and Child Sheltering with her Cloak the Kneeling Members of a Religious Brotherhood
Brown ink and white opaque watercolor, over black chalk, on blue paper.
14 15/16 x 9 9/16 inches (377 x 243 mm)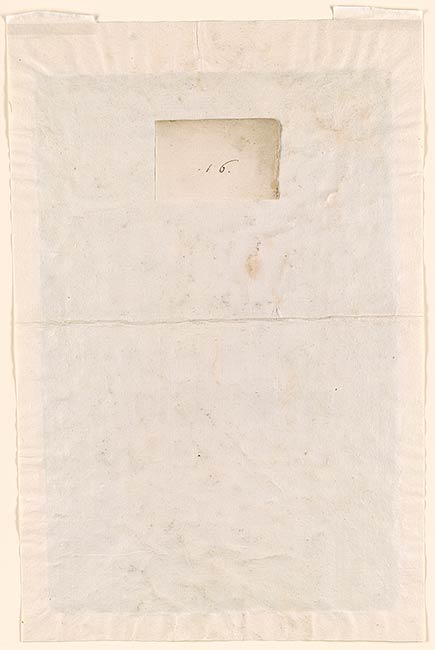 Inscription:
Inscribed on album page, at upper center, just above drawing, in pen and brown ink, "Lanino. O."; to the right of this, in graphite, "21"; on separate piece of paper pasted onto verso of album page, in pen and brown ink, "16".
Provenance:
Dukes of Savoy, Aosta, Turin (no mark; see Lugt S. 47a), and by descent to Tommaso Alberto Vittorio di Savoia-Genova (1854-1931), 12th Duke of Genova, Turin; Antonio Abrate (1834-1925), Turin, by 1881; Ernesto Bertarelli (1873-1957), Milan; Francis Matthiesen (1898-1963), Geneva and London, by 1940; Janos Scholz, New York (1903-1993; Lugt S. 2933b), by 1956.
Description:
Although he received some initial training under Baldassarre de Cadighis of Abbiategrasso, Bernardino Lanino associated himself with Gaudenzio Ferrari, the most important artist working in the Piedmont region during the early sixteenth century, soon after Gaudenzio arrived in Vercelli around 1529.1 Lanino would eventually, toward the middle of the century, follow Ferrari to Milan and, like his master, would be strongly influenced by Leonardo's works there. In the first decade of his career, however, his work consisted mainly of paintings and drawings in Gaudenzio's delicate style. So close are the two artists that many of Lanino's works, including the present sheet, have at times been attributed to Gaudenzio himself. Though used elsewhere in Italy in the fifteenth century, the technique of employing white opaque watercolor on blue or brown paper seen here has even been called "Gaudenzian drawing." So strong was Gaudenzio's influence that this became one of the default modes of drawing in the Piedmont and represents a distinct local tradition.
The drawing depicts the Madonna della Misericordia or the Virgin of Mercy, the Virgin Mary sheltering supplicants under her cloak or mantle. The iconography was a common one in the thirteenth and fourteenth centuries, and, although more frequently seen in central Italy than in the north, it eventually spread across Europe.2 Paintings of the Madonna della Misericordia generally included the depiction of individuals from all orders of society—rich and poor, sacred and secular, male and female—under the Virgin's cloak, but a common variant on the theme would show the hood-wearing members of a confraternity, often flagellant penitents, under the Virgin's protection. The objects held by the kneeling members of the brotherhood in Lanino's drawing are the wooden handles of their scourges.
Lanino twice painted frescoes for the Confraternity of St. Catherine, a flagellant brotherhood based at the Oratory of St. Catherine in Vercelli, once beginning in 1539 and then again before 1565.3 The first set of frescoes was destroyed, and the second set survives only in fragments, but it includes one scene with St. Catherine presenting the hooded flagellant brothers to the Virgin.4 Both the slightly different iconography and the apparently early style of the present drawing argue against it being an idea for the extant fresco, but it could have related to the earlier campaign or else perhaps to some unknown project. Lanino made an additional drawing of the Madonna della Misericordia showing the more common iconography with all classes of society protected by the Virgin, but this second scheme seems not to have been executed either.5 Finally, in 1565, he painted a double-sided standard for the Confraternity of St. Anne that had on one face an image of SS. Michael the Archangel and Peter Martyr Presenting Members of the Confraternity of St. Anne to the Virgin, Child, and St. Anne (Museo Borgogna, Vercelli). Although the hooded brothers of the confraternity resemble those in the Morgan drawing, the group of Virgin and child with St. Anne clearly relies on Leonardo da Vinci's painting of the subject, a typical influence in Lanino's later works.
—JJM
Footnotes:
Lanino is sometimes called "from Mortara" in early documents and that is presumed to be his place of birth, although there is alternately a possibility that he was born in Vercelli, where he certainly came of age.
For a recent study, see Brown 2017.
See Coleman 1996.
See Romano et al. 1986, 187.
Formerly in the Rudolf Collection, London, the present whereabouts of this drawing are not known. See Vercelli 1985, 19, where it is also suggested that the style of the ex-Rudolf drawing is a few years later than that of the Morgan sheet.
Bibliography:
Rhoda Eitel-Porter and and John Marciari, Italian Renaissance Drawings at the Morgan Library & Museum, New York, 2019, no. 50.
Selected references: Rodolfo 1927, 10; Oakland and elsewhere 1956, no. 46; Cologne 1963-64, no. 83; Notre Dame 1967, no. 20; London and elsewhere 1968, no. 54; Washington and New York 1973-74, no. 72; Fellows Report 7 1976, 163; Vercelli 1985, 19-21; Romano et al. 1986, 287, 289; Austin and elsewhere 1988-89, no. 35; Coleman 1988, 3:650-51; Tordella 1996, 25n65.
Ryskamp, Charles, ed. Seventeenth Report to the Fellows of the Pierpont Morgan Library, 1972-1974. New York : Pierpont Morgan Library, 1976, p. 163.
G. Rodolfo, Disegni di Gaudenzio Ferrari e Bernardino Lanino, Carmagnola, 1927, pl. xx (as Lanino)
Oberhuber, Konrad, and Dean Walker. Sixteenth Century Italian Drawings From the Collection of János Scholz. Washington, D.C. : National Gallery of Art ; New York : Pierpont Morgan Library, 1973, no. 69, repr. (includes full bibliography and exhibitions)
Notes:
Watermark: none.
Formerly attributed to Gaudenzio Ferrari, Valduggia near Vercelli 1475/80-1546 Milan.
Associated names:
Ferrari, Gaudenzio, approximately 1470-1546, Formerly attributed to.
Savoy, Dukes of, former owner.
Savoia-Genova, Tommaso di, 1854-1931, former owner.
Abrate, Antonio, 1834-1925, former owner.
Bertarelli, Ernesto, 1873- former owner.
Matthiesen, Francis, 1897-1963, former owner.
Scholz, János, former owner.