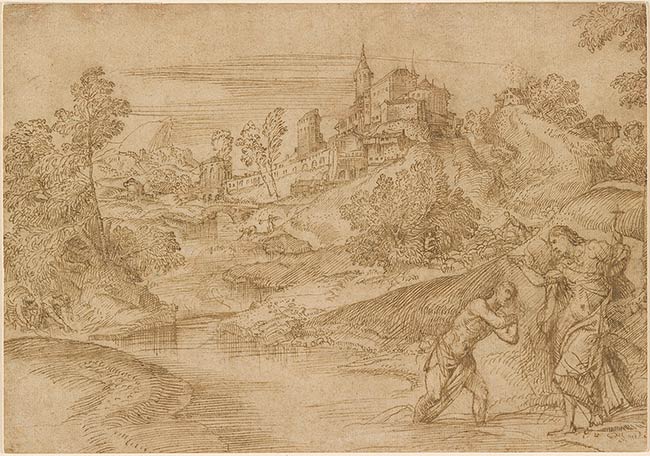 Landscape with the Baptism of Christ
Pen and brown ink on paper.
7 5/8 x 10 7/8 inches (192 x 276 mm)
Purchased by Pierpont Morgan (1837-1913) in 1909.
Inscription:
Inscribed on a strip of paper, once attached to verso of drawing (according to a note in departmental files) and now affixed to modern mount, in pen and brown ink, by Fairfax Murray (according to note next to inscription), "Do: Campagnola / part of the Landscape is / engraved in Gilberts - 'Cadore'".
Provenance:
Reverend Dr. Henry Wellesley, (1791-1866), Oxford (according to Fairfax Murray); his sale, London, Sotheby's, 3 July 1866, lot 1610; bought by Hogarth; presumably J. Hogarth & Sons, London; Sir William Richard Drake (1817-1890), London and Oatlands Lodge, Weybridge, Surrey (according to Fairfax Murray); his sale, London, Christie's, 25 May 1892, lot 392; bought by Murray; Charles Fairfax Murray (1849-1919), London and Florence; from whom purchased through Galerie Alexandre Imbert, Rome, in 1909 by Pierpont Morgan (1837-1913), New York (no mark; see Lugt 1509); his son, J. P. Morgan, Jr. (1867-1943), New York.
Description:
The present sheet by Domenico Campagnola betrays Giulio Campagnola's impact upon the young artist's style, but also – after about 1520 – that of Titian. This sheet depicts the Baptism of Christ, and probably was made ca. 1525 almost certainly as an independent work of art, rather than as a study for a print.
Josiah Gilbert, who at the time believed the drawing to be by Titian, identified, under the distant jagged mountain peak at the left of the sheet, the small town beneath the peak as Titian's native Cadore 1. The rest of the lively landscape has not been related to a particular location and may have been the invention of the artist.
Footnotes:
Josiah Gilbert, Cadore, or Titian's Country, London, 1869, 119, fig. 18 (detail).
Bibliography:
Tietze and Tietze-Conrat 1944, 129, no. 508; Iowa City 1951, no. 28; Toronto 1960, no. 58; Oberhuber in Venice 1976, 131, no. 76; Saccomani 1982, 89-90, 98 notes 69 and 70, no. 22; Eidelberg, 1995, 128, no. 27; Tuyll van Serooskerken 2000, 408, under no. 427. Nickel 2017, cat. 62.
Collection J. Pierpont Morgan : Drawings by the Old Masters Formed by C. Fairfax Murray. London : Privately printed, 1905-1912, I, 63, repr.
Associated names:
Titian, approximately 1488-1576, Formerly attributed to.
Wellesley, Henry, 1791-1866, former owner.
Drake, William Richard, Sir, 1817-1890, former owner.
Murray, Charles Fairfax, 1849-1919, former owner.
Morgan, J. Pierpont (John Pierpont), 1837-1913, former owner.