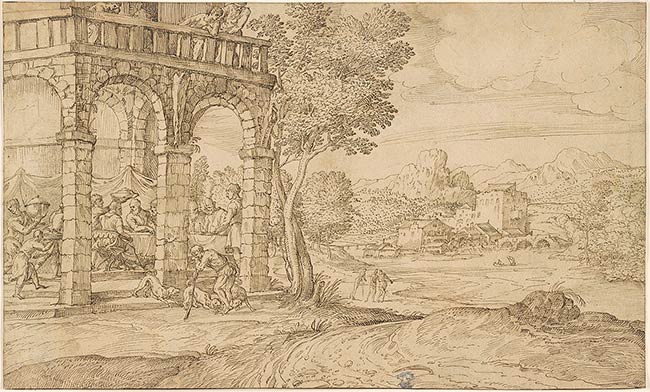 Banquet of the Rich Man and Lazarus, Set in a Landscape
Pen and brown ink on laid paper; fragments of framing lines in pen and brown ink at bottom, left and top edges; framing lines in graphite at left and right edges.
9 1/16 x 15 1/8 inches (230 x 384 mm)
Purchased by Pierpont Morgan (1837-1913) in 1909.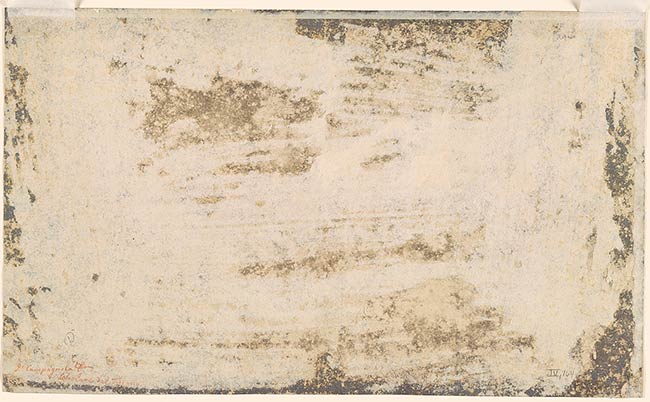 Inscription:
Inscribed on verso of lining, in graphite, "1" (encircled; or D); in red crayon (or white chalk?), "D. Campagnola f. / scholaro del Titiano".
Provenance:
Charles Fairfax Murray (1849-1919), London and Florence; from whom purchased through Galerie Alexandre Imbert, Rome, in 1909 by Pierpont Morgan (1837-1913), New York (no mark; see Lugt 1509); his son, J. P. Morgan, Jr. (1867-1943), New York.
Description:
Of German extraction, Domenico Campagnola was born about 1500, probably in Venice. By the age of ten, he seems to already have been apprenticed to, and evidently adopted by, Giulio Campagnola. Domenico's work naturally reveals a profound debt to the work of Giulio (see I, 59), but he possessed precocious talent. By 1517 he had become the foremost printmaker in Venice, having produced three large single-leaf woodcuts and around twelve engravings. Around 1520 he returned to Padua, where he was to become a prominent painter.
Domenico is most celebrated today, landscapes by the Carracci and Claude Lorrain. His autonomous drawings of ideal pastoral landscapes must have appealed to the same connoisseurs who were the patrons for Giulio Campagnola's prints and for Titian's landscape drawings and prints. They were actively collected even in his lifetime and would continue to be prized for centuries.1
As in this example, Domenico characteristically layered space into receding planes to create depth, populating the background with rocky mountains, sinuous rivers, and farmsteads. The essentially linear language that approximates prints is used with great freedom to differentiate the details of the rolling terrain. Uninterrupted, undulating strokes of the pen describe the flowing river and landscape contours, while short flicks make up the foliage. Domenico added narrative incidents to the biblical story, such as the traveling threesome in the middle distance and the figures on a barge on the river. The drawing has been cut down slightly at the top edge, truncating the spectators who lean over the balustrade of the porch. According to Santagiustina Poniz, the landscape backdrop at right exhibits a rapid, delicate style suggestive of the artist's work after the middle of the 1540s. More recently, however, Tobias Nickel has suggested a date for the drawing of around or slightly after 1552.2
The subject of the drawing is taken from a parable in the Gospel of Luke (16:19–31) that tells of a rich man who dressed in fine clothes and feasted every day, while the poor man, Lazarus, lay at his gate, starving. When both men died, Lazarus was carried to Abraham's bosom, but the rich man was sent to hell. The message is that those with earthly possessions will pay for them in eternity, while the poor will reap their reward in heaven. In the present drawing, the rich man feasts under an outdoor porch waited upon by servants. Just beyond the steps, Lazarus leans weakly on his staff while dogs lick at the sores on his legs. Until the 1530s, the subject was more popular in northern European than in Italian art, but a painting by Bonifacio de' Pitati of around 1535–40 (now in the Gallerie dell'Accademia, Venice) helped popularize it in Venice.3 De' Pitati also situated the scene outdoors beneath a porch, but in his version, the figures dominate their surroundings.
—REP
Footnotes:
The present drawing served as the basis for an engraving produced by Luca Bertelli at least a decade later. See Nickel 2017, 2:276–77.
See Nickel 2017, 2:277.
Kindly pointed out by Paul Joannides in November 2003. See Cottrell 2005, passim.
Bibliography:
Rhoda Eitel-Porter and and John Marciari, Italian Renaissance Drawings at the Morgan Library & Museum, New York, 2019, no. 67.
Selected references: Fairfax Murray 1905-12, 4: no. 64; Walker 1941, 209n2, 210n39; Tietze and Tietze-Conrat 1944, 129, no. 519; Santagiustina Poniz 1981, 64, 69n20; Sievers 2000, under no. 6; Nickel 2017, 2: no. 171.
Collection J. Pierpont Morgan : Drawings by the Old Masters Formed by C. Fairfax Murray. London : Privately printed, 1905-1912, IV, 64, repr.
Associated names:
Murray, Charles Fairfax, 1849-1919, former owner.
Morgan, J. Pierpont (John Pierpont), 1837-1913, former owner.
Morgan, J. P. (John Pierpont), 1867-1943, former owner.