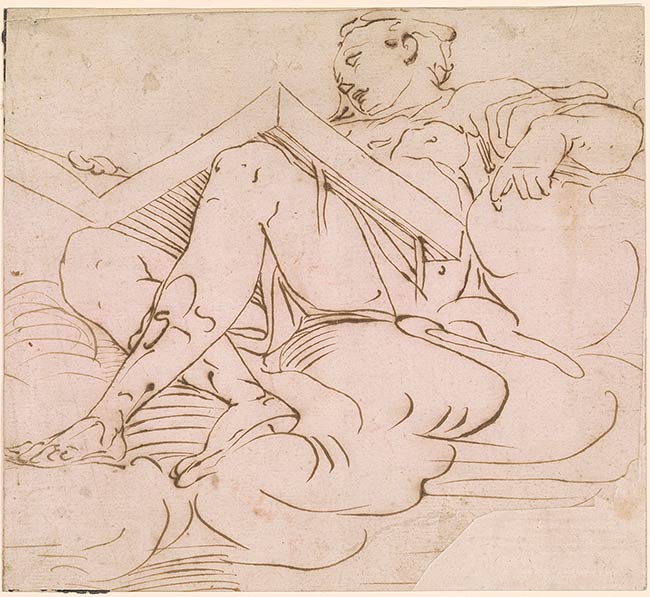 Seated Sibyl on Clouds with an Open Book
Pen and brown ink on paper.
8 1/8 x 9 inches (208 x 229 mm)
Inscription:
Inscribed on verso of lining, in pen and blue ink, "Milano, 1947. / for Anne's and Janos' collection / in friendship / Giorgio Nicodemi".
Provenance:
Giorgio Nicodemi (1891-1967), Milan; by whom presented about 1947 to Janos Scholz (1903-1993), New York (see Lugt Suppl. 2933b).
Description:
Cambiaso drew several similar drawings of seated female figures on clouds, which may have been made in connection with frescoes on the ceiling of San Matteo in Genoa, as was proposed by Collobi Ragghianti (Collobi Ragghianti 1954, 1: 243). Cambiaso and Giovanni Battista Castello, called il Bergamasco, collaborated on the decoration there in about 1558-59. Particularly close to the present figure are studies of sibyls in the Uffizi (inv. 13717F; copy in Linz, inv. S V/253; Widauer 1991, 88), which is in reverse to the present figure and shows her with arm outstretched, and a less strongly foreshortened figure in the Musée Bonnat in Bayonne, which is by a less competent hand (inv. NI 1613; Bean 1960, no. 14).
Other drawings from this group are in the Louvre Paris (inv. 9203; 9204); Niedersächsisches Landesmuseum, Hannover (inv. 76; 1987, no. 7); Princeton Art Museum of a Woman Seated on a Cloud, with a Dove, reading, a Woman Seated on Cloud, with a Putto, reading, and of St. Jerome seated on clouds, reading (inv. nos. 48.650, 48.654, and 48.629); Palazzo Rosso, Genoa (inv. 4689); Staatsgalerie Stuttgart (inv. 6181; 1977, no. 12); Blanton Museum, Austin, Texas, ex-Suida-Manning collection (Houston 1974, no. 50); Stockholm (inv. NM 1590/1863); and in the Hessisches Landesmuseum, Darmstadt (inv. AE 1844; Märker 1990, no. 3); Woman with Putto reading Book in clouds (Berlin 16009; G.46474); Woman Wearing a Cap Seated on Clouds, reading (Berlin 20657; G. 46507); St. Luke with ox? on Clouds, reading from a Tablet, in Victoria and Albert Museum, London (D. 1006-1900; G. 54483).
Bibliography:
New York 1967-68, no. 38; Widauer 1991, 88, no. 2.
Associated names:
Nicodemi, Giorgio, 1891-1967, former owner.
Scholz, János, former owner.