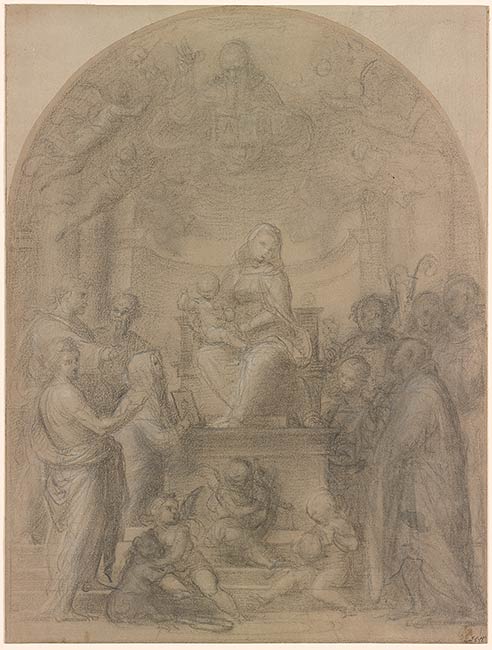 Virgin and Child Enthroned, Surrounded by Saints with Music-Making Angels. Verso: Fragmentary Sketches of Trees(?)
Black and white chalk, on brown laid paper, incised with stylus; arched top, made up to form a rectangle; verso: black chalk.
14 3/8 x 10 7/8 inches (365 x 276 mm; maximum dimensions)
Purchased by Pierpont Morgan (1837-1913) in 1909.
Inscription:
Inscribed on verso at center left, in graphite, "50".
Watermark: Pear on a stem with two leaves (Briquet 7392: Lucca, 1516-17).
Provenance:
George Skene (d. 1776). Rubislaw, near Aberdeen, Scotland, and by descent; Sotheby's, London, 28 April 1898, lot 124; Sir J. C. Robinson (1824-1913; Lugt 1433), Edinburgh and London; his sale, Christie's, London, 12 May 1902, lot 13; Charles Fairfax Murray (1849-1919), London and Florence; from whom purchased through Galerie Alexandre Imbert, Rome, in 1909 by Pierpont Morgan (1837-1913), New York (no mark; see Lugt 1509); his son, J.P. Morgan, Jr. (1867-1943), New York.
Description:
Nearing forty and fully mature as an artist, Fra Bartolommeo produced some of his most ambitious altarpieces in the workshop he ran with his friend Mariotto Albertinelli. In works such as the Pala del Gran Consiglio, which was commissioned in 1510 by the Florentine Republic's Grand Council but left unfinished in 1513, the artist set a Virgin and child with saints and angels on a raised dais in an apse flanked by columns. He produced variations on this structure in subsequent commissions for the Carondolet Altarpiece in 1511–12 (Besançon Cathedral), a Mystic Marriage of St. Catherine of Siena in 1511, and a second Mystic Marriage of St. Catherine of Siena (Pala Pitti) in 1512.
Paintings depicting sacre conversazioni—the informal array of saints and martyrs gathered around the Virgin and child—allowed for innovation and variety. Related to the artist's sacre conversazioni of ca. 1510–12 is a corpus of drawings in black and white chalks on light brown paper. In these sheets, Fra Bartolommeo broadly delineated forms in an effort to dispose the figures in new and appealing ways within the vertical format and architectural framework. These compositional drawings, with their gentle, rounded contours, had a significant impact on the friar's pupils, among them Fra Paolino da Pistoia. Since Fra Paolino inherited about five hundred of his master's drawings, there has been some confusion of attribution among the chalk drawings of both artists. Additionally, since Fra Bartolommeo closely collaborated with Albertinelli on commissions, including the Carondelet Altarpiece, determining responsibility for parts of a given project has proven challenging for scholars. While Bernard Berenson opted for Fra Paolino as the author of the present sheet, allowing the possibility it was by Fra Bartolommeo himself,1 scholarly consensus has since overwhelmingly maintained the sheet as one of the friar's own.2
The consistent execution of this group of drawings and the common elements among the related altarpieces raise the question of what role the Morgan's highly developed study played in the projects under way between 1510 and 1512. What distinguishes the present sheet is an unusual detail of iconography: the female figure to the left of the altar—the Dominican St. Catherine of Siena—displays an icon or small book to the martyr and saints gathered at right. This lively idea for a composition with complex internal dynamics was eventually discarded, probably because of St. Catherine's gesture. The object she displays is angled so it is visible to the viewer and the saints opposite her, a position that renders impossible eye contact with the Christ child, who looks down at her with his arm raised.3 A female martyr peers around the base of the Virgin's throne, craning to see the object, further underscoring its centrality to the narrative.
Recently, Elen and Fischer included this drawing among the sequence of exploratory compositional studies made in preparation for the Pala del Gran Consiglio.4 They placed the sheet after one in Lille containing some of the same characters, and before a sheet in the Getty that is quite close to the unfinished altarpiece.5 Neither sheet incorporates St. Catherine of Siena among the saints surrounding the altar, even though she plays a key role in the present work. Undoubtedly executed during this fertile moment in the artist's career, the Morgan composition is ultimately a hybrid of ideas the artist explored for contemporaneous projects, namely the Pala del Gran Consiglio, the St. Catherine in the Louvre, and the Pala Pitti. This unusual sheet reveals how the friar employed drawing to plumb possibilities and to experiment with the complex figural relationships in his sacre conversazioni as he sought to produce original and emotionally moving scenes.
—JT
Footnotes:
Berenson 1903, no. 1820 (Fra Paolino); Berenson 1938, no. 1827a (Fra Paolino; close to Fra Bartolommeo and possibly his); Berenson 1961, no. 1827a (Fra Paolino; close to Fra Bartolommeo and possibly his).
For a similar drawing by Fra Paolino, which can also be used to identify the differences between him and Fra Bartolommeo, see the Morgan Library & Museum, New York, inv. I, 29.
In terms of Fra Bartolommeo's working method, it should be noted that there is a related study in the Uffizi, likely made from a mannequin, of the Virgin holding the child, who raises his right arm, inv. 522e; see Fischer in Rotterdam and else- where 1990–92, no. 64.
See Rotterdam 2016–17, 147.
Musée des Beaux-Arts, Lille, inv. pl.42 recto; J. Paul Getty Museum, Los Angeles, inv. 85. gb.288.
Bibliography:
Rhoda Eitel-Porter and and John Marciari, Italian Renaissance Drawings at the Morgan Library & Museum, New York, 2019, no. 30.
Selected references: New York 1965-66, no. 29; Florence 1986a, under no. 63; Rotterdam and elsewhere 1990-92, under no. 64, 289n105; Paris 1994-95, under no. 53; Rotterdam 2016-17, 147.
Collection J. Pierpont Morgan : Drawings by the Old Masters Formed by C. Fairfax Murray. London : Privately printed, 1905-1912, IV, 11, repr.
Stampfle, Felice, and Jacob Bean. Drawings from New York collections. I: The Italian Renaissance. New York : Metropolitan Museum of Art : Pierpont Morgan Library, 1965, p. 32-33, no. 29.
Notes:
Drawing on verso by a later hand depicting Fragmentary Sketches of Trees.
Associated names:
Skene, George, former owner.
Robinson, J. C. (John Charles), Sir, 1824-1913, former owner.
Murray, Charles Fairfax, 1849-1919, former owner.
Morgan, J. Pierpont (John Pierpont), 1837-1913, former owner.
Morgan, J. P. (John Pierpont), 1867-1943, former owner.