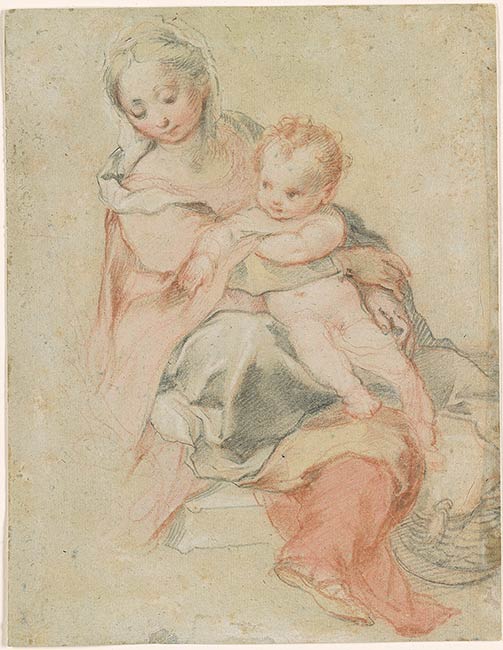 Colored chalks, on blue laid paper, faded to gray-green.
9 7/8 x 7 5/8 inches (250 x 194 mm)
Purchased by Pierpont Morgan (1837-1913) in 1909.
Inscription:
Inscribed on verso of lining at upper center, in brush and blue wash, "No. 74".
Provenance:
Charles Fairfax Murray (1849-1919), London and Florence; from whom purchased through Galerie Alexandre Imbert, Rome, in 1909 by Pierpont Morgan (1837-1913), New York (no mark; see Lugt 1509); his son, J. P. Morgan, Jr. (1867-1943), New York.
Description:
The drawing is related to the fresco of the Holy Family painted in 1561-63 by Barocci as the central compartment of the ceiling decoration of the large room on the ground-floor in the Casino of Pius IV in the Vatican Gardens, Rome (Emiliani 1985, I: 26; Turner 2000, no. 14). It picks out the figures of the Virgin and Child at center and only lightly indicates at left the figure of the Infant Saint John the Baptist and the cross and scroll he proffers the Christ Child. The drawing differs slightly from the fresco as it appears today in that the face of the Virgin is less elongated, and given that the the draftsman appears to have been familiar with Barocci's handling of colored chalks, it could copy one of Barocci's drawings rather than the final painting.
Bibliography:
Hartford 1930, 22, no. 2; Northhampton 1941, no. 11; Cleveland and New Haven, 1978, 33, no. 5.
Collection J. Pierpont Morgan : Drawings by the Old Masters Formed by C. Fairfax Murray. London : Privately printed, 1905-1912, IV, 154, repr. (Barocci).
Notes:
Watermark: none (fragment of watermark on lining).
A copy after Barocci's fresco of the Holy Family in the Casino of Pius VI in the Vatican; attributed to Vanni.
Associated names:
Vanni, Francesco, 1563-1610, Attributed to.
Murray, Charles Fairfax, 1849-1919, former owner.
Morgan, J. Pierpont (John Pierpont), 1837-1913, former owner.
Morgan, J. P. (John Pierpont), 1867-1943, former owner.