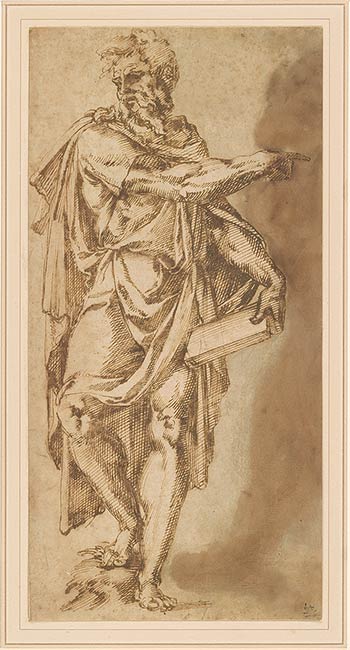 Standing Man, Holding a Book or Tablet, and Pointing to His Left (A Prophet?)
Pen and brown ink, over black chalk, on paper.
15 7/8 x 7 5/8 inches (393 x 194 mm)
Purchased by Pierpont Morgan (1837-1913) in 1909.
Inscription:
Inscribed on verso, at lower center, in graphite, "J".
Provenance:
William Mayor (1826-1892), London (Lugt 2799); Charles Fairfax Murray (1849-1919), London and Florence; from whom purchased through Galerie Alexandre Imbert, Rome, in 1909 by Pierpont Morgan (1837-1913), New York (no mark; see Lugt 1509); his son, J. P. Morgan, Jr. (1867-1943), New York.
Description:
Primarily active as a sculptor and occasionally a painter, Bandinelli subscribed to the Florentine belief that disegno was the basis for artistic creation. While his sculpture met with mixed critical reception, he was consistently praised for his abilities as a draftsman. His Memoriale notes, "all of my intent was in the art of drawing, and in the judgment of Michelangelo, and of our Princes and other notables, I have greatly prevailed: these men have a great quantity of my drawings, and others have been sent to Germany and to France, and throughout Italy. . . ."1 Vasari, similarly, notes in the closing lines of his life of the artist that Bandinelli "gave his attention more to his drawing than to any other thing" and that it "was of such a kind and of such excellence that it atones for his every defect."2
Bandinelli was skillful with both red and black chalk, in figure and head studies as well as in compositional designs, but it was with pen and ink that he created his most distinctive and notable drawings. His style, as seen in the present work, has often been described as sculptural, "heavily hatched as though with a chisel,"3 but this type of pen drawing may ultimately derive from the tradition of artists training in goldsmith shops. Bandinelli indeed received his initial training from his father, a goldsmith who also trained Cellini and Raffaello da Montelupo. Bold pen drawing, however, had become an aspect of Florentine draftsmanship more broadly by the end of the quattrocento, as seen in the work of Domenico Ghirlandaio, Leonardo da Vinci, and especially Michelangelo, among many others. The easily recognizable forcefulness of Bandinelli's line, even from his earliest extant works,4 is nonetheless worthy of mention.
Bandinelli was a faithful servant of the Medici, even during the period from 1527 to 1530 when the Florentines expelled the family and established the republic. His political sympathies certainly colored the discussion and negative reception of his work by critics sympathetic to the republic (Michelangelo among them), but they also helped provide Bandinelli with a steady stream of major commissions after the Medici returned to power. Among the most prominent of these was a project to replace Brunelleschi's octagonal wooden choir under the dome of the Florence cathedral with a marble enclosure decorated with bronze narratives and marble figures, encompassing both a series of low relief prophets and saints and several groups of freestanding statuary including Adam and Eve, Dead Christ, and God the Father. Bandinelli took an admittedly academic approach to artistic creation, as attested to by the two well- known engravings that depict his studio. His tendency to leave commissions incomplete, unfulfilled beyond the design stage, or to be completed by assistants is probably reflective of his interest above all in the intellectual process of design. For the cathedral choir enclosure, he focused on the sculptural groups, carving a second Adam and Eve after the first was reviled by critics. He made drawings for a number of the narrative reliefs, but none was cast in bronze. Similarly, he drew sketches for some of the eighty-eight prophets and saints envisaged for the enclosure but only carved a small number of these figures in marble. Most of the carvings were executed by Giovanni Bandini after Bandinelli's death in 1560.5
As first noted by Detlef Heikamp, the present drawing is one of the few studies that can be connected with the prophets and saints in the marble reliefs.6 Like a related drawing in Hamburg,7 the sheet originally depicted two figures, as is also clear from a copy of the Morgan drawing at the Pushkin Museum.8 None of the reliefs includes paired figures, and Bandinelli's decision to study them as interacting pairs must have been an attempt to create particularly animated figures. Few have iconographic attributes that allow identification, and they were probably instead conceived as something like the ignudi of the Sistine Ceiling, enlivening the "frame" of the choir—for the octagonal recinto could be conceived as such—but without having a specific reading.
It is not known when, or why, the sheet was trimmed (it would have been no later than when Mayor added his stamp at lower right), but the stain at right was clearly an attempt to obliterate the partial figure that remained, although traces of the outline might still be seen through the wash. Even in its compromised state, however, the drawing demonstrates Bandinelli's characteristic ability to depict figures convincingly in space with a mix of parallel and cross-hatching that highlights areas of light and shadow and thus gives the figure a notable plasticity—a penwork that was distinctly Bandinelli's own but which would be emulated by a generation of followers, including Vasari and Salviati.
—JJM
Footnotes:
Colasanti 1905, 433. Waldman 2004 argues that the Memoriale is not Bandinelli's own late writing, but rather a pastiche assembled in the seventeenth century by the artist's grandson. The passage cited here is nonetheless an appropriate summary of Bandinelli's own attitude.
Vasari 1878–85, 6:195.
Avery 1996, 3:160. On this point, see also Boston 2014.
For example, his Madonna and Child with Three Putti of ca. 1510, Musée du Louvre, Paris, inv. 104; see Florence 2014a, no. 1. Florence 2014a is, more generally, the best overview of Bandinelli's life and work; see also Ward 1982, Cambridge 1988, Waldman 2004, and Paris 2008a.
On the choir, see Heikamp 1964, Thiem 2009, and Florence 2014a, 244–61, 595–99. See also Cambridge 1988, no. 45, for a discussion of Bandini's designs.
Heikamp 1964, 39. Heikamp considered the Morgan drawing a copy of a lost work, but as noted in Ward 1982, 326, there is no basis for this.
Gramberg Collection, Hamburg. See Heikamp 1964, 39, and Ward 1982, no. 164. Ward notes that the Hamburg drawing is probably a copy of a lost work.
Pushkin Museum, Moscow, inv. 6456.
Bibliography:
Rhoda Eitel-Porter and and John Marciari, Italian Renaissance Drawings at the Morgan Library & Museum, New York, 2019, no. 96.
Selected references: Heikamp 1964, 39; Ward 1982, under no. 164, no. 259; Cambridge 1988, under no. 45; Jaffé 1994, under no. 11.
Notes:
Watermark: yes (Briquet 490-492 and related variants; Br. 6292-6297).
The drawing appears to be the only autograph study by Bandinelli related to his commission to carve marble prophets and saints in relief for the octagonal recinto of the choir of Florence cathedral. His autograph reliefs are dated 1555, but Bandinelli reports that he was at work on them by March 1553.
Associated names:
Mayor, William, 1826-1892, former owner.
Murray, Charles Fairfax, 1849-1919, former owner.
Morgan, J. Pierpont (John Pierpont), 1837-1913, former owner.
Morgan, J. P. (John Pierpont), 1867-1943, former owner.