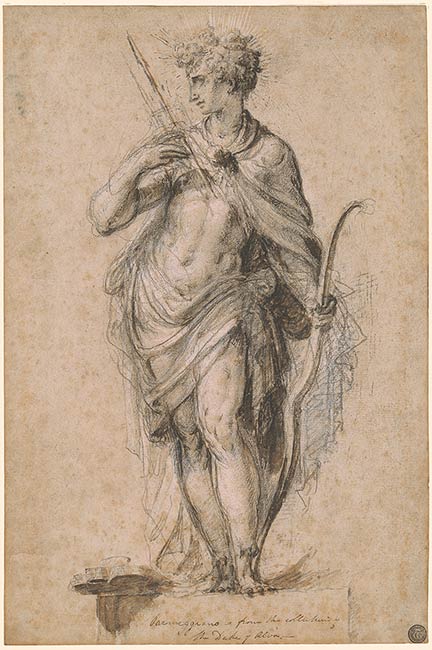 Apollo, Standing, with Bow and Arrow
Pen and brown ink and wash, with white opaque watercolor, over black chalk, with some black chalk worked wet, on laid paper.
10 7/16 x 6 15/16 inches (265 x 176 mm)
Purchased on the Edwin H. Herzog Fund.
Inscription:
Inscribed at lower center, in pen and brown ink: "Parmeggiano - from the collection of / the Duke of Alva".
Watermark: Kneeling angel holding a lily surmounted by a six-pointed star (compare ot Briquet 626: Reggio-Emilia, 1545; 626: Reggio-Emilia, 1554; 625: Vicenza, 1547).
Provenance:
Modesto Ignazio Bonaventura Luigi Genevosio [formerly Count Gelosi] (1719-1795; Lugt 545), Turin; Duke of Alva or Alba (according to inscription on drawing); possibly the Earl of Warwick (according to Denison 1990 - this might be a mistake for Parmegianino's Apollo and Marsyas which was Warwick); Rev. Dr. C. J. Ball (1851?-1924), Bletchington Rectory, Oxford; his sale, Oxford, Franklin and Jones, 28 March 1924; R.V. Lennard (1885-1967), Oxford;, by descent to Mrs. M. Munby; sale, London, Sotheby's, 4 July 1988, lot 12; acquired at sale on the Morgan's behalf by Richard Day, London.
Description:
Niccolò dell'Abate's early career evolved in northern Italy, very much under the influence of the works of Correggio and especially Parmigianino, until his departure for France. Son of a sculptor in stucco, Niccolò neither trained with a leading artist nor went to Rome. In around 1540 he created his first major fresco cycle, consisting of scenes from Virgil's Aeneid, at the stronghold of Scandiano near Modena for Conte Giulio Boiardo. The artist took up residence in Bologna in 1546. There, he contributed to the decoration of four rooms in the Palazzo Poggi and a frieze with episodes from Livy's History of Rome in the Palazzo Torfanini. He was summoned in 1552 to the court of Henri II in France, for whom he mainly worked at the royal palace in Fontainebleau, and in addition to paintings produced designs for enamels, tapestries, and ephemeral decorations. He and Primaticcio are considered the founders of the school of Fontainebleau.
In this drawing, the artist repeatedly circled around the forms of the figure in long calligraphic sweeps, defining some parts such as the bow and arrow and the folds at Apollo's neck in ink and darkening the shadowed passages with light brown wash. Light falls from the upper left, causing the figure's raised arm, the knot at his breast, and the ledge near his feet to cast long shadows. Pentimenti abound, especially in the area of the figure's right hand, for which the height was adjusted several times. The style of the drawing accords well with two other figure studies from Niccolò's Bolognese period—one a drawing of a female allegorical figure with a key now in the Louvre that was preparatory to a fresco of ca. 1550,1 the other a figure of Diana in the Musée des Beaux-Arts, Besançon, for a lost fresco in Palazzo Torfanini.2
As first proposed by Cara Denison, the drawing is likely a study for the figure of the god Apollo in Niccolò's design for the clock on the tower of the Palazzo Pubblico in Bologna, which is documented in a drawing from his hand in the Louvre.3 Made before the artist's departure for Fontainebleau in 1552, the Louvre drawing depicts the clock face as a sun surrounded by the twelve signs of the zodiac. This is flanked on the left by a personification of Time and on the right by a standing figure of Apollo. The sun god, who closely resembles the Morgan figure in pose and drapery, holds a lyre in his left hand and points downward with his right toward a seated soldier personifying the city of Bologna. He stands on a ledge similar to the pedestal indicated near the lower edge of the Morgan drawing. What looks like part of the ledge in the Paris sheet has been identified by Denison as the ornamental knob and curved volutes of a strongly foreshortened lyre placed on its back. A drawing in the Kupferstichkabinett, Berlin, seems to be a copy of the Paris design.4 Dominique Cordellier rejected the connection between the two drawings on the grounds that the Louvre Apollo holds a harp rather than a bow and because the style of draftsmanship is more akin to that found in studies made for Palazzo Torfanini.5 The similarity of pose, however, the comparable direction of action and light, and the fact that both figures stand on pedestals strongly argue for a connection between the complete design and the Morgan sheet.
Built in the period around 1450, the tower was one of the first with a clock face and hour indications of heliocentric inspiration, a feature probably suggested by Cardinal Bessarion (1403–1472), who was Pope Niccolò V's legate to Bologna from 1450 to 1455.6 The clock face seems to have been repeatedly decorated with frescoes, although by 1775 none of the original painted decoration remained. While the clock mechanism is also lost, extant fragments include figures of the three magi, now in the Museo Civico in Bologna, which appeared at the sounding of each hour. There is no mention of Niccolò having in fact executed his design for the face of the clock, but archival documents recording that in 1550 the clock's painting and ornamentation were repaired—"horologium venustate colapsum restitutum picturisque ornatum" (the clock having declined in beauty, it was restored with images and decoration)—may be a reference to his intervention.7
—REP
Footnotes:
Musée du Louvre, Paris, inv. 5844. See Paris 2001, no. 37.
Musée des Beaux-Arts, Besançon, inv. d.1745. See Bologna 1969, no. 42.
Musée du Louvre, Paris, inv. 5881. See Bologna 1969, no. 39; Denison 1990, 267; Bologna 2002, no. 63.
Kupferstichkabinett, Berlin, inv. KK 15691.
Paris 2001, under no. 38; Bologna 2002, no. 63.
DBI 1960–, 9:686–96, in particular 689.
Insignia degli Anziani del Comune, 1550, 1:1, fol. 426, Archivio di Stato, Bologna; cited by Bargamini in Fortunati Pietrantonio 1986, 284.
Bibliography:
Rhoda Eitel-Porter and and John Marciari, Italian Renaissance Drawings at the Morgan Library & Museum, New York, 2019, no. 85.
Denison, Cara D. "An Apollo by Niccolò dell'Abate", Master Drawings. New York: Master Drawings Association, vol. 28, no. 3, 1990, p. 265-267, fig. 1.
Rhoda Eitel-Porter and and John Marciari, Italian Renaissance Drawings at the Morgan Library & Museum, New York, 2019, no. 85.
Selected references: Denison 1990, passim; Béguin 1991, 83, 89; Fortunati 1995, 157; Bologna 2002, 244, under no. 63; Modena 2005, no. 121.
Notes:
Acquired as Niccolo dell'Abate.
Associated names:
Genevosio, Modesto Ignazio Bonaventura Luigi, 1719-1795, former owner.
Alva, Duke of, former owner.
Warwick, George Guy Greville, Earl of, 1818-1893, former owner.
Ball, C. J. (Charles James), 1851?-1924, former owner.
Lennard, Reginald Vivian, 1885-1967, former owner.
Munby, M., Mrs., former owner.