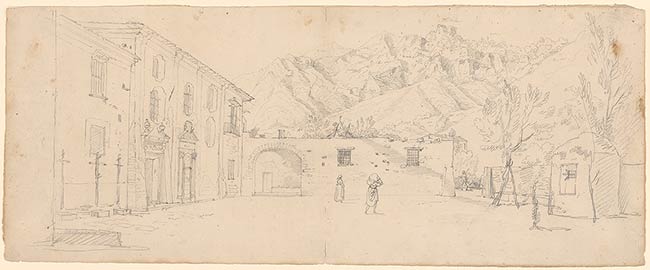 Castellammare with S. Michele at Pimonte in the Background
12 3/8 x 30 3/4 inches (314 x 780 mm)
Inscription:
Annotated with color notes by the artist throughout the sheet, in graphite. Inscribed on the verso, in graphite: at upper left, "monte S Michele dalla parocchia di S Michele a Piemonte sopra Castellammare"; at lower right, "Vanvitelli / 300"; below this, in the hand of János Scholz, "Ex Fatio / from Marmier, Genève 1965 / ph fall 1965".
Watermark: Sun with face. Eyes, nose, mouth, chin delinated. Sun has alternating curved and straight rays.
Watermark: Countermark: Letters "FJ". Chain line between the letters.
Provenance:
Possibly Bartolommeo Cavaceppi (1717-99), Rome; possibly Vincenzo Pacetti (d. 1820), Rome; and possibly Michelangelo Pacetti (b. 1793), Rome (no mark; see Lugt and Lugt S. 2057); Paul Fatio, Geneva; Marmier, Geneva; Janos Scholz, New York (no mark; see Lugt S. 2933b).
Bibliography:
In the Shadow of Vesuvius : Neapolitan Drawings from the Collection of János Scholz. New York : Finch College Museum of Art, 1969, p. 36-38, repr.
Ryskamp, Charles, ed. Twentieth Report to the Fellows of the Pierpont Morgan Library, 1981-1983. New York : Pierpont Morgan Library, 1984, p. 316.
Jane Shoaf Turner, with contributions by Felice Stampfle, Dutch Drawings in the Pierpont Morgan Library: Seventeenth to Nineteenth Centuries, New York, 2006, cat. no. 345.
Associated names:
Cavaceppi, Bartolomeo, 1717-1799, former owner.
Pacetti, Vincenzo, 1746-1820, former owner.
Pacetti, Michelangelo, 1793-1865, former owner.
Fatio, Paul, former owner.
Marmier, Marco, former owner.
Scholz, János, former owner.