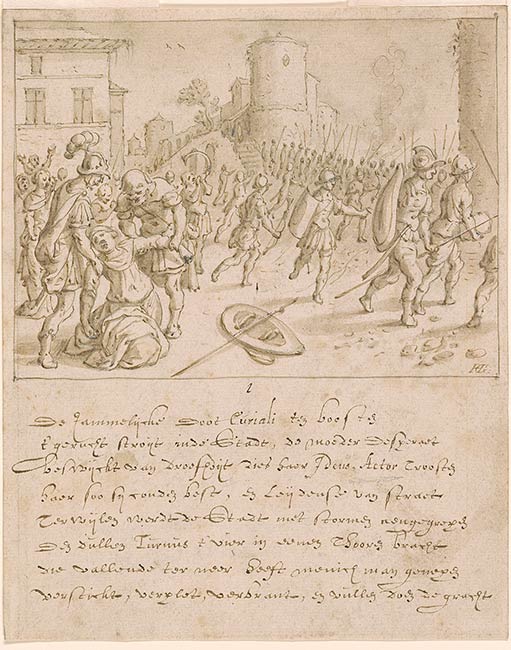 The Grief-Stricken Mother of Euryalus
Pen and brown ink and wash, with white opaque watercolor, over graphite, on laid paper.
Sheet: 7 3/4 x 6 1/4 inches (197 x 158 mm); design: 4 7/16 x 6 inches (112 x 152 mm)
Purchased as the gift of Frits Markus.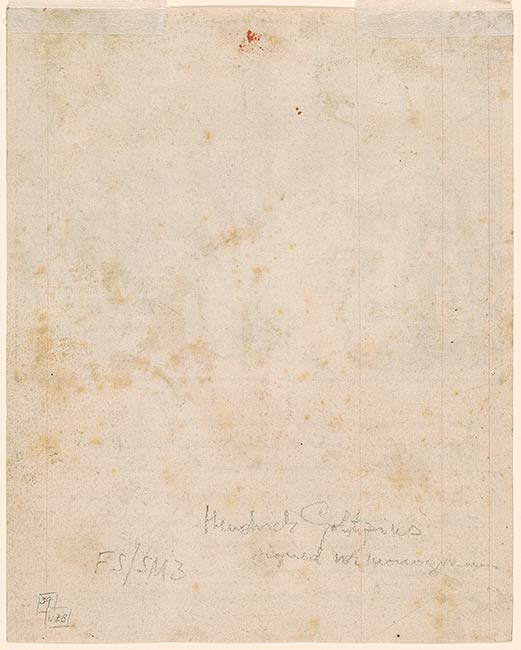 Inscription:
Inscribed at lower right corner of design area, in light brown ink, monogram "HG".
Inscribed below the design, by the artist, in darker brown ink, rhyming Dutch paraphrase of verses from the Aeneid with the letter "l" centered above the text: "De jammelijcke Door Euriali ten boosten / t'gerucht stroijt in de Stadt, de moeder desperaet / beswijcht van droefheijt dies haer [crossed out] Ideus, Actor Troosten / haer soo sij conden best, en Leijdense van straet / Terwijlen wordt de Stadt met stormen aengegrepen / Den dullen Turnus t'vier in eenen Thooren bracht / die vallende ter neer heeft menich man genepen / verstickt, verplet, verbrant, en vullen doen de gracht (On the report of the miserable death of Euryalus, his desperate mother collapsed in grief. Idaeus and Actor seek to comfort her and lead her from the street. Meanwhile, the city is assaulted by Turnus who set fire to a tower that in collapsing, crushed, suffocated and burned many men).
Inscribed on verso, in lower left corner, in two squares, in a modern hand, in graphite, "39 / vtB"; somewhat above, "FS / SM3"; farther to the right, "Hendrick Goltzius / signed with monogram".
Provenance:
Acquired from Walter Schatzki (bookseller), New York.
Bibliography:
Ryskamp, Charles, ed. Seventeenth Report to the Fellows of the Pierpont Morgan Library, 1972-1974. New York : Pierpont Morgan Library, 1976, p. 167 (Goltzius, attributed to).
Stampfle, Felice, with the assistance of Ruth S. Kraemer and Jane Shoaf Turner. Netherlandish Drawings of the Fifteenth and Sixteenth Centuries and Flemish Drawings of the Seventeenth and Eighteenth Centuries in the Pierpont Morgan Library. New York : Pierpont Morgan Library, 1991, p. 112-113, no. 249.
Notes:
Watermark: none.
Drawing is one of an extensive series of illustrations for the "Aeneid". The scene illustrates Book IV verses 471-509 and 540-51.
Associated names:
Goltzius, Hendrik, 1558-1617, Formerly attributed to.
Virgil. Aeneis.
Markus, Frits, donor.