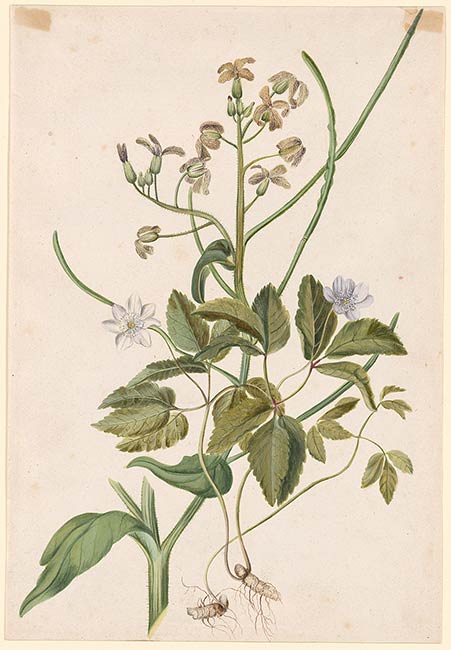 Attributed to Herman Saftleven
Studies of Violets and Buttercups
Watercolor, opaque watercolor and selective gum arabic glaze on paper.
13 5/16 x 9 9/16 inches (353 x 242 mm)
Purchased on the Fellows Fund.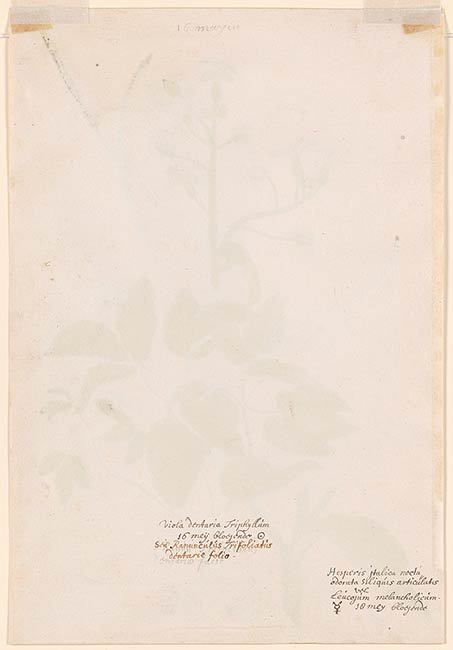 Inscription:
Inscribed on the verso, in the hand of Agnes Block, at top center, in black chalk, "16 mayiis"; at lower center, in brown ink, "Viola dentaria Triphyllŭm / 16 meÿ bloejende."; in a lighter brown ink, over black chalk, "seŭ Ranuncŭlŭs Trifoliatŭs / dentarie folio-" [black chalk version of last word= facie(?)]; and at lower right, "Hesperis jtalica noctŭ / odorata siliqŭis articülatis / vol / Leŭcojŭm melancholicŭm. / 18 mey bloejende".
Watermark: Upper fragment of a Fleur-de-lis in shield, surmounted by crown, (Strasbourg lily), (similar to Heawood, no. 1786: Holland [?], c. 1690).
Provenance:
Agnes Block (1629-1704), Vijverhof, Amsterdam; Douwes Gallery, Amsterdam, 1983; acquired from Schaeffer Galleries, New York.
Bibliography:
Ryskamp, Charles, ed. Twenty-First Report to the Fellows of the Pierpont Morgan Library, 1984-1986. New York : Pierpont Morgan Library, 1989, p. 376-377.
Notes:
Unlike 1984.10, with which it has been traditionally grouped, the present sheet is neither signed nor dated. However, the two drawings were almost certainly from the same original sheet of paper, for the chain lines and the watermark fragments on the edge of each drawing can be matched up nearly exactly.
The present drawings were part of the numerous studies Agnes Block (1629-1704) commissioned of her renowned collection of flora and fauna from various artists, primarily Herman Saftleven.
Associated names:
Block, Agnes, 1629-1704, former owner.