Rembrandt Harmenszoon van Rijn
Two Studies of a Woman Asleep (Saskia?)
Pen and brown ink and wash, on laid paper; traces of framing line.
5 1/8 x 6 3/4 inches (130 x 171 mm)
Purchased by Pierpont Morgan (1837-1913) in 1909.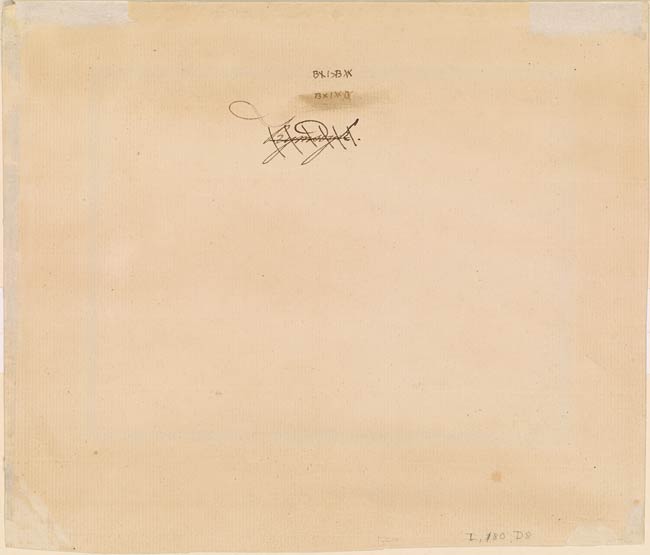 Inscription:
Inscribed at lower left, in Rymsdyk's hand, in brown ink, "Rymsdyk's M."; on the old mount, at lower center, also in Rymsdyk's hand, in brown ink, "Rembrandt"; at left, in another hand, in brown ink, "Born near Leyden 1606", and at right, "died at Amsterdam 167[?]"; on the verso of the mount, at upper center, also in Rymsdyk's hand, in brown ink, "BXI >?V[?V in ligature]/ BXI?V[?V in ligature]B / Rymsdyk [slashed through 4 times]".
Provenance:
Jan van Rymsdyk (fl. c. 1770), Bristol (Lugt 2167); Tighe; Charles Fairfax Murray (1849-1919), London and Florence; from whom purchased through Galerie Alexandre Imbert, Rome, in 1909 by Pierpont Morgan (1837-1913), New York (no mark; see Lugt 1509); his son, J. P. Morgan, Jr. (1867-1943), New York.
Bibliography:
Collection J. Pierpont Morgan : Drawings by the Old Masters Formed by C. Fairfax Murray. London : Privately printed, 1905-1912, I, 180, repr.
Stampfle, Felice and Egbert Haverkamp-Begemann. Rembrandt Drawings from American Collections. Cambridge, MA: Fogg Art Museum; New York: Pierpont Morgan Library, 1960, no. 24, repr.
Stampfle, Felice. Rubens and Rembrandt in Their Century : Flemish and Dutch Drawings of the Seventeenth Century from The Pierpont Morgan Library. New York : Pierpont Morgan Library, 1979 no. 69, repr.
Jane Shoaf Turner, with contributions by Felice Stampfle, Dutch Drawings in the Pierpont Morgan Library: Seventeenth to Nineteenth Centuries, New York, 2006, cat. no. 210.
Notes:
Watermark: fragment of a shield above the letters "WR" (similar to Briquet, no. 7211: Amsterdam, 1630-40).
The drawing is one of a sizeable group of studies representing a woman in bed (awake, asleep, propped up on pillows, or lying down). Given these works' intimate character, they have traditionally been presumed to represent Saskia van Uylenburgh, Rembrandt's wife, and to have been done during an illness or one of her four documented confinements between 1635 and 1641. More recent scholarship has been more cautious with this identification, acknowledging significant physiognomic differences between the women in these various depictions. For an an overview of drawn images that might represented Saskia, see Julia Lloyd Williams, "Rembrandt's Women" (Edinburgh, 2001), 122-29.
Associated names:
Rymsdyk, Jan van, fl. ca. 1770, former owner.
Tighe, former owner.
Murray, Charles Fairfax, 1849-1919, former owner.
Morgan, J. Pierpont (John Pierpont), 1837-1913, former owner.