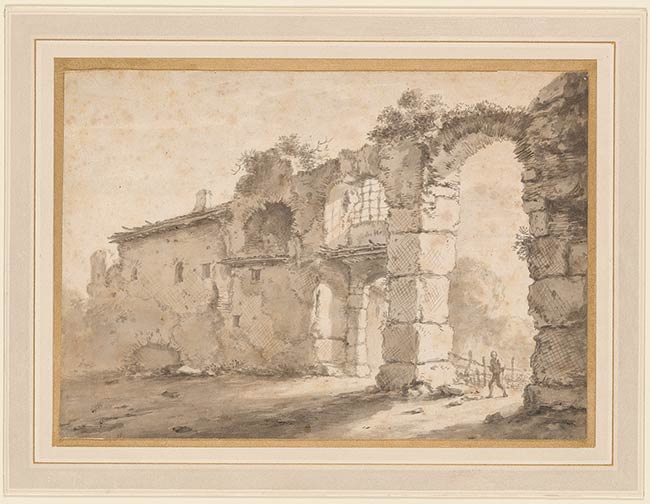 Attributed to Willem Schellinks
Ruins of an Aqueduct with a House Built into One End
Brush and gray-brown wash, on paper.
8 x 11 7/16 inches (203 x 291 mm)
Purchased by Pierpont Morgan (1837-1913) in 1909.
Inscription:
Inscribed on the verso, in graphite, at upper right corner, "33"; below at left, "37"; and at lower left corner, in a relatively old hand, partly trimmed away, "L. Polenburg". Inscribed on the old mount, with Knapton code, in brown ink, at upper left, "634"; at center, "N54"; and at upper right, "7N / L66".
Provenance:
George Knapton (1698-1778), London; bequeathed by him to General George Morrison; Knapton-Morrison sale, London, T. Philipe, 25 May-3 June 1807, one of three (including III, 232) in lot 634 (as "Poelemburch" to Georgina Morrison for £1.7.0); Georgina Morrison; Sir Joseph Hawley; sale, M. de Salicis ... and property of a Baronet [Sir Henry Hawley (1745-1825)], London, Christie's, 16 July 1891, probably one of seven in lot 205: "Landscapes by Poelemberg, Van Ulft, and others" (to Fairfax Murray for £0.10.0); Charles Fairfax Murray (1849-1919), London and Florence; from whom purchased through Galerie Alexandre Imbert, Rome, in 1909 by Pierpont Morgan (1837-1913), New York (no mark; see Lugt 1509); his son, J. P. Morgan, Jr. (1867-1943), New York.
Bibliography:
Collection J. Pierpont Morgan : Drawings by the Old Masters Formed by C. Fairfax Murray. London : Privately printed, 1905-1912, I, 116, repr. (as Cornelis Poelenburgh).
Jane Shoaf Turner, with contributions by Felice Stampfle, Dutch Drawings in the Pierpont Morgan Library: Seventeenth to Nineteenth Centuries, New York, 2006, cat. no. 278.
Associated names:
Poelenburch, Cornelis van, approximately 1594-1667, Formerly attributed to.
Knapton, George, 1698-1778, former owner.
Morrison, George, former owner.
Morrison, Georgina, former owner.
Hawley, Henry, Sir, 1745-1825, former owner.
Murray, Charles Fairfax, 1849-1919, former owner.
Morgan, J. Pierpont (John Pierpont), 1837-1913, former owner.