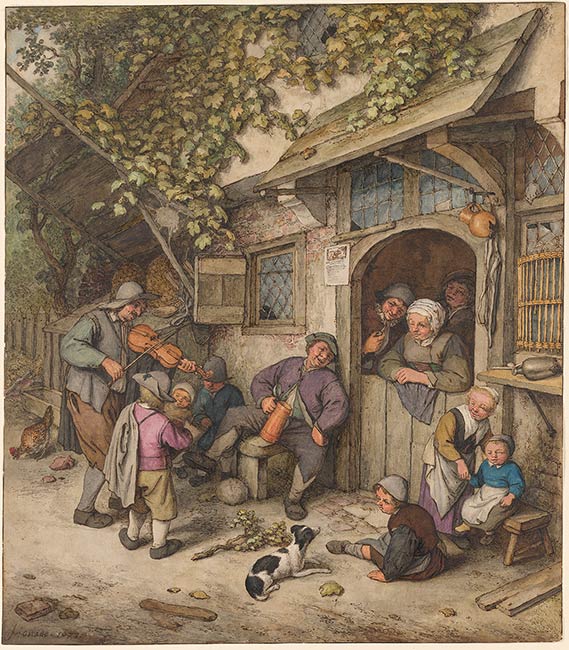 A Violinist at an Ale House Door
Watercolor, pen and brown ink, with opaque watercolor, over graphite; framing line in brown ink.
13 7/8 x 12 3/16 inches (350 x 308 mm)
Purchased by Pierpont Morgan (1837-1913) in 1909.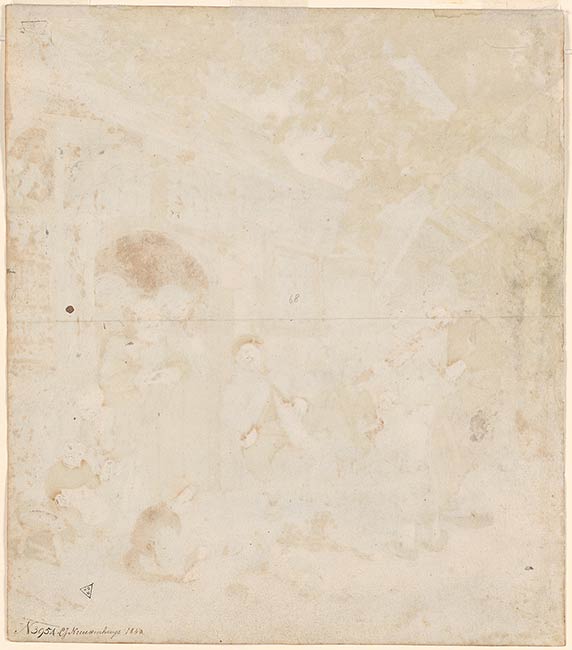 Inscription:
Signed and dated at lower left, in brown ink, "Av.(in ligature)Ostade·1673". Inscribed on the verso, in brown ink, at lower left corner, in the hand of Goll van Franckenstein, "N 3954"; and next to this, "C J Nieuwenhuys 1840".
Provenance:
Jonas Witsen (1733-88), Amsterdam (sold to Cornelis Ploos van Amstel for 126 louis); Cornelis Ploos van Amstel Jb Czn (1726-98), Amsterdam (no mark; see Lugt 2034); Jonkheer Johan Goll van Franckenstein the Younger (1756-1821), Amsterdam (his "N. 3954" in brown ink on the verso; Lugt 2987); Jonkheer Pieter Hendrik Goll van Franckenstein (1787-1832), Amsterdam; his sale, Amsterdam, de Vries, 1 July 1833, Album A, lot 2 (to van Idsinga for 1515 fl.); I. van Idsinga; C.J. Nieuwenhuys (1799-1883), Brussels, Belgium, and Oxford Lodge, Wimbledon, England; Robert Stayner Holford (1808-92), London (Lugt 2243); his sale, London, Christie's, 11-14 July 1893, lot 655 (to Salting for £255); George Salting (1835-1909), London (no mark; see Lugt 2260-61); Charles Fairfax Murray (1849-1919), London and Florence; from whom purchased through Galerie Alexandre Imbert, Rome, in 1909 by Pierpont Morgan (1837-1913), New York (no mark; see Lugt 1509); his son, J. P. Morgan, Jr. (1867-1943), New York.
Description:
This colorful genre scene represents the apogee of Ostade's watercolor manner and depicts one of his many variations on the theme of rustic pleasures. Ostade's watercolors were created predominantly as independent works of art to be marketed to collectors, although the present sheet also served as the basis for a painting. This robust, highly finished sheet was a favorite of Charles Fairfax Murray, whose collection forms the core of the Morgan's holdings.
Bibliography:
Collection J. Pierpont Morgan : Drawings by the Old Masters Formed by C. Fairfax Murray. London : Privately printed, 1905-1912, I, 134, repr.
Stampfle, Felice. Rubens and Rembrandt in Their Century : Flemish and Dutch Drawings of the Seventeenth Century from The Pierpont Morgan Library. New York : Pierpont Morgan Library, 1979, no. 90, repr.
From Leonardo to Pollock: Master drawings from the Morgan Library. New York: Morgan Library, 2006, cat. no. 45, p. 98-99.
Jane Shoaf Turner, with contributions by Felice Stampfle, Dutch Drawings in the Pierpont Morgan Library: Seventeenth to Nineteenth Centuries, New York, 2006, cat. no. 187.
100 Master drawings from the Morgan Library & Museum. München : Hirmer, 2008, no. 59, repr. [Jennifer Tonkovich and Jane Shoaf Turner]
Notes:
Watermark: fleur-de-lis within a shield, over VR. (similar to Heawood, no. 1785: 1670).
Despite the fact that the drawing was surely intended to stand on its own as a finished work of art, van Ostade also translated the subject into oils. The painting, in the Mauritshuis in The Hague, is signed and dated the same year as the drawing. The drawing was later engraved by Cornelis Ploos van Amstel (1726-98) and published in 1770 as no. 17 of his 45 prenttekeningen (color facsimile prints), which appeared between 1765 and 1787. It was re-engraved in the first quarter of the 19th century by Christian Josi (before 1765-1828).