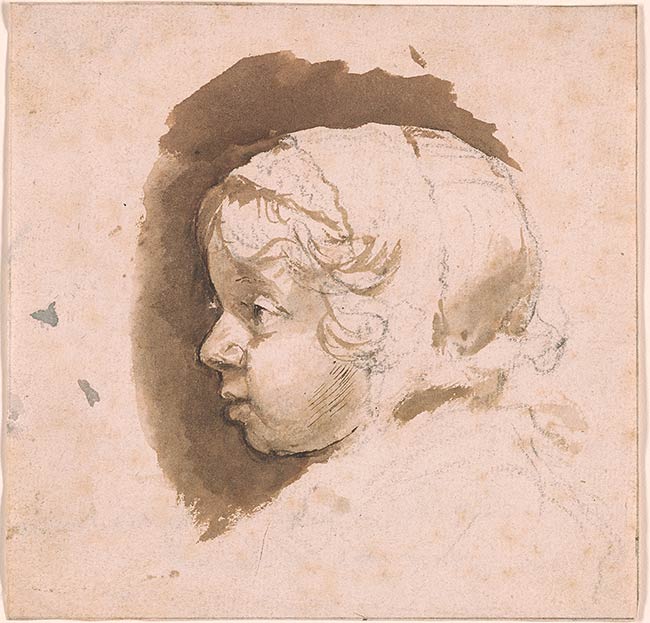 Portrait of the Artist's Daughter Isabella Amaranth. Verso: slight sketch of a child's Leg
Pen and brush and brown ink and wash, over charcoal, on paper; extraneous spots of gray wash at left; framing line in black chalk; verso: black chalk.
4 1/16 x 4 1/8 inches (103 x 105 mm)
Purchased by Pierpont Morgan (1837-1913) in 1909.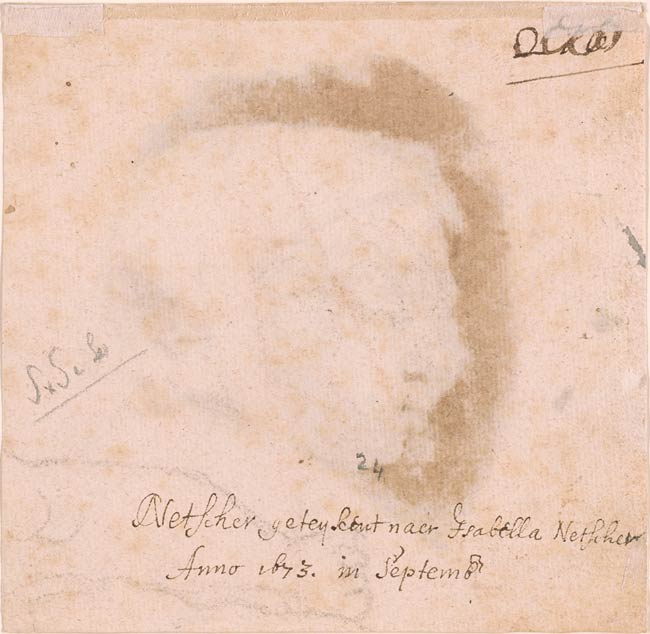 Inscription:
Inscribed, presumably by the artist, on the verso, across lower edge, in brown ink, "Netscher geteykent naer Isabella Netscher / Anno 1673. in Septembr ["r" in superscript]."; numbered above the inscription, in graphite, "24"; at upper right corner, in brown ink, numbers, crossed out, "2 7 0(?)"; and at left center edge, in graphite, "SxScL". Inscribed on the old mount at center, in an old hand, in graphite, "ES [or P]".
Provenance:
Bernardus de Bosch II (1742-1816), Amsterdam; his sale, Amsterdam, van der Schley, Roos...de Vries, 10 March 1817, Album K, lot 37: "Casparas Netscher. Het dochtertje van Netscher, naar het leven, in o.i.i." (to de Vries for 29.10 fl.); Jeronimo de Vries (1808-80), judge at Amsterdam; his sale [with Willem Nicolaas Lantsheer (1826-83) of Middelburg], Amsterdam, Frederik Muller and Co., 3-4 June 1884, lot 234 (to "van Gogh" for 96 fl.); Willem Frederik Piek (1838-1916), Oudshoorn; his sale, Amsterdam, Frederik Muller and Co., 1-2 June 1897, lot 181 (to "van Gogh" for 25 fl.); Charles Fairfax Murray (1849-1919), London and Florence; from whom purchased through Galerie Alexandre Imbert, Rome, in 1909 by Pierpont Morgan (1837-1913), New York (no mark; see Lugt 1509); his son, J. P. Morgan, Jr. (1867-1943), New York.
Bibliography:
Collection J. Pierpont Morgan : Drawings by the Old Masters Formed by C. Fairfax Murray. London : Privately printed, 1905-1912, I, no. 157.
Stampfle, Felice. Rubens and Rembrandt in Their Century : Flemish and Dutch Drawings of the Seventeenth Century from The Pierpont Morgan Library. New York : Pierpont Morgan Library, 1979, no. 126, repr.
Jane Shoaf Turner, with contributions by Felice Stampfle, Dutch Drawings in the Pierpont Morgan Library: Seventeenth to Nineteenth Centuries, New York, 2006, cat. no. 175.
Notes:
Watermark: none.
Netscher was a fashionable portraitist in his time, but this intimate likeness of his three-year-old daughter is more personal than his commissioned work. The sixth and seventh of his twelve children, Isabella and her twin sister, Alexandrina, were born on 26 August 1670. Netscher started Isabella's portrait in black chalk before reinforcing the contour of her profile in brown wash and a few strokes of pen and brown ink. -- Exhibition Label, from "Life Lines: Portrait Drawings from Dürer to Picasso."
Associated names:
Bosch, Bernardus de, II, 1742-1816, former owner.
Vries, Jeronimo de, 1808-1880, former owner.
Piek, Willem Frederik, 1838-1916, former owner.
Murray, Charles Fairfax, 1849-1919, former owner.
Morgan, J. Pierpont (John Pierpont), 1837-1913, former owner.