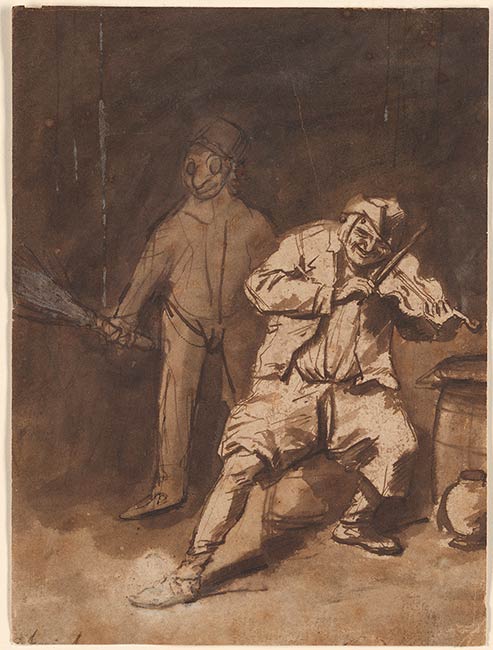 A Fiddler and a Masquerader
Pen and light brown ink, point of brush and black ink, gray wash, on paper; framing line in light brown ink.
6 x 7 9/16 inches (152 x 192 mm)
Purchased by Pierpont Morgan (1837-1913) in 1909.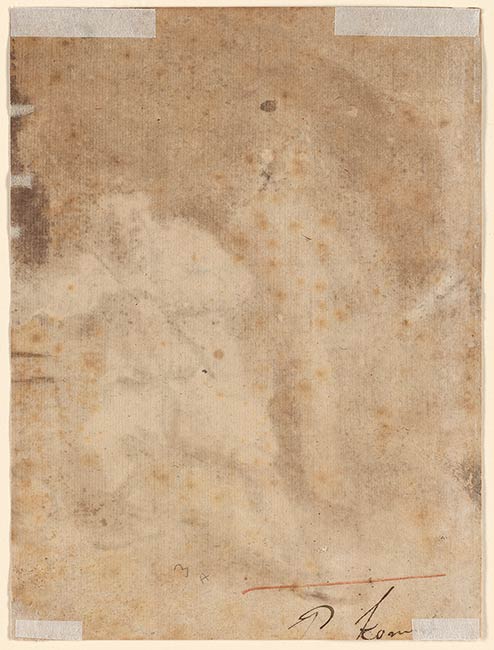 Inscription:
Presumably signed at lower left margin, in brown ink, almost completely cut off, "P. Koninck"; signed by the artist on the verso, at lower right margin, in brown ink, also partially trimmed, "P. Koning...". Inscribed on the old mount underneath drawing, with Knapton code, in light brown ink: at upper center, "W 36"; at upper left corner, "45 S"; and at upper right corner, "6N / L17".
Provenance:
George Knapton (1698-1778), London; bequeathed by him to General George Morrison (1704?-1799), London; Knapton-Morrison sale, London, T. Philipe, 25 May-3 June 1807, one of two in lot 458 (to Miss Georgina Morrison for £1.50.0); Georgina Morrison; Sir Joseph Hawley; possibly sale, M. de Salicis...and property of a Baronet [Sir Henry Hawley (1745-1825)], London, Christie's, 16 July 1891, one of two in lot 200 (to Fairfax Murray for £3.5.0); Charles Fairfax Murray (1849-1919), London and Florence; from whom purchased through Galerie Alexandre Imbert, Rome, in 1909 by Pierpont Morgan (1837-1913), New York (no mark; see Lugt 1509); his son, J. P. Morgan, Jr. (1867-1943), New York.
Bibliography:
Collection J. Pierpont Morgan : Drawings by the Old Masters Formed by C. Fairfax Murray. London : Privately printed, 1905-1912, I, 213, repr.
Stampfle, Felice. Rubens and Rembrandt in Their Century : Flemish and Dutch Drawings of the Seventeenth Century from The Pierpont Morgan Library. New York : Pierpont Morgan Library, 1979, no. 97, repr.
Jane Shoaf Turner, with contributions by Felice Stampfle, Dutch Drawings in the Pierpont Morgan Library: Seventeenth to Nineteenth Centuries, New York, 2006, cat. no. 117.
Associated names:
Knapton, George, 1698-1778, former owner.
Morrison, George, 1704?-1799, former owner.
Morrison, Georgina, former owner.
Hawley, Joseph Henry, Sir, 1813-1875, former owner.
Hawley, Henry, Sir, 1745-1825, former owner.
Murray, Charles Fairfax, 1849-1919, former owner.
Morgan, John Pierpont, 1837-1913, former owner.