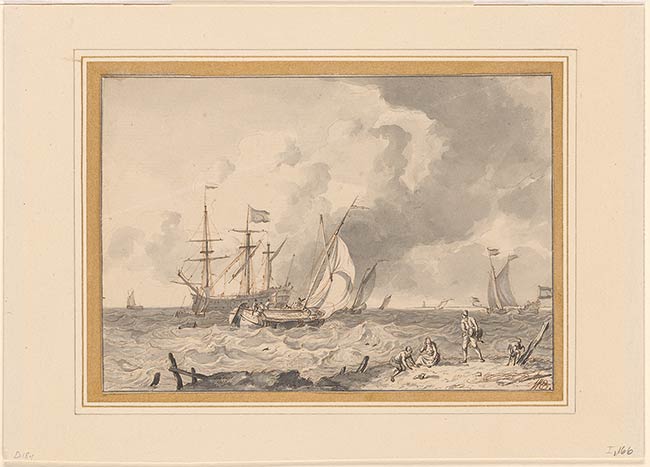 Dutch Shore Scene with a Tjalk Running along the Shore in a Fresh Breeze, a Flagship at Anchor, and a States Yacht under Sail in the Background
Pen and brown ink, gray wash, on paper; framing line in black ink.
4 3/8 x 6 1/4 inches (111 x 158 mm)
Purchased by Pierpont Morgan (1837-1913) in 1909.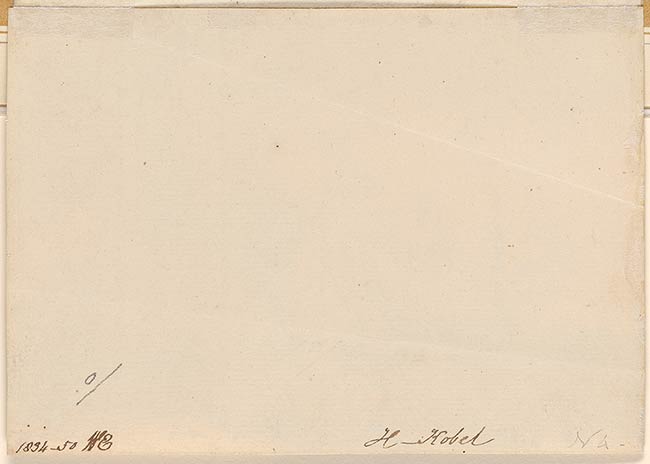 Inscription:
Signed and dated at lower left center, in brown ink, "Kobell / 1776". Inscribed on the verso, at lower left, in Esdaile's hand, in brown ink, "1834-50 WE"; above this, in graphite, "o/"; at lower center, in another hand (?), in brown ink, "H. Kobel"; and at lower right, in graphite, "N 4".
Watermark: Tree with leaves and fruit, fragment.
Provenance:
William Esdaile (1758-1837), London (Lugt 2617); his sale, London, Christie's, 18-25 June 1840, one of two in lot 1430: "a pair of small sea-pieces, with vessels, delicately coloured in indian ink" (to "Gibbs" for £0.8.0); James Gibbs (fl. mid-19th century), London (no mark; see Lugt 1125, identified as John Gibbs); Charles Fairfax Murray (1849-1919), London and Florence; from whom purchased through Galerie Alexandre Imbert, Rome, in 1909 by Pierpont Morgan (1837-1913), New York (no mark; see Lugt 1509); his son, J. P. Morgan, Jr. (1867-1943), New York.
Bibliography:
Collection J. Pierpont Morgan : Drawings by the Old Masters Formed by C. Fairfax Murray. London : Privately printed, 1905-1912, I, 166, repr.
Associated names:
Esdaile, William, 1758-1837, former owner.
Gibbs, James, 19th cent., former owner.
Murray, Charles Fairfax, 1849-1919, former owner.
Morgan, J. Pierpont (John Pierpont), 1837-1913, former owner.