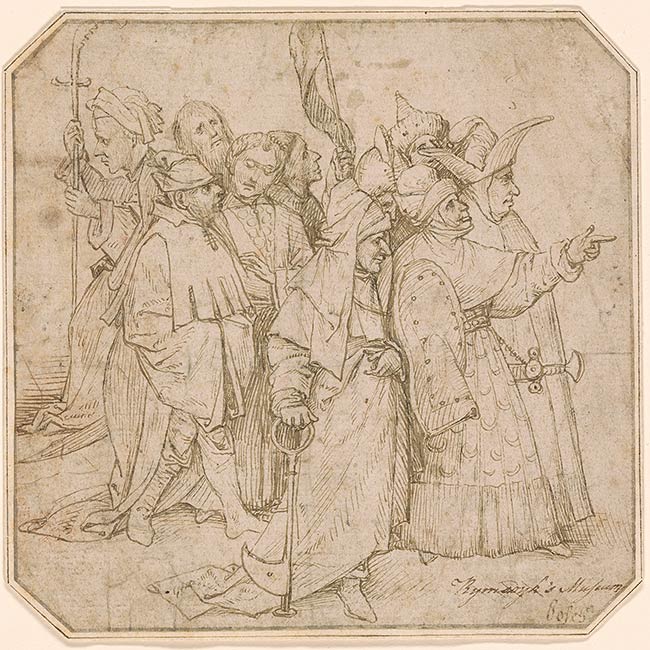 Follower of Hieronymus Bosch
Pen and two brown inks on paper; framing line in brown ink.
4 7/8 x 4 15/16 inches (124 x 126 mm)
Purchased by Pierpont Morgan (1837-1913) in 1909.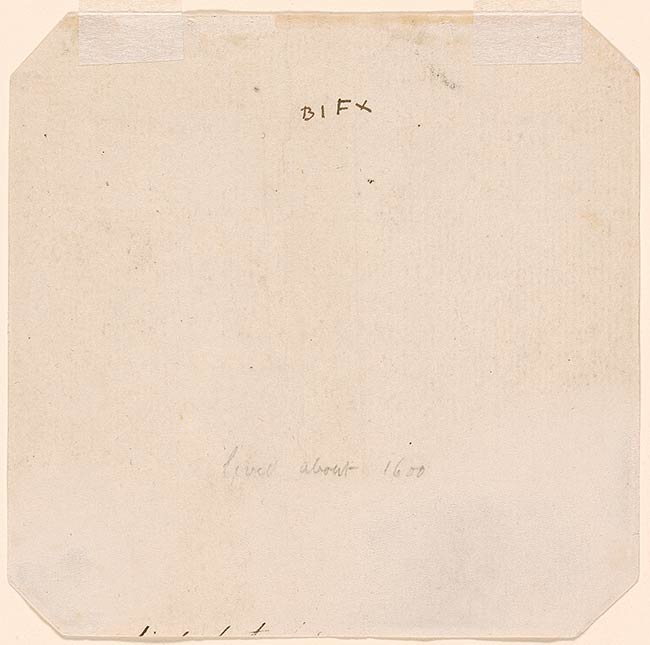 Inscription:
Inscribed at lower right, in brown ink, "Rymsdyk's Museum"; below, in an old hand, in brown ink, "bosch". On verso, at upper center, in Rymsdyk's hand, in brown ink, "B1FX"; below, in graphite, "lived about 1600"; further below, "9"; at lower edge, illegible fragment of inscription in brown ink.
Provenance:
Jan van Rymsdyk (Lugt 2167); Tighe (according to Fairfax Murray); Charles Fairfax Murray (1849-1919), London and Florence; from whom purchased through Galerie Alexandre Imbert, Rome, in 1909 by Pierpont Morgan (1837-1913), New York (no mark; see Lugt 1509); his son, J. P. Morgan, Jr. (1867-1943), New York.
Bibliography:
Collection J. Pierpont Morgan : Drawings by the Old Masters Formed by C. Fairfax Murray. London : Privately printed, 1905-1912, I, 112.
Stampfle, Felice, with the assistance of Ruth S. Kraemer and Jane Shoaf Turner. Netherlandish Drawings of the Fifteenth and Sixteenth Centuries and Flemish Drawings of the Seventeenth and Eighteenth Centuries in the Pierpont Morgan Library. New York : Pierpont Morgan Library, 1991, p. 22, no. 40.
The Age of Bruegel: Netherlandish Drawings on the Sixteenth Century (checklist only). New York : The Pierpont Morgan Library, 1987, no. 17A (Bosch follower).
Notes:
The overlapping figures in this densely composed sheet are likely to be spectators to one of the events in the Passion. Known to specialists of Netherlandish art since the early years of the twentieth century, it was universally accepted as an autograph sheet by Hieronymus Bosch until the late 1960s. Although some scholars retain this traditional attribution (see, for instance, cat. no. 49 in "Hieronymus Bosch: Painter and Draughtsman" (Brussels, 2016), published by the Bosch Research and Conservation Project), it is more likely that the sheet is a work of a follower. According to Fritz Koreny, the somewhat disorganized hatching, the inconsistent rendering of light and shadow, the way in which figures in the foreground stand out in an almost three-dimensional manner, and the overly descriptive portrayal of clothing, among other features, point to a later follower copying a work in a different medium, perhaps a painting. He dates it to ca. 1530-1540 (see cat. no. 23 in Fritz Koreny, "Hieronymus Bosch: Die Zeichnungen" (Turnhout, 2012)). However, the possibility of a date during Bosch's own lifetime should not be entirely dismissed. Erwin Pokorny, for instance, dates the Morgan study to ca. 1510-1520. The drawing shares a number of stylistic similarities with drawings which Koreny attributes to the so-called Master of the Prado Haywain Triptych (Maler des Prado-Heuwagens).
A number of the figures included in the Morgan sheet appear in a print showing "Christ Carrying the Cross" (ca. 1560). The work was engraved by Cornelis Cort after Hieronymus Bosch, using an intermediary drawing by Lambert Lombard. It is notable that the figures, which appear in the Morgan drawing and the finished print, are all absent from Lombard's preparatory drawing at the Fondation Custodia, Paris (inv. 3949). The relationship among these three works thus remains unresolved. For the engraving and the preparatory study, see cat. nos. 74 a-b in Joris van Grieken, Ger Luijten, Jan van der Stock, eds., "Hieronymus Cock: The Renaissance in Print" (Brussels, 2013).
The drawing appears to have been executed in two brown inks. The darker brown ink is used in select areas, especially the heads. According to recent technical examination, iron is present in both inks. There is no reason to believe that the darker ink was added by a later hand, as suggested by Koreny.
The drawings is fully laid down. Using transmitted light, a faint inscription in an old hand is visible on the verso (now covered by the secondary support). The inscription is currently illegible.
Watermark: none.
Associated names:
Rymsdyk, Jan van, fl. ca. 1770, former owner.
Tighe, former owner.
Murray, Charles Fairfax, 1849-1919, former owner.
Morgan, J. Pierpont (John Pierpont), 1837-1913, former owner.