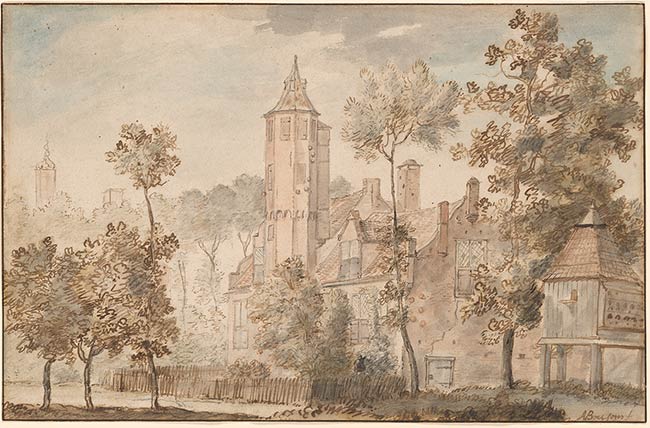 View of Toutenburg Hunting Lodge in Maartensdijk
Pen and brown and some black ink, brown, gray, blue, and yellow watercolor, over black chalk, on paper; framing line in brown ink.
8 3/4 x 13 1/2 inches (222 x 342 mm)
Purchased as the gift of Mrs. Charles W. Engelhard.
Inscription:
Signed at lower right, in pen and brown ink, "A Borssom f."
Inscribed on verso, at lower left, in pen and brown ink, "No. 1028" [n.b. not Goll van Franckenstein]; above that, in graphite, "Het dorp Soest"; at lower right, in graphite, "No. 25".
Watermark: Fleur-de-lis within a shield, surmounted by a crown, over 4 and letters "WR". (cf. Heawood 1780-90). Fleur-de-lis is distorted and crown is tilted to left.
Provenance:
Baron Frederik Carel Theodoor Isendoorn à Blois (1784-1865), "Castle De Cannenburg," Vaassen, Gelderland (Lugt 1407); his bankers Wolff & Cohen (Lugt 2610); Isendoorn sale, Amsterdam, Roos..., 19 August 1879, lot 25: "Vue du village de Soest, dans la province d'Utrecht"; A.W.M. Mensing (1866-1936), Amsterdam; his sale, Amsterdam, Frederik Muller and Co., 27-9 April 1937, lot 70, repr. (to Hirschmann for 1050.00 fl.); Otto Hirschmann, Bad Ragaz; Mrs. Otto Wertheimer (1898-1981), Berlin and Paris; C.G. Boerner, Düsseldorf; Emile Levy, Basel; acquired from R.M. Light and Co, Santa Barbara.
Bibliography:
Ryskamp, Charles, ed. Twentieth Report to the Fellows of the Pierpont Morgan Library, 1981-1983. New York : Pierpont Morgan Library, 1984, p. 239.
Jane Shoaf Turner, with contributions by Felice Stampfle, Dutch Drawings in the Pierpont Morgan Library: Seventeenth to Nineteenth Centuries, New York, 2006, cat. no. 38.
Associated names:
Theodoor, Frederik Carel, Baron van Isendoorn à Blois, 1784-1865, former owner.
Mensing, Ant. W. M., 1866-1936, former owner.
Hirschmann, Otto, former owner.
Wertheimer, Otto, 1896-1973, former owner.
Boerner, C. G., former owner.
Levy, Emile, former owner.
Engelhard, Charles W., Mrs., donor.