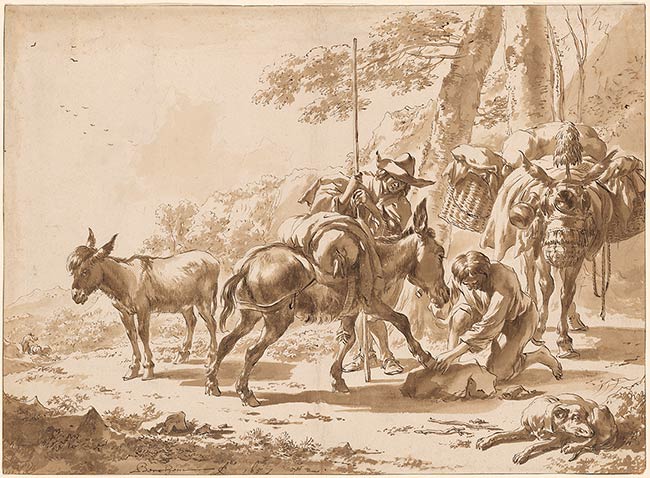 Nicolaas Pietersz Berchem
Pen and brown ink, red-brown wash, over black chalk, on paper; incised with a stylus; framing line in brown ink.
11 3/16 x 15 3/8 inches (284 x 390 mm)
Purchased by Pierpont Morgan (1837-1913) in 1909.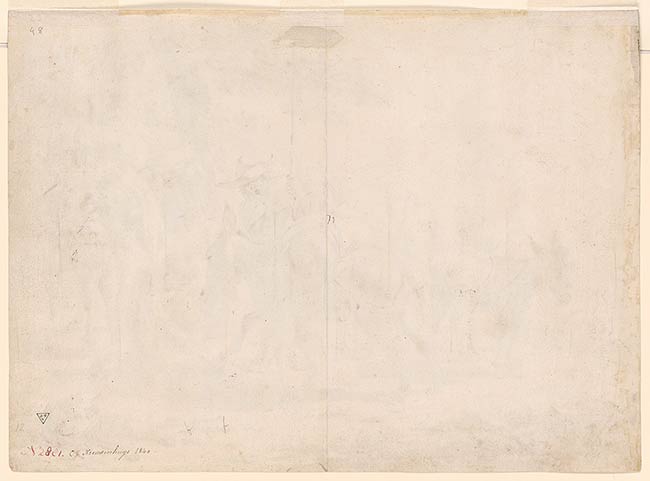 Inscription:
Signed and dated at lower left margin, in brown ink, "Berchem fec ["ec" in superscript] 1657". Inscribed on the verso: at upper left, in the hand of Röver, in graphite, "23/48"; at center, also in graphite, "71"; at lower left, in graphite, "12"; below this, in the hand of Goll van Franckenstein, in red ink, "N 2881"; and after this, in brown ink, "C J Nieuwenhuys 1840".
Watermark: Foolscap with seven points over "4" and three balls (similar to Heawood, nos. 1996-2020), cap with two balls and one point.
Provenance:
Valerius Röver (1686-1739), Delft (his number 23/48 in graphite on the verso; Lugt S. 2984a-c); his widow, Cornelia Röver-van der Dussen (1689-1762), Delft; from whom sold in 1761 to Hendrik de Leth (1703-66) for Goll van Franckenstein; Jonkheer Johann Goll van Franckenstein the Elder (1722-85), Amsterdam; Jonkheer Johan Goll van Franckenstein the Younger (1756-1821), Amsterdam (his N 2881 in red ink on the verso; Lugt 2987); Jonkheer Pieter Hendrick Goll van Franckenstein (1787-1832), Amsterdam; his sale, Amsterdam, de Vries...Roos, 1 July 1833, Album C, lot 1 (to van Idsinga for 501 fl.); I. van Idsinga; C.J. Nieuwenhuys (1799-1883), Brussels, Belgium, and Oxford Lodge, Wimbledon, England; Robert Stayner Holford (1808-92), London (Lugt 2243); his sale, London, Christie's, 11-14 July 1893, lot 622 (to "Davis" for £5.10.0); Charles Fairfax Murray (1849-1919), London and Florence; from whom purchased through Galerie Alexandre Imbert, Rome, in 1909 by Pierpont Morgan (1837-1913), New York (no mark; see Lugt 1509); his son, J. P. Morgan, Jr. (1867-1943), New York.
Bibliography:
Collection J. Pierpont Morgan : Drawings by the Old Masters Formed by C. Fairfax Murray. London : Privately printed, 1905-1912, III, 208, repr.
Stampfle, Felice. Rubens and Rembrandt in Their Century : Flemish and Dutch Drawings of the Seventeenth Century from The Pierpont Morgan Library. New York : Pierpont Morgan Library, 1979, no. 101, repr.
Jane Shoaf Turner, with contributions by Felice Stampfle, Dutch Drawings in the Pierpont Morgan Library: Seventeenth to Nineteenth Centuries, New York, 2006, cat. no. 19.
Notes:
This drawing, like I, 138, was reproduced, in reverse, by Johannes Visscher (1633-after 1692). The corresponding print, no. 4 in his series of four etched and engraved prints published under the title "Diversa animalia quadrupedia", is a faithful reproduction of the Morgan drawing (Hollstein, XLI, p. 87, no. 377).
Associated names:
Röver, Valerius, 1686-1739, former owner.
Röver-van der Dussen, Cornelia, 1689-1762, former owner.
Leth, Hendrik te, 1703-66, former owner.
Goll van Franckenstein, J. (Johann), 1722-1785, former owner.
Goll van Franckenstein, Johan, 1756-1821, former owner.
Goll van Franckenstein, Pieter Hendrik, 1787-1832, former owner.
Nieuwenhuys, C. J., 1799-1883, former owner.
Holford, Robert Stayner, 1808-1892, former owner.
Murray, Charles Fairfax, 1849-1919, former owner.
Morgan, J. Pierpont (John Pierpont), 1837-1913, former owner.