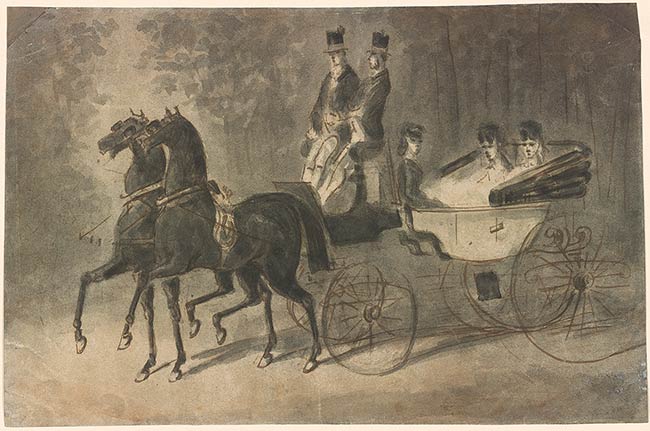 Pen and brown ink, black and gray wash, on paper.
8 1/8 x 12 3/8 inches (205 x 315 mm)
Bequest of John S. Thacher.
Provenance:
John S. Thacher (1944-2004), Washington, D.C.
Bibliography:
Ryskamp, Charles, ed. Twenty-First Report to the Fellows of the Pierpont Morgan Library, 1984-1986. New York : Pierpont Morgan Library, 1989, p. 346.
Notes:
This monochromatic wash drawing is devoted to one of Guys's most ubiquitous modern subjects, the horse-drawn carriage of all makes and models. This scene with two men in top hats driving an open carriage with three women seated amid a crush of crinoline is repeated in several drawings, including a near replica in the Metropolitan Museum of Art where an additional woman rides in the carriage (29.100.606).
According to the art critic Robert de Montesquiou, Guys was enamored of these modern conveyances: "White outfits, foamy, frothy, as though beaten and whipped up like cream, in victorias, and under overhanging trees, Guys excels with them. And these lead us to that predilection of the artist, what he loved no doubt as much as women: the vehicle, the carriage. Not only those barouches and those dorsays, those phaetons and those tilburys, those ducs and those half-ducs, those breaks, those pony-carts, and those spider buggies, whose anatomies he draws so lovingly, the radiant rims like rays of swiftly moving suns..."
Associated names:
Thacher, John S., former owner.