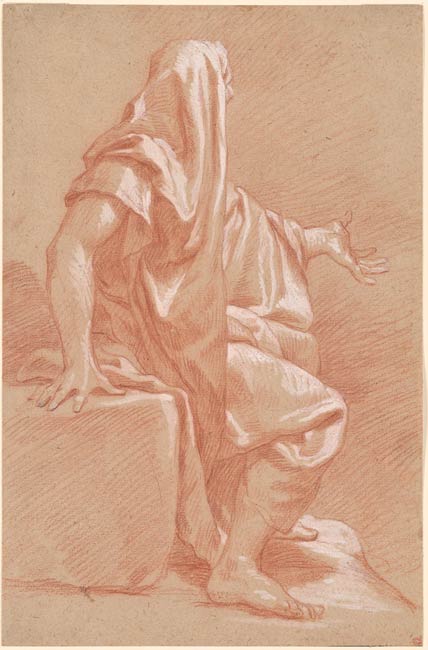 Red chalk, with white opaque watercolor, on light brown paper.
15 1/2 x 10 1/8 inches (395 x 258 mm)
Purchased as the gift of the Fellows.
Inscription:
Inscribed on verso in graphite at right center, "Sacchi, Andrea/Ex Colls: Carlo Prayer/Albusini-Scrosati/Litta/Milan".
Watermark: Anchor, with letters "C and A" in a circle surmounted by a six-pointed star, letter "M below, centered on chain line (Similar to Briquet 481: Arnoldstein, 1510-14; Laibach, 1514; Treviso, 1514-19; and Briquet 500: Brescia, 1512). Lead white on image is visible on beta radiograph.
Provenance:
Carlo Prayer (1826-1900), Milan (Lugt 2044 at lower right); possibly Guttekunst, Stuttgart; Albasini-Scrosati family collection, Milan [possibly Ermanno Albasini-Scrosati (1863-1931)]; Palazzo Litta, Milan; Colnaghi, London (as Andrea Sacchi).
Bibliography:
Adams, Frederick B., Jr., comp. Thirteenth Report to the Fellows of the Pierpont Morgan Library, 1963 & 1964. New York : Pierpont Morgan Library, 1964, p. 97.
Pierpont Morgan Library. Review of Acquisitions, 1949-1968. New York : Pierpont Morgan Library, 1969, p. 145.
Notes:
While acquired as by Andrea Sacchi, this sheet was reassigned to the French school in 1965, when Pierre Rosenberg suggested it might be by a French artist in the circle of Jean Jouvenet. The watermark suggests the paper originated northeast of Venice, near the modern borders of Austria and Slovenia. The sheet was in a Milanese collection since the nineteenth century, further indicating that it is likely the work of a northern Italian artist. The use of liquid white highlights would also be unusual on French drawings from the seventeenth century.
Similar seated male figures with heads and torsos covered in drapery are found in old testament scenes. The garment covering the head of the figure in the present sheet suggests that it is a study for a biblical scene, perhaps a priest or a Jewish elder.
Associated names:
Sacchi, Andrea, 1599?-1661, Formerly attributed to.
Prayer, Carlo, 1826-1900, former owner.
Albusini-Scrosati, former owner.
Litta, former owner.