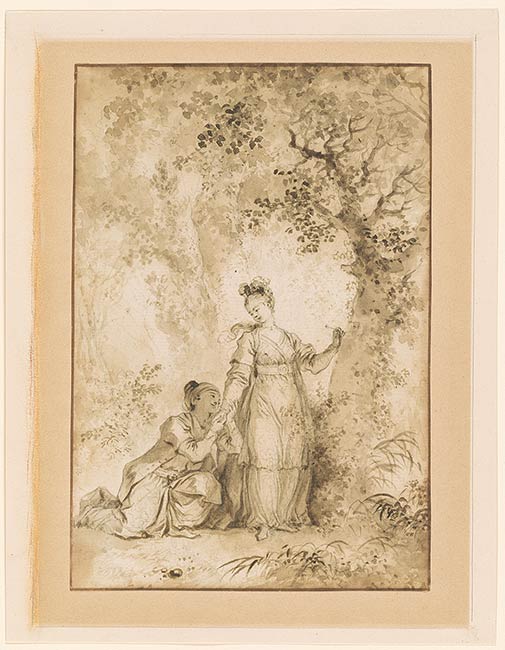 La Fiancée du Roi de Garbe: L'Arbre
Point of brush and wash, with brown ink, over black chalk, on paper.
8 1/16 x 5 1/2 inches (205 x 140 mm)
Purchased on the Gordon N. Ray Fund.
Provenance:
Jamonières collection; A. Piat; his sale, Paris, 22-23 March 1897, no. 50; anonymous sale, Paris, Galerie Charpentier, 14 June 1955, no. 73, pl. XXXVIII; Thomas Agnew & Sons, Ltd., London, 1992.
Bibliography:
Alexandre Ananoff, "L'Oeuvre dessiné de Jean-Honoré Fragonard, 1732-1806", 4 vols., Paris, 1961-1970, IV, no. 2708, fig. 676.
Notes:
Watermark: fleur-de-lis.
This drawing belongs to the last and most finished group of Fragonard's three sets of illustrations after Jean de La Fontaine's works for Pierre Didot's "Contes et nouvelles en vers", 1795. The present sheet is a replica of a drawing in the collection of the Petit Palais, Paris (see "Fragonard et le dessin français au XVIIIe siècle dans les collections du Petit Palais", Paris, Petit Palais, 1992-1993, no. 140).