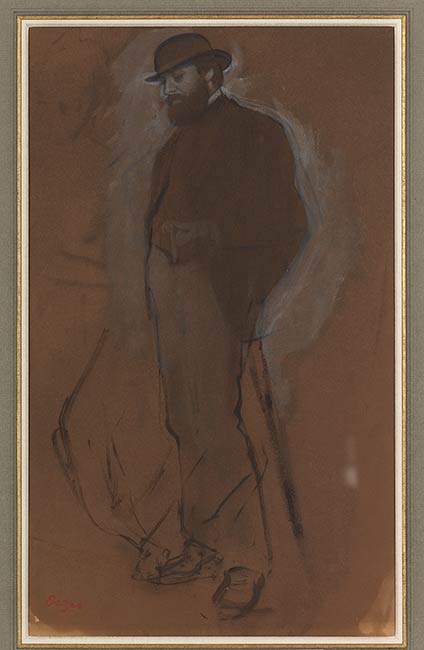 Standing Man in a Bowler Hat; Slight Sketch of a Woman at Left
Essence (thinned oil paint) on brown paper.
12 27/32 x 7 15/16 inches (326 x 202 mm); decorative frame: 25 3/4 x 19 3/4 x 2 1/2 inches
Bequest of John S. Thacher.
Inscription:
Stamped in red ink at lower left corner, "Degas"; inscribed on back of old frame, in pen and black ink, "premiere idée pour le Viol (l'homme / adosse à la porte / vers 1874 / par Degas (Edgar) / peinture à l'essence sur papier huilé / no. 49 de la 2e vente de l'atelier Degas"; and on a label attached to the backing, "M. Guerin / 22 Bd. St. Michel / 14"; numbered on verso, in pencil (?), beneath lining, "237(?)".
Numbered on verso beneath lining in pencil(?), "237(?)".
Provenance:
The artist's atelier (Lugt 657-58); his sale, Paris, Galerie Georges Petit, 11-13 December 1918, lot 49, repr.; Marcel Bing, Paris; Marcel Guérin, Paris; John S. Thacher, Washington, D.C.
Bibliography:
Lemoisne, Paul-André: Degas et son oeuvre. Paris, 1946. (Lemoisine, Paul-André: Degas et son œuvre. New York, 1984, v. II, no. 344, p. 182-3, repr. Garland reprint of 1947-48 original).
Rivière, Henri. Les dessins de Degas reproduits en fac-similie/ réunis et publiés par le soins de Henri Rivière. New York, 1922-1923, no.77, repr.
Pecirka, Jaromir: The Drawings of Edgar Degas. London, 1963, no 25, repr.
Russoli, Franco and Fiorella Minervino: L'opera completa di Degas. Milan, 1970, no. 382, repr.
Ryskamp, Charles, ed. Twenty-First Report to the Fellows of the Pierpont Morgan Library, 1984-1986. New York : Pierpont Morgan Library, 1989, p. 313, 332, fig. 6.
Denison, Cara D. French Master Drawings in the Pierpont Morgan Library. New York : Pierpont Morgan Library, 1993, no. 118, repr.
In August Company : The Collections of the Pierpont Morgan Library. New York : Pierpont Morgan Library, 1993, no. 30, p. 303-304, repr. in color.
From Leonardo to Pollock: Master drawings from the Morgan Library. New York: Morgan Library, 2006, cat. no. 89, p. 186-187.
Dervaux, Isabelle. Drawing connections: Baselitz, Kelly, Penone, Rockburne, and the old masters. New York: Morgan Library & Museum, 2007, p. 23, 27, repr.
Notes:
This study of a well-dressed flaneur is similar to Degas' depictions of his urbane and fashionable brother Achille in Paris in the years prior to the artist's 1872 departure for New Orleans. It may have been executed about the same time that Degas prepared A Cotton Office: this bearded gentleman is perhaps an unused stock figure for the finished composition. The purpose of the odd, angular outlines in the lower half of the sheet is unknown. --Exhibition Label, from "Degas: Drawings and Sketchbooks"
Associated names:
Bing, Marcel, former owner.
Guérin, Marcel, 1873-1948, former owner.
Thacher, John S., former owner.