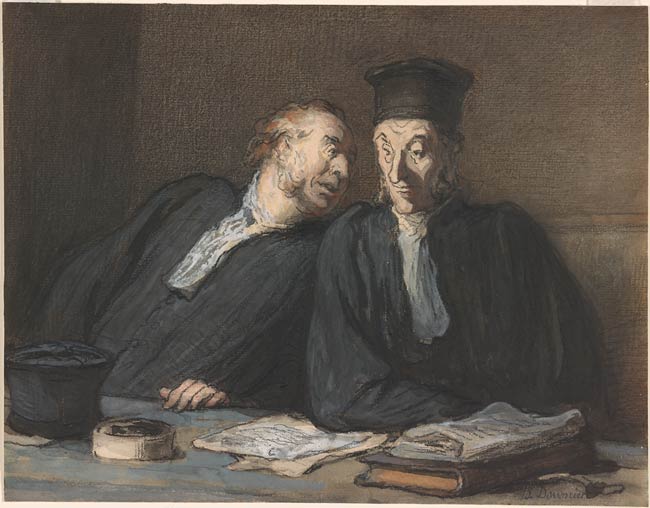 Black chalk, lithographic crayon, watercolor and opaque watercolor with graphite.
8 1/4 x 10 5/8 inches (209 x 270 mm)
Exhibition label:
Inspired by the courts in his Paris neighborhood, Daumier made numerous studies of lawyers at work. The artist's experience as a pictorial satirist for the sophisticated audience of the journal Le Charivari informed many of these scenes. At a courtroom table, a lawyer leans back to offer an aside to his upright colleague, who listens with an impassive air. Daumier's sly commentary on the legal profession reveals his skepticism about the justice system during the reign of Napoleon III.
Inscription:
Signed in pen and black ink at lower right, "h. Daumier".
Provenance:
Jules Clarétie, Paris; sale, Paris, Palais Galliéra, 27 March 1973, no. 17; Mr. and Mrs. Eugene V. Thaw, New York.
Description:
Pairs or groups of lawyers are the subject of many of Daumier's drawings. Frequently the figures are contrasting visual types, as in the present example. Here, a thickset man leans over to compare anecdotes or discuss strategy with a thin colleague. The artist was at the peak of his artistic power in the 1860s, the period to which this drawing undoubtedly dates.