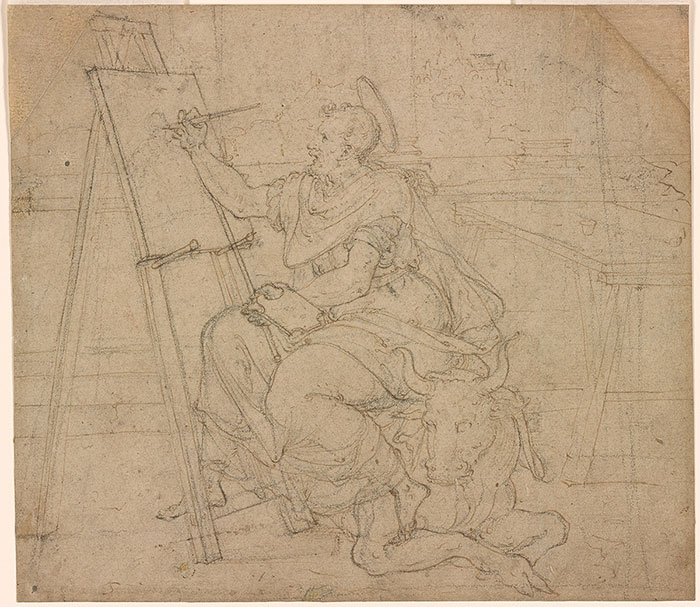 St. Luke Depicting the Virgin and Child
Black chalk and pen and brown ink, on paper.
6 1/16 x 6 7/8 inches (154 x 175 mm)
Purchased as the gift of Mrs. W. Murray Crane.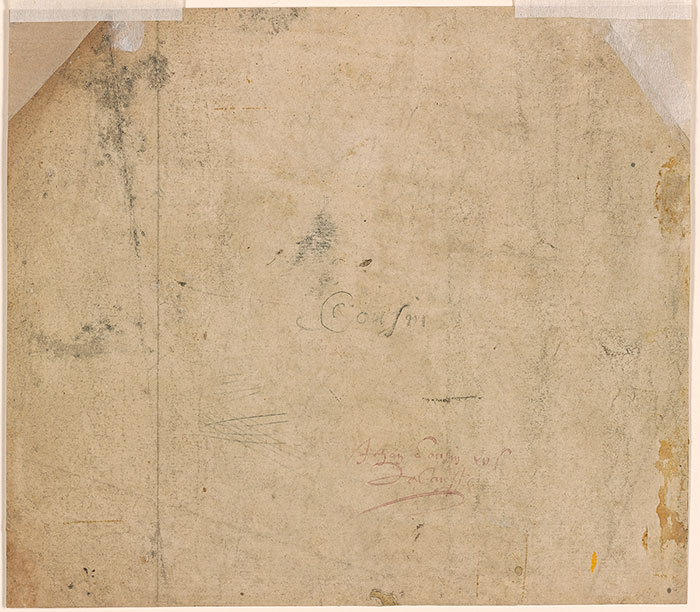 Inscription:
Inscribed in red ink on the verso in a 16th century hand, "Jehan Cousin XV S/ De Caysse" and in black chalk, "Cousin".
Watermark: Pot with one handle and letters "4L" inside on band, quatrefoil on top, placed between 2 chain lines, touching chain at handle and body.
Provenance:
Victor Spark (1898-1991), New York.
Bibliography:
Pierpont Morgan Library. Review of Acquisitions, 1949-1968. New York : Pierpont Morgan Library, 1969, p. 139.
Denison, Cara D. French Drawings, 1550-1825. New York : Pierpont Morgan Library, 1984, no. 1.
Denison, Cara D. French Master Drawings in the Pierpont Morgan Library. New York : Pierpont Morgan Library, 1993, no. 2, repr.
Notes:
The corpus of drawings by Jean Cousin the Elder once included sheets by a range of artists active in France during the mid-sixteenth century, including those from Italy and the North, as well as works by his son, Jean Cousin the Younger. In a 2013 exhibition at the Louvre, Dominique Cordellier sought to more rigorously define the artist's oeuvre as a draftsman and to distinguish his works from those of his son. Only small number of drawings can be connected to documented projects, but around these works a coherent body of drawings can be amassed. The Morgan's sheet, depicting St. Luke seated on his ox, painting an image of the Virgin, is consistent in style and facture with the body of works by Cousin the Elder, and is a rare sheet focused on a single figure in a simple interior setting.
Associated names:
Crane, Josephine Boardman, 1873-1972, donor.
Spark, Victor, 1898-1991, former owner.