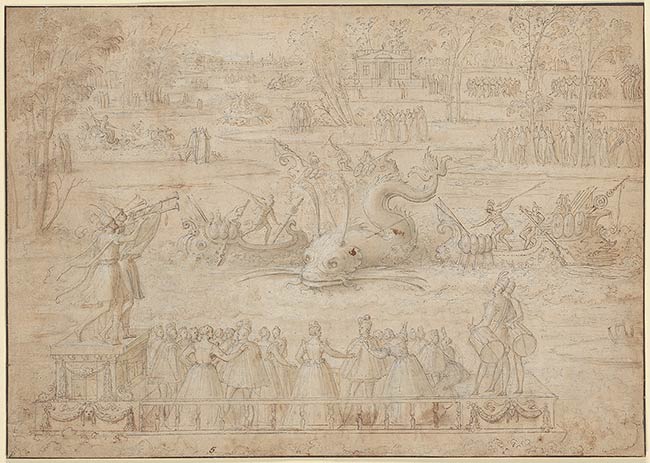 A Water Festival with a Sea Monster
Black chalk, pen and brown ink and wash, with lead white opaque watercolor, partially oxidized, on paper.
13 x 19 3/8 inches (348 x 492 mm)
Purchased as the gift of the Fellows.
Inscription:
Inscribed in brown ink at lower left margin, "5".
Provenance:
W. Thomson, Jr., United Kingdom; P&D Colnaghi & Co., London, 1955.
Bibliography:
Denison, Cara D., and Helen B. Mules, with the assistance of Jane V. Shoaf. European Drawings, 1375-1825. New York : Pierpont Morgan Library, 1981, no. 28, repr.
Denison, Cara D. French Drawings, 1550-1825. New York : Pierpont Morgan Library, 1984, no. 4, repr.
Denison, Cara D. French Master Drawings in the Pierpont Morgan Library. New York : Pierpont Morgan Library, 1993, no. 6, repr.
From Leonardo to Pollock: Master drawings from the Morgan Library. New York: Morgan Library, 2006, cat. no. 67, p. 142-143.
Notes:
Watermark: bunch of grapes with initials A F flanking stem (Briquet 13160: Lyon, 1558-63). Watermark, beta radiograph. grapes, A F. 109630wm_1955_7_WM_beta.jpg
The present large sheet by Caron is one of six drawings depicting courtly spectacles that was later used for a scene in the background of one of a series of eight wall hangings known as the Valois Tapestries, now in the Uffizi Galleries, Florence. In this scene, a flotilla carrying soldiers mounting an attack on a large sea monster in front of a crowd of spectators. Also part of the entertainment is Neptune on a chariot drawn by seahorses and mermaids riding on a turtle and playing music.
Aby Warburg connected the event shown here with a naval spectacle that was held on 24 June 1565 on the river Adour and documented in the Recueil des choses notables qui ont esté faites a Bayonne. The event marked the meeting at Bayonne between Catherine de Medici, accompanied by Charles IX, and her daughter, Elizabeth Queen of Spain. Louis Dimier, however, noted the absence of Charles IX and other members of his court, thus calling into question the identification of the subject. A similar spectacle was staged in Paris in October 1581 for the wedding of Anne d'Arques duc de Joyeuse. To celebrate the union, Charles de Bourbon, Cardinal and Bishop of Rouen, had a large and magnificent boat built on the River Seine and adapted to look like a triumphal chariot for the wedding ceremony. It is unclear whether the present drawing depicts the event in 1565 or 1581. As Frédéric Hueber suggested, it may be that the drawing depicts the extravagant fete at Bayonne, though the tapestry may illustrate the wedding of the duc de Joyeuse. (Summary adapted from Ketty Gottardo, Antoine Caron, Drawing for Catherine de Medici, 2018, p. 56-57.)
Associated names:
West, Raphael Lamar, 1769-1850.
Thomson, W., Jr., former owner.