Submitted by

Reading Room

on Thu, 09/22/2022 - 6:00pm
This is a guest post by Araceli Bremauntz-Enriquez (she/her), Morgan Library & Museum Summer Graduate Fellow, CUNY, The Graduate Center.
Belle da Costa Greene, the Morgan Library & Museum's first director, worked devotedly to expand, organize, and research the museum's collection. Outside of her role at the Morgan, she acquired works of art and curated a substantial personal collection of works on paper, sculpture, and paintings. In collaboration with the museum's curatorial teams, I researched Greene's art collection to better understand her networks with art institutions in New York, and to question what values, tastes, and ideas she engaged with in her own home. This research supports the development of an exhibition on Belle da Costa Greene which is scheduled to open in 2024.
Belle da Costa Greene's bequest to the Morgan Library & Museum included nineteen drawings, two prints, and over forty leaves from Islamic and Christian medieval manuscripts. Greene's collection ranged from a drawing by Henri Matisse and an illuminated folio of Nizami's Khamsa attributed to Siyarsh, to a woodblock print of Albrecht Durer's most famous compositions, Melancholia. After starting my fellowship at the Morgan and reviewing the dizzying list of drawings, paintings, manuscripts, printed books, sculptures, and jewelry that had previously belonged to the museum's first director, I couldn't help but try to imagine what Greene's apartment looked like and how the wide variety of works was organized in her home. As of now, there is only one partial image of Greene's home, which only makes this inquiry all the more tantalizing. It's difficult to piece together many of Greene's varying interests through the existing archival records. While we do not know how she displayed and interacted with the works in her own collection, I have focused on one drawing that proves as enigmatic as Greene's collection is challenging to synthesize.
Jean Pillement. Chinoiserie: Fisherman with Two Nets, 1770. Colored chalks on paper, Bequest of Belle da Costa Greene, 1950.16
In Chinoiserie: Fisherman with Two Nets, a single figure, dressed in a light yellow jacket and a conical hat is turned away from the viewer and is carrying a long pole with two nets; the figure is walking toward a small structure, presumably with the day's catch. Surrounding the figure, an assemblage of foliage and fantastical flowers frame the composition. Jean Pillement's composition, specifically the clothing and accessories, the imagined architecture of the piece, and the fantastical floral designs can be seen today as a manifestation of the racist and reductive ways in which European artists imagined the "orient." This style of composition, labeled as "chinoiseries," brought wide acclaim to the artist in the late eighteenth century and many of his designs were reproduced as engravings, wallpapers, or printed on ceramic decorative arts. 1 Greene owned Chinoiserie: Fisherman with Two Nets and two additional drawings in the same style depicting similar subject matter. Thus far, I have not been able to determine where she purchased these drawings or what historical or cultural value these drawings symbolized for Greene. 2
To thoroughly question Pillement's chalk-colored drawing, I researched the original context and was able to uncover that all three of the drawings by Pillement in Greene's collection were part of a printed series known as Suite of Twelve Fishermen and Hunters . The original drawings were etched by J. J. Avril and printed reversed and in black-and-white. On the introductory page of the album, Pillement designed a similar composition with a banner that read, "Invented and designed by J. Pillement, the primary painter of the King of Poland, in Paris." This introduction makes it evident that the designs are not only "invented" views of Chinese figures, but their place of origin and their framework is based on a Euro-centric point of view.
It is unclear if Greene had been aware of the engraved version of her drawings. However, her close friendship with William Mills Ivins Jr. may suggest a bit more nuance. Ivins, the first curator of prints at The Met, corresponded often with Greene, and had studied the work of Pillement closely. Ivins describes Pillement's work, including a familiar description. Ivins states "Barques of flowers and leaves pursue their courses in flat defiance of all rules of physics and experience. Chinamen fish from pagodas perched on ladders rising from the most fragile of petals." 3 In this description, It seems as though Ivins had been thinking of the composition in Greene's collection. As a connoisseur in the field, Ivins would have likely known that this image had a corresponding engraving. There is no existing correspondence between Greene and Ivins that discusses this work, but is it possible that they would have met or discussed the work within Greene's home? If so, what would have been the main takeaways and their analysis of the piece? Would they have compared the original drawing to the engraving? Would they have valued the differences in the appearance of the engraving or would they have preferred the original chalk drawing?
While I have not been able to find any correspondence or writing by Greene about Pillement in general, two additional sources reveal that this drawing was of significant importance to her. First, I was able to find that this was one of the only works of art in Greene's personal collection that was cataloged by the Frick Collection's Photoarchive. Throughout her career, Greene had collaborated with librarians at The Frick Collection to create a comprehensive photo archive for researchers, which attached photographic reproductions of artworks to a record of important provenance, publications, and exhibition information. Greene had provided an image of this drawing to the Frick, and a digitized version of that record is available through the Fricks' webpage today. Among the numerous works in her collection, this drawing is one of only a couple to be documented in the Frick's Photoarchive. 4 What about this drawing specifically motivated Greene to catalog it?
The 1941 exhibition, The China Trade and Its Influence sought to "illustrate the manifold aspects of this important cultural exchange." 5 Greene lent Chinoiserie: Fisherman with Two Nets and the image was reproduced in the exhibition catalog, although no interpretation of the work is provided in the text. In my research, I sought to find the exhibition history of numerous works in Greene's collection, but as far as I have been able to see, this is the only work that she lent to an exhibition. While Greene was certainly not involved in the curation of the 1941 exhibit, it is significant that she would choose to loan this work and that the catalog would reproduce the work in her collection.
My investigation into Chinoiserie: Fisherman with Two Nets has raised more questions than answers in terms of Greene's collecting practices. Through different sources, I have been able to find that Greene shared this drawing with friends like William Ivins, with colleagues through the Frick Photoarchive, and with the public through an exhibition loan. Although this was an item in her personal collection, Greene made numerous attempts to archive and disseminate information about the drawing, attaching her name to it in each instance through the credit line "Collection of Miss Belle da Costa Greene." In the 1770s, when the drawings were made, the representation of Chinese dress, landscapes, and lifestyles was appropriated and fantasized by artists. These "orientalizing" depictions are a testament today to Europe's colonial vision, but in the early 20th century, would this style of depiction take on a new valence? In reviewing archival sources, I have not been able to fully deduce how Greene perceived these works and what she valued about them. What did Greene see in these drawings? The answers depend on a nuanced and individual understanding of personal preference and individual value systems.
Endnotes
Jean Pillement (1728-1808) is best known as a Rococo painter in France, Spain, Portugal, and England and for having designed decorated interiors for the Prince of Liechtenstein and the King of Poland. At the time he designed the three chalk drawings that were in Greene's collection, he was residing in Avignon and had been working with the London Society of Artists for numerous years. Maria Gordon-Smith. Pillement. Krakow: IRSA Publishing House, 2006. p. 330-336
In addition to owning the three designs of "chinoiserie" by Pillement, Greene was also keen on collecting Chinese art and had three Bodhisattva sculptures in her home. However, the important distinction should be made that Pillement's drawings are European artworks that are influenced by Chinese aesthetics and should not be conflated with her interest in Chinese sculptures.
William M. Ivins Junior. "Jean Pillement" In Prints and Books: Informal Papers. Cambridge: Harvard University Press, 1926. P.312
Chinoiserie: Fisherman with Two Nets is represented in the Frick photoarchive, but the other two drawings by Pillement are not. So, specifically what about this composition, more than any other, won Greene's favor?
"Preface," in The China Trade and Its Influences . New York: The Metropolitan Museum of Art, 1941.
---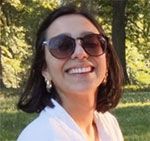 Araceli is a Ph.D. student in Art History at the Graduate Center, CUNY. Her research is focused on twentieth-century print and visual culture. She has previously earned her M.A. from the University of Chicago and has previously worked at The Fine Arts Museums of San Francisco, The National Museum of Mexican Art in Chicago, The Art Institute of Chicago, and the Newberry Library.