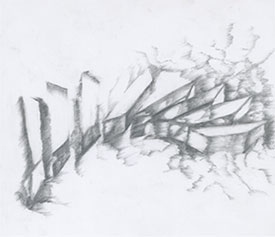 Friday, June 9, 2023, 6 PM
Jennifer Mundy
American-born Liliane Lijn is a pioneering and visionary artist, whose richly varied contributions to contemporary art span more than six decades. Living in Paris, New York and Athens before making London her home from the mid-1960s, she became known while still in her early twenties for her mesmeric kinetic and light-based sculptures. Passionately absorbed by scientific and Buddhist perspectives on reality, she made energy, or what she called 'atomic truth', the subject and medium of her art.
In the early 1980s, Lijn continued with her light-based work but also wanted to create a new imagery of the feminine spirit, for herself and for other women. Seemingly changing her direction, she made body-related sculptures including, later, bronze casts taken from her own body. This lecture will look at this pivotal period within Lijn's evolution, focusing on her 1983 artist book, Crossing Map and specifically its 150 or so original drawings, executed mainly in pencil, that have not been discussed in literature on the artist or seen publicly for forty years. Reflecting Lijn's vision of life as flow, these intriguing and beautiful images slip seamlessly across the volume's pages like a visual score. Part autobiography, part science fiction and part reflections about human relationships, Crossing Map is an ambitious but little discussed tour de force that evolved over sixteen years.
Jennifer Mundy, Thaw Senior Fellow and former Head of Art Historical Research, Tate, London, will explore what this book and its drawings reveal about Lijn's development as an artist at a critical point in her career, and why she described Crossing Map as her 'credo as a woman'.
Sponsored by the Morgan Drawing Institute, the annual Thaw Lecture aims to address critical topics in the study of drawings.