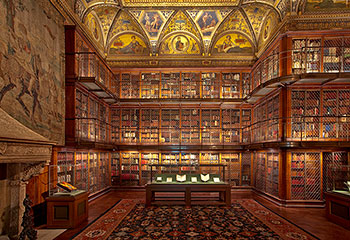 Rush Hour Music In Mr. Morgan's Library
This new "rush hour" series features celebrated artists performing Baroque to contemporary chamber music and jazz in the intimate and sumptuous surroundings of Mr. Morgan's Library. All concerts last approximately one hour.
Le Nymphe di Rheno
New York Baroque Incorporated
Works for two and three viols by Schenck, Couperin, and Marais, with musicians Wen Yang, Sarah Cunningham, and Shirley Hunt.
SOLD OUT
The Morgan's 2019 series of Rush Hour concerts will be announced in summer 2018. Join our email list for more information. 
Tuesday, April 24, 6:30 pm