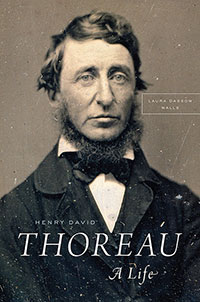 Laura Dassow Walls
Join Laura Dassow Walls, author of the forthcoming Henry David Thoreau: A Life, for an illustrated presentation on the profound, inspiring complexity of Henry David Thoreau. Drawing on Thoreau's copious writings, published and unpublished, Walls presents a Thoreau with all his quirks and contradictions: the young man shattered by the sudden death of his brother; the ambitious Harvard College student; and the ecstatic visionary who closed Walden with an account of the regenerative power of the Cosmos.

The exhibition This Ever New Self: Thoreau and His Journal will be open at 5:30 pm for program attendees.
"Past scholars have tended to see the period after 1854 as a falling off—the end of Thoreau's career as a writer. . . . But Ms. Walls convincingly shows that Thoreau's journals are his second great masterpiece...If the Thoreau beyond 'Walden' is an author for our time, then Laura Dassow Walls is his biographer." –The Wall Street Journal
Wednesday, July 26, 6:30 pm
Tickets:
$15; $10 for members; free for students with valid ID.