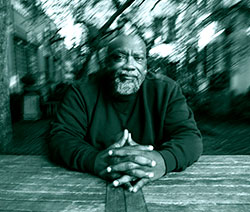 Fred Moten
The Morgan is excited to welcome the sui generis writer, critical theorist, and artist Fred Moten as the featured poet for the 2019 Kenneth A. Lohf Poetry Reading. Moten is the author of the National Book Award finalist for poetry, The Feel Trio (2014), The Little Edges (2015), and The Service Porch (2016). He has been the Sherry Memorial Visiting Poet at the University of Chicago, and the recipient of the Stephen E. Henderson Award for Outstanding Achievement in Poetry. Moten's influential critical works include In the Break: The Aesthetics of the Black Radical Tradition (2003) and the trilogy, consent not to be a single being (2017-18), which includes the essay collections Black and Blur, The Universal Machine, and Stolen Life. Moten teaches in the Department of Performance Studies at New York University. In 2018, he received the inaugural Roy Lichtenstein Award from the Foundation for Contemporary Arts.
Please join us for the fourth annual reading in this series honoring Kenneth A. Lohf (1925–2002)—a literary scholar, rare book librarian, and longtime member of the Morgan's Council of Fellows. Lohf bequeathed to the Morgan his extensive collection of books and manuscripts by English poets. Previous readers include Ron Padgett, Tracy K. Smith, and Eileen Myles.  The program will be held in J. Pierpont Morgan's Library and will be followed by a reception.
Wednesday, April 17, 6:30 PM
Tickets:
$15; $10 for Morgan Members; free for students with a valid ID. Seating is limited.