11 x 7 x 5 3/4 inches (27.9 x 17.8 x 14.6 cm)
Purchased on the Charles Ryskamp Fund.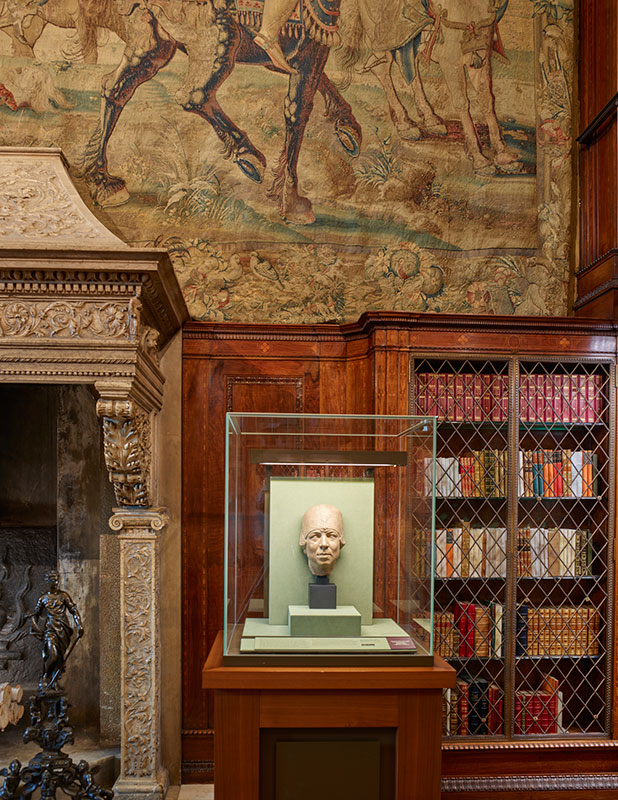 Bust on view in the East Room of
J. Pierpont Morgan's Library.
Belle da Costa Greene was one of the most prominent American librarians and cultural leaders of the first half of the twentieth century. She first entered this room in late 1905, when she began work as the private librarian of financier and collector J. Pierpont Morgan (1837–1913). The daughter of educator, diplomat, and activist Richard Theodore Greener, the first Black graduate of Harvard College, Greene grew up in a community of color in Washington, DC. After Belle's parents separated during her childhood, her mother changed her surname and that of her children to Greene. From that point on, they publicly described themselves as Americans of Portuguese descent and passed as white in a deeply segregated and racist society.
For forty-three years—nineteen as the Morgans' private librarian and twenty-four as this institution's first director—Greene presided over this grand library. She built one of the country's finest collections of rare books and manuscripts in a landscape dominated by white male booksellers, art dealers, and scholars. This bust by the American artist Jo Davidson was recently discovered among the works held by the artist's estate and acquired by the Morgan in 2018. It is the only known sculpted portrait of Greene and one of the few surviving life portraits of her in any medium. Read more »
Inscription:
Signed: Jo Davidson / 1925 (proper left); marked: Belle / D'Acosta [sic] / Greene (ink rear).
Notes:
A sculptor well known for his portraits, Jo Davidson made numerous busts of writers, artists, and political and military figures during the first half of the twentieth century. Among his most famous portraits are one of Gertrude Stein and the one of Franklin Delano Roosevelt that is now in the FDR's Four Freedom Parks on Roosevelt Island. This terra-cotta bust of Belle da Costa Greene was recently rediscovered in the Estate of Davidson. Like many of Davidson's portraits, it was probably not a commission but one of the busts he made when he encountered people whose face he found interesting. Davidson may have met Belle Greene through publisher and bibliophile Mitchell Kennerley, who was a close friend of both of them, especially in the mid-1920s. This is the only known sculpted portrait of the first director of the Morgan Library.