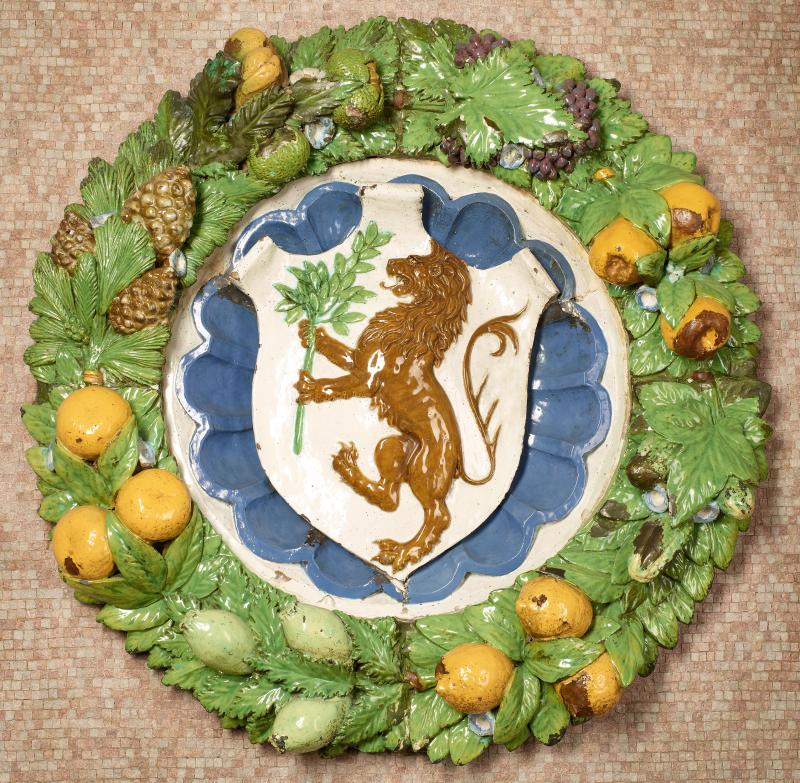 Atelier of Giovanni della Robbia
Florence, Italy, ca. 1510.
diameter: 28 inches (711 mm); depth: 4 1/2 inches (114 mm)
Provenance:
Cambini Family, Florence; Frescobaldi family, Florence; Stefano Bardini (1836-1922), Florence; his sale, London 26-30 May 1902, lot 505; at which purchased by Durlacher Brothers for J. Pierpont Morgan.
Notes:
In a note of 26 May 1902, after the first day of the sale, Durlacher wrote Morgan "I will carefully select two of the Della Robbia medallions." This medallion was recalled from the Metropolitan Museum of Art by J.P. Morgan, Jr., after his father's death, and installed in the Library ca. 1915-17.
Summary:
The arms: Argent, a lion rampant or, bearing a branch vert, are on a blue fluted disc surrounded by a wreath of continous bunches of fruit and flowers.