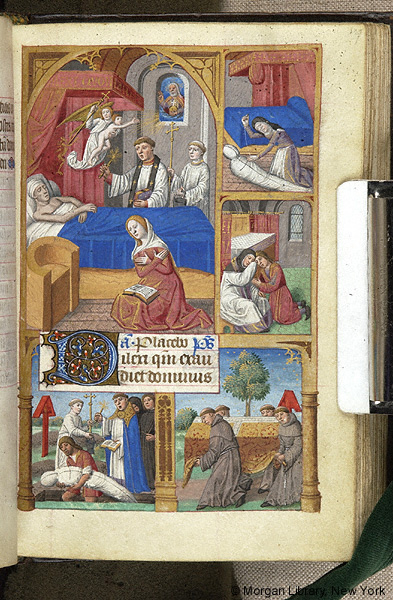 Created:
Paris, France, ca. 1485-1490.
Binding:
Said to have been bound in honor of the occasion of the Apr. 24, 1558 marriage of Mary, Queen of Scots and the Dauphin (later Francis II); French 16th-century brown morocco, gilt-tooled band design with small fleurs-de-lis, date 1558, and motto: Humilite, Je Prise.
Credit:
Purchased by J. Pierpont Morgan (1837-1913) in 1902.
Description:
207 leaves (1 column, 16 lines), bound : vellum, ill. ; 171 x 122 mm
Provenance:
A. Firmin-Didot sale (Paris, 1879, no. 23) to Fontaine; Prince Liechtenstein Collection; bought (May 29, 1896) by Richard Bennett; Catalogue of manuscripts and early printed books from the libraries of William Morris, Richard Bennett, Bertram, fourth Earl of Ashburnham, and other sources, no. 49; purchased by J. Pierpont Morgan (1837-1913) with the Bennett Collection in 1902; J.P. Morgan (1867-1943).
Notes:
Book of hours for the use of Paris (Hours of the Virgin, Office of the Dead); calendar in French; written and illuminated in Paris, France, ca. 1485-1490.
Decoration: 30 miniatures, 5 with historiated borders; 24 calendar illustrations.
Artist: Chief Associate of Maître François (tentatively identified with François le Barbier [or François Le Barbier] fils [son], active ca. 1480-1501; see Mathieu Deldicque, Revue d'art, no. 183/2014-1, p. 9-18).