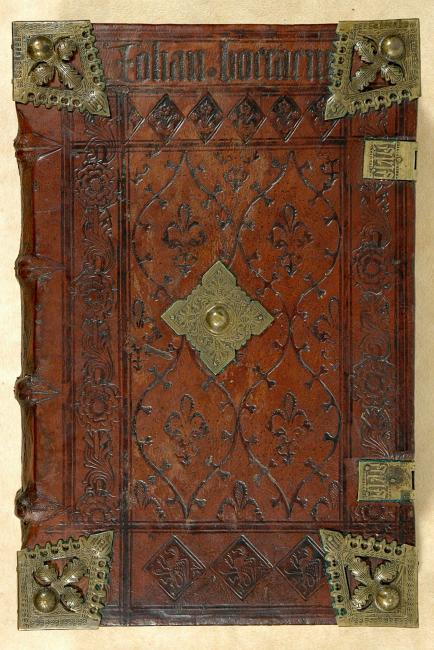 Published:
Impressum Regii : [Bartholomaeus and Laurentius de Bruschis, Bottonus,] Anno Salutis .M.CCCC.LXXXI. pridie Nonas Octobris [6 October 1481].
Description:
[356] leaves ; 31 cm (fol.)
Notes:
Title from incipit (leaf [1]/1r): Genealogiae Deorum g[en]tiliu[m] ad Ugonem inclytu[m] hierusale[m] & Cypri Regem secu[n]dum Joannem boccacium d[e] certaldo liber primus i[n]cipit foeliciter. Prohemiu[m].
Printer's names from ISTC. City and date from colophon (leaf ee2v): Dum tua boccaci propriis Laurentius auget / Su[m]ptibus: & reddit nomina clara magis / Hoc opus aere notans: tu[n]c stirps bottona vire[n]te[m] / Et que[m] flet Regium: mors inopina rapit. / Post lachrymas tande[m] frater virtutis amore / Tam pulch[rum] exegit Bartholomeus opus. / Impressum Regii Anno Salutis .M.CCCC.LXXXI. pridie Nonas Octobris.
Printed in type 2:97R.
Collation: [1]¹⁰; a-l¹⁰ m¹⁴ n-r¹⁰ s⁶ t-x¹⁰ y-z⁸ &⁸ [con]¹⁰ aa⁶; ²aa⁴ bb-cc¹⁰ dd(dd11+ee²)¹⁰; st¹⁰ ct¹⁰ A-C¹⁰ D⁸: 356 leaves, leaf &8 blank. Quire ee is a bifolium inserted after leaf dd11.
"Quire ee consists of a single sheet inserted between the eleventh and last leaves of quire dd"--British Museum catalogue.
Paper format: Chancery folio
With an index to the Genealogia deorum by Domenico Bandini, leaves 2a1v-2d(2e2r); and verses on the Genealogia by Domenico di Silvestro, leaf 2d(2e2v).
"Reprinted, mostly with the same page-contents, from Vindelinus de Spira's edition, Venice, 1472 and 1473 ... but omitting the tracts De stagnis et paludibus and De diuersis nominibus maris at the end, substituting a different metrical colophon for that of Zovenzonius, and adding a register. Quire m expands into 14 leaves, some with short pages, the matter (lib. vii) compressed into 12 leaves, mostly with long pages, by Vindelinus, while the first aa compresses into six leaves the matter (lib. xv) printed on 13 pages by Vindelinus."--British Museum catalogue.
PML copy leaf dimensions: 30.0 x 19.5 cm
Binding:
Contemporary German blind-stamped calf over wooden boards (31 x 20.5 cm), sewn on 4 supports by the Blumenstock I workshop, Nuremberg (EBDB w002165, Kyriss 116, a.k.a. Hieronymus Münzer-Meister, active 1472-1490). Corner pieces and central boss; 2 clasps, wanting. Plain paper pastedowns; decorative endbands; edges colored yellow.
Variant Title:
Genealogiae deorum gentilium
Inscriptions/Markings:
Hand decoration: Rubricated, red and blue alternating lombards and paragraph marks, red capital strokes. Annotations: Quire ²aa changed to [rum] and catchword added to dd11v for ee1 and Registrum altered to reflect insertion.
Provenance:
Hieronymus Münzer (d. 1508), ownership inscription, 1483: "Hic prelcarus liber est mei Hieronimi Monetarii de Feltkirchen arcium medicineque doctoris quem mihi ex urbe Romana redeundo Mediolani comparavi et mecum ad Nurenbergam adduxi in diebus Decembris anno 1483," and table of contents (front pastedown); Austria, Bundesdenkmalamt, stamp, 13 XI 27 (front pastedown); E.P. Goldschmidt & Co., cat. XIV, no. 19; Pierpont Morgan Library, purchased from Goldschmidt, May 1928.