February 4 through May 1, 2011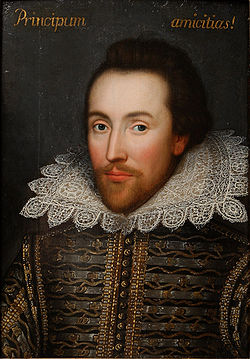 In 2009 when the Shakespeare Birthplace Trust in Stratford-upon-Avon unveiled a previously unknown portrait painting with strong claims to be the only surviving life-time portrait of William Shakespeare, it created an international sensation. The Jacobean painting had hung unrecognized for centuries in an Irish country house belonging to the Cobbe family. Both this portrait and a recently identified portrait of Shakespeare's patron and dedicatee, Henry Wriothesley, 3rd Earl of Southampton, were inherited by Archbishop Charles Cobbe (1686-1765). Recent technical analysis—as well as the portrait's superior quality—has established it as the original of a long series of portraits traditionally identified as Shakespeare. The Cobbe portrait has significant resemblances in costume and design to Martin Droeshout's engraving of Shakespeare published in the First Folio (1623) and bears a Latin inscription taken from a poem by Horace addressed to a playwright.
Also on view for the first time in the United States are the Shakespeare Birthplace Trust's recently acquired "Ellenborough" portrait of Shakespeare; the privately owned Fitzgerald portrait of Shakespeare; and a copy of Venus and Adonis, the narrative poem Shakespeare dedicated to his patron, the 3rd Earl of Southampton, in 1593. Works from the Morgan's collection on display in the exhibition include an important New Year's gift roll that records the earl's gift to Elizabeth I in 1596; the Morgan's first-folio edition of Shakespeare's plays (1623); and a portrait of Shakespeare acquired by Pierpont Morgan in 1910.