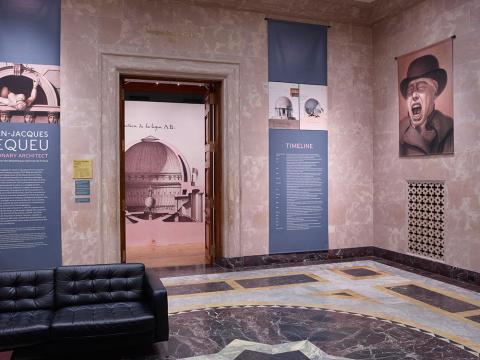 In 1825, after struggling for nearly a decade to find a buyer for his drawings, Jean-Jacques Lequeu (1757–1826) donated 823 sheets to the Print Department of the Royal Library in Paris. Although Lequeu defined himself as an architect and began his career working on building sites, he spent the majority of his life as a government draftsman shifting between bureaucratic offices before being forced to retire on a meager pension. His gift to the Royal Library reflected a hidden dimension of Lequeu's draftsmanship. Throughout his life, he worked on his own, producing animated self-portraits, plans for revolutionary monuments, teaching manuals, explorations of the body, and over one hundred designs for visionary architectural projects. The drawings in his portfolio evince remarkable skill and creativity, an inventiveness inspired by both classical and contemporary writings, and the artist's own vivid imagination.

Born during the reign of Louis XV (r. 1715–74), Lequeu was a witness to the death throes of the ancien régime, the upheavals brought about by the French Revolution, and the new order established under Napoleon's empire. His work, created in solitude and fueled by self-study, reflects the opportunities and vicissitudes of his troubled times and a vision of architecture that defied academic boundaries.
---
This online exhibition was created in conjunction with the exhibition Jean-Jacques Lequeu: Visionary Architect on view January 31 through September 13, 2020.

Jean-Jacques Lequeu: Visionary Architect is organized by the Morgan Library & Museum and the Bibiliothèque nationale de France with the cooperation of Paris Musées.

The exhibition was presented at the Petit Palais, Musée des Beaux-Arts de la Ville de Paris, from 11 December 2018 to 31 March 2019. Exhibition curators were Corinne Le Bitouzé and Christophe Leribault and scientific collaborators were Laurent Baridon, Jean-Philippe Garric, and Martial Guédron. The curator of the exhibition at the Morgan is Jennifer Tonkovich, Eugene and Clare Thaw Curator of Drawings and Prints.

The exhibition is made possible by generous support from the Pierre and Tana Matisse Foundation, an anonymous donor, the Alex Gordon Fund for Exhibitions, and Aso O. Tavitian, with assistance from Robert Dance and Hubert and Mireille Goldschmidt.