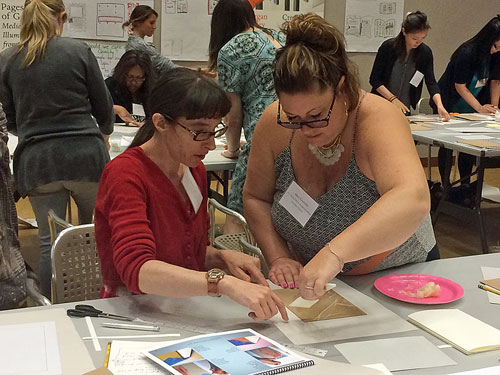 If you are a New York City public school teacher, join us for one of our teacher workshops and experience the Morgan Library & Museum's unique school programs that you can bring to your students. The workshops will highlight Colors of the World and the Morgan Book Project and include a hands-on activity.
The Morgan Library & Museum is an accredited sponsor for CTLE requirements. Teachers may credit these courses towards the New York State (NYS) 100 hours of Continuing Teacher and Leader Education (CTLE) requirement.
Free 2020–2021 Professional Development Workshops:
February 1, 2021 Professional Development Day
 (Virtual Event via Zoom)
Registration Period: January 1-27, 2021

June 3, 2021 Chancellor's Conference Day

Registration Period: May 3-June 2, 2021
Register Here

Registration is required: Registration will be available on Eventbrite approximately one month prior to each event. Please check back for more details as each event approaches.

Location:  The Morgan Library & Museum (Due to COVID-19, Teacher Workshops may be held virtually and are subject to change.)

Directions: subway no. 6 to 33rd Street; 4, 5, or 7 to Grand Central; B, D, F, or M to 42nd Street/Bryant Park; bus M2, M3, M4, or Q32 to 36th Street; public parking available nearby
Time: 9 am to 3:30 pm
Fee: FREE (on site events include complimentary continental breakfast)
In our full-day Professional Development Workshops, you will:
Learn about the Morgan Library & Museum's school programs, highlighting Colors of the World and the Morgan Book Project and their relevance to the CCSS and Danielson's Framework;
Discuss integration of the visual arts into earth science, ELA, and social studies;
Explore extraordinary examples of medieval and Renaissance manuscripts from the Morgan's collection;
Make paint following historic recipes and methods from cities along ancient trade routes;
Create a small illumination complete with 22 karat gold leaf.
The workshops are recommended for visual arts and academic teachers grades 3 through 12 interested in integrating book arts into their curriculum.
Download this PDF for more information about the goals and objectives of the Morgan's Teacher Workshops.
Professional Development Workshops provide five CTLE credits for on site events, or three CTLE credits for virtual events.
*Due to great demand and limited space, we can accept only two teachers per school. Priority will be given to Title I New York City Public Schools.
Image credit:
Teachers: Photography by Alison MacKenzie