William Morris wrote the poetic romance Love Is Enough in the form of a masque or a medieval morality play. It was not a popular success even though Morris was already famous for his medievalizing poetry. Now its literary value is less significant than the evidence it provides for his antiquarian pursuits and bookmaking ambitions.
Morris looked to Love Is Enough as an opportunity for typographical experiments with his friends the publisher Frederick Startridge Ellis and the artist Edward Burne-Jones. They printed trial pages with woodcut ornamental borders and floriated initials. After viewing the proofs, they decided against that approach because the type did not match the weight of the woodcuts. Ellis published the first edition without illustrations except for a vignette of three musicians in the large-paper copies (see p. 135). This was not the first or last of Morris's attempts to emulate the letterforms and layout of the illuminated manuscripts and the illustrated incunables in his collection. (Purchased in 1902, many of those books became the kernel of Pierpont Morgan's personal library.)
Eventually Morris founded a private press to implement his book-arts ideals. This innovative venture, the Kelmscott Press, gave him the means to print texts of his own choosing with his specially designed proprietary types, initials, borders, ornaments, and illustrations. A year after he died, his executors fulfilled his intentions for Love Is Enough by printing it in his Kelmscott types with illustrations by Burne-Jones.

This copy is a precursor of the Kelmscott edition. It belonged to Ellis, who had it embellished with floral decorations and a special binding as a memento of his rewarding relationship with the author. Instead of the typographical ornaments they had rejected, it contains watercolor flowers and foliage supplied by Ellis's niece Beatrice Pagden. Morris designed an elegant gilt-stamped green cloth binding for the original edition. In this copy that binding was replaced by a magnificent gilt-tooled morocco binding by Morris's disciple Thomas James Cobden-Sanderson, a founder of the Arts and Crafts Movement. It was one of nineteen Cobden-Sanderson bindings displayed in the first Arts and Crafts exhibition in 1888. Pagden's decorative work inside this volume and Cobden- Sanderson's on the cover attest to the privileged position of this book in the circle of William Morris and the history of typographic design.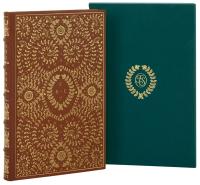 The Folio Society has issued a printed facsimile of this volume in an edition of 750 copies. Some copies are available in the Morgan Shop.