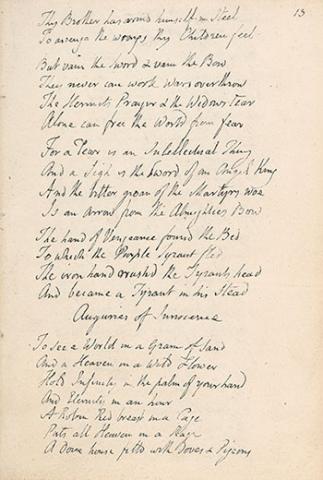 "Auguries of Innocence" read by Jeremy Irons
This manuscript in William Blake's hand is the sole source for seven of his poems, including "Auguries of Innocence." The ten poems in these pages were probably composed between the years 1800 and 1804. The manuscript is a fair copy, written out neatly with only a few emendations. The current scholarly consensus is that Blake probably created it around 1807. To make it, Blake re-used paper from another project, William Hayley's Designs to a Series of Ballads (to which he had contributed illustrations): he cut away the printed texts and wrote out his poems on the blank inside margins.
It isn't known exactly why Blake created this manuscript, whether for publication or as a gift or for some other purpose. It remained in Blake's possession throughout his life and was inherited by his wife Catherine after his death in 1827.
In 1863, eight of the poems made their first public appearance in Life of William Blake, Pictor Ignotus, an early biography of Blake begun by Alexander Gilchrist and finished by his wife Anne, with the help of Dante Gabriel Rossetti and William Michael Rossetti. The Morgan's manuscript has come to be known by the name of a later owner, Basil Montagu Pickering, who acquired it in 1865. Pickering published all of the poems in the manuscript the following year in Songs of Innocence and Experience, and Other Poems, edited by R. H. Shepherd..
According to William Michael Rossetti's recollections, the manuscript was originally bound in dark olive-tinted wrappers. In 1866, Pickering had the manuscript bound in red leather by F. Bedford. It was rebound in cream rag paper in 1980 by Deborah Evetts, a bookbinder on the Morgan staff.
Introduction by Sal Robinson, Assistant Curator of Literary and Historical Manuscripts, 2021.