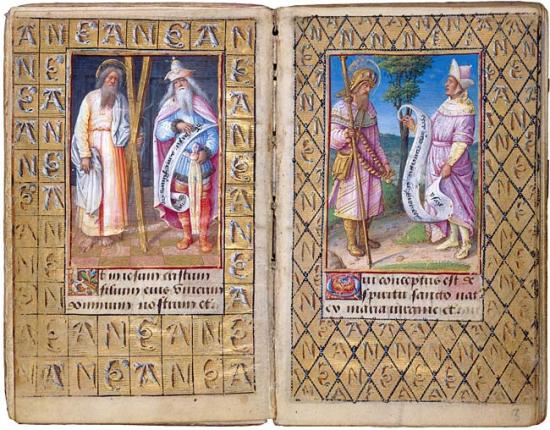 The Apostle Andrew and the Prophet David
The Apostle James the Major and the Prophet Isaiah
Prayer Book of Anne de Bretagne
Illuminated by Jean Poyer
The Pierpont Morgan Library, Purchased in 1905
Item description:
This prayer book was commissioned by Anne de Bretagne, wife of two successive kings of France, Charles VIII and Louis XII, to teach her son, the dauphin Charles-Orland (1492–1495), his catechism. It was painted in Tours by Jean Poyer, an artist documented as working for the queen. The book is richly illustrated, and its thirty-four airy, light-flooded miniatures are among the most delicate examples of late-fifteenth-century art.
Page description:
The Apostle Andrew and the Prophet David (fol. 2v, left)
Andrew, the "first called" by Christ, holds the cross upon which he was martyred. David, like all the prophets, holds a scroll inscribed with words thought to prefigure Christian beliefs. His scroll quotes Psalm 2:7, D(omi)n(u)s dixit a(d) me filius (The Lord hath said to me: thou art my son).
As attributes identify the saints, exotic costume distinguishes the prophets as belonging to the Old Testament. King David's particularly foppish dress probably alludes to his sinful past.
Attributes (such as Andrew's distinctive X-shaped cross) were devices commonly used by medieval, Renaissance, and baroque artists to identify a saint.
The Apostle James the Major and the Prophet Isaiah (fol. 3, right)
St. James wears the outfit of a medieval pilgrim: tall staff, traveling satchel, rosary, and cockleshell hat. Opposite him stands Isaiah, unfurling his scroll. As in many of the miniatures, apostle and prophet are depicted as if in theological debate or pensive conversation.
James is attired as a pilgrim because his burial site, Santiago de Compostela in Spain, was the most popular of all medieval pilgrimage shrines.
The Apostles' Creed, the third prayer in Anne's Prayer Book, is not written in continuous text but is divided into the Twelve Articles of Faith, one per page.