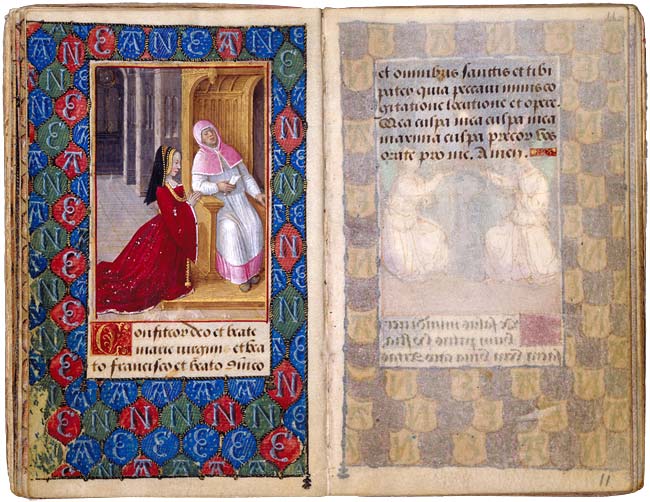 Anne de Bretagne at Confession
Prayer Book of Anne de Bretagne
Illuminated by Jean Poyer
The Pierpont Morgan Library, Purchased in 1905
Description:
This prayer book was commissioned by Anne de Bretagne, wife of two successive kings of France, Charles VIII and Louis XII, to teach her son, the dauphin Charles-Orland (1492–1495), his catechism. It was painted in Tours by Jean Poyer, an artist documented as working for the queen. The book is richly illustrated, and its thirty-four airy, light-flooded miniatures are among the most delicate examples of late-fifteenth-century art.
Page description:
Anne de Bretagne at Confession (fol. 10v, left)
Anne is shown at confession, kneeling, not in a wooden enclosure but beside her confessor, who leans toward her to hear her whispered sins. The miniature illustrates the Act of Confession.
Private devotional books were often personalized with portraits of the individual who commissioned them. The fact that Anne is shown as a sinner indicates that she personally commissioned this book, for no one would have dared to give the queen a book that represented her in this way.
Poyer paints Anne wearing the Breton cap, which signified her ties to her homeland of Brittany, and dress in maroon, a favorite color of the queen.