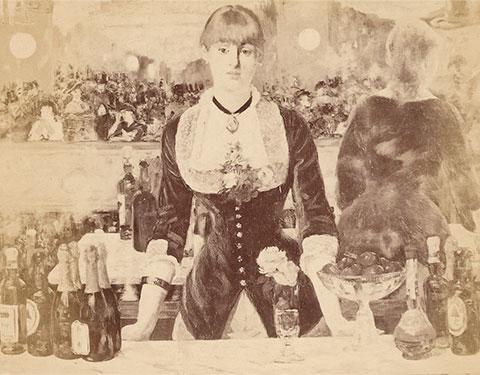 These three volumes, along with a fourth in the collection of the Bibliothèque nationale de France (BnF) in Paris, form a unique record of the work of the artist Édouard Manet (1832–1883). Featuring photographs of Manet's work by Fernand Lochard (1824–1889), whom the artist's family commissioned to document the paintings, pastels, drawings, and prints in Manet's studio (and select works in other collections) at the time of his death in April 1883, the volumes are known as the "Lochard albums." Annotations to the album pages were added over time, first by Léon Koëlla Leenhoff (1852–1927; the son of Manet's widow, Suzanne Manet), then by art critic and dealer Théodore Duret (1838–1927), and still later by art historian and journalist Adolphe Tabarant (1863–1950).
This digital facsimile presents the contents of the Morgan Library & Museum's three Lochard albums; the related album in the collection of the BnF is available here. The artworks depicted in each photograph have been identified and their corresponding reference numbers in the two catalogues raisonné of Manet's work have been provided.
For paintings, watercolors, and drawings:
Manet: Catalogue raisonné, Volume I (Paintings) and II (Pastels, Watercolors, and Drawings), edited by Denis Rouart and Daniel Wildenstein (Fondation Wildenstein and La Bibliothèque des Arts, 1975).
For etchings, lithographs, and engravings:
L'œuvre gravé de Manet, edited by Marcel Guérin (Librairie Floury, 1944).
This introduction is based on the work of many scholars who have studied these albums, most especially Juliet Wilson-Bareau. The Morgan is deeply indebted to their scholarship and hopes that the publication of this digital facsimile will foster future collaborative endeavors.
Daria Rose Foner, Research Associate to the Director, and Sal Robinson, Assistant Curator, Department of Literary and Historical Manuscripts
Posthumous inventories of Manet's work
Following Manet's death on April 30, 1883, his wife, Suzanne (née Leenhoff; 1829–1906), and her son, Léon Koëlla Leenhoff, oversaw Manet's posthumous affairs. On June 18, they hired the notary Laurent Marie Édouard Cotelle (b. 1849) to draw up an official inventory of the artist's estate (finalized that December), which included lists of Manet's works in the possession of his mother, Eugénie-Désirée Manet (née Fournier; 1811–1895) and of the paintings, pastels, drawings, and prints that remained in his studio at 77 rue d'Amsterdam. Each work on the list was given an appraised value and the contents of his studio were valued at a relatively modest 43,120 francs.
During this same six-month period, Leenhoff created his own register of 325 of Manet's works (now in the collection of the BnF), including not only those in the official inventory but also others in the collections of close friends, including the journalist and politician Antonin Proust (1832–1905). To supplement the register, Leenhoff hired Fernand Lochard, a photographer and purveyor of photographic equipment – who worked at 39, rue Laval, only a few blocks from Manet's studio – to photograph the works. The resulting images were later assembled in four albums. The three Morgan volumes contain photographs of 283 works – 146 paintings (including one on Manet's own palette; Vol. 3, p. 81), 53 etchings, 34 pastels, 19 watercolors, 24 drawings, 6 lithographs, and 1 woodcut; the BnF volume contains photographs of 91 works – 52 paintings, 17 etchings, 15 pastels, 5 drawings, 4 lithographs, and 1 watercolor.
Leenhoff explained his rationale for composing the albums in 1910 when he compiled a book of notes with transcribed excerpts from certain letters and documents for the art historian and collector Etienne Moreau-Nélaton (1859–1927). In preparation for his 1926 publication, Manet raconté par lui-même , Moreau-Nélaton gathered a dossier of material related to the artist. Moreau-Nélaton bequeathed this collection, which included the fourth album of photographs, to the BnF in 1927. In his notes, Leenhoff recalled:
After Manet's death, I had the idea of having everything that was left in the studio photographed. I contacted Lochard, a photographer known to artists. I did not wish to incur any great expense, having still to pay for framing. We agreed on a price for a certain number. His invoices are in the inventory. I therefore established a register numbered from 1 to 327… These numbers are on both [i.e. the register and the albums], which is what makes all the information correspond.1
Creating and annotating the albums
The Lochard albums, like Leenhoff's register, are heavily annotated, complex artifacts. Composite in nature, the process by which these multi-layered works were assembled is worth explaining in detail.
First, Lochard photographed the artworks and produced silver albumen prints. The photographs were then trimmed and mounted on large, stiff beige cards, after which Leenhoff began to annotate the pages. At this point he added only cursory notes in pencil: the work's title, date, dimensions (and, on occasion, the name of its current owner), and the number assigned in the register.
Several months later – possibly during the summer of 1884 – following the memorial exhibition at the École des beaux-arts, Paris, from January 6–30, 1884, and the auction of the majority of Manet's remaining works at the Hôtel Drouot, Paris, from February 4–5, 1884, Leenhoff returned to the cards. (The pages that include photographs of groups of prints, such as Vol. 3, p. 19, reflect the framed arrangements in the January exhibition.) Leenhoff now added additional notes in pen, sometimes writing over the initial penciled notes, at other times erasing them altogether. These annotations repeat the work's title and date, but include further details about exhibition history, provenance, and information about the frames (many of the works were specially framed in advance of the exhibition at the École des beaux-arts). Probably around the same time, the red chalk numbers corresponding to the numbers in the Drouot sale catalogue were also added.
Only later were the loose pages organized and bound into the four albums, each labelled Album de Photographies on the spine. The dark green leather binding required the trimming of several of the cards, thus cropping some of Leenhoff's earlier notes and partially obscuring others. The binding may have been completed in haste as a handful of the pages, including the one showing a study for Monet in his Studio Boat,1874 (Vol. 3, p. 41; Staatsgalerie, Stuttgart) were bound while oriented incorrectly. Leenhoff's annotations to the albums, though extensive, were only the beginning of an ongoing process: others would augment and amend the commentary on the photographs.
At some point afterwards, once the albums had been assembled, the art critic, collector, and dealer Théodore Duret reviewed the albums with a pen in hand. He may have added his detailed ink annotations around 1902, when his Histoire d'Édouard Manet et de son œuvre was published – several of Duret's notes refer specifically to his Histoire, occasionally quoting from it directly. He numbered each page in the upper left corner according to its order in the bound volume and added the work's medium in the upper right corner – though in volumes two and three some of these notes were made by Leenhoff himself. It was most likely at this point that Duret also created each album's table of contents, which list the works according to medium. Duret then supplied additional notes in pen – as on the verso of Manet's Woman (Berthe Morisot) in Rose Shoes (Vol. 2, p. 7; Hiroshima Museum of Art) – often including further information about a work's subsequent provenance and exhibition history, as well as transcriptions of excerpts from related correspondence, on occasion. Finally, Adolphe Tabarant, who subsequently owned the albums, added in pen in the lower right the number he assigned the work in his 1931 publication, Manet: Histoire catalographique.
Dating the Photographs
The photographs in these albums were created at some point between May and December 1883, although it is difficult to determine exactly when with greater certainty. At least some of the works, including the etching The Toilette, 1862 (Vol. 2, p. 13) were photographed in batches in late October 1883, as noted on the album page. In several instances, such as the painting Woman in Striped Dress, ca. 1877–80 (Vol. 1, no. 75; Solomon R. Guggenheim Museum, New York), the photographs suggest that some of the artist's canvases remained unfinished at the time of his death. These paintings now exist in a "finished" state: the Lochard photographs therefore help establish that the additions were painted by someone other than Manet.
Sample album page
Figures 1–8 illustrate an example from Vol. 1, p. 25 (recto and verso), containing a photograph of Manet's celebrated painting A Bar at the Folies-Bergère (Courtauld Gallery, London). Page through the images to read the various annotations added over time by Leenhoff, Duret, and Tabarant.
Explore sample page
Provenance of the Morgan's Lochard albums
When Tabarant died in August 1950, his daughter, Lucienne Tabarant (1898–1989), inherited the albums. In 1960 she sold them as part of a large collection including more than one hundred letters, household accounts, books from Manet's library, and additional photograph albums, to the American writer and editor Mina Kirstein Curtiss (1896–1985), who was working on a biography of Manet that remained incomplete at her death. (Manet's only surviving sketchbook, also available on the Morgan's website as a digital facsimile, was part of the same collection.) The Morgan Library & Museum purchased the Tabarant collection in 1974 as the gift of Jane Engelhard (1917–2004) and her children in memory of her husband, Charles W. Engelhard Jr. (1917–1971).
Also part of the extensive Tabarant collection is a complementary set of two additional albums. Known as the Godet albums, they contain photographs of Manet's work taken by Manet himself as well as a member or members of the Parisian firm Godet et Compagnie. Located close to Manet's studio in the Batignolles, the Godet family firm, which produced photographic records of paintings as well as portraits of Manet and other artists in his circle, also documented the 1884 memorial exhibition at the École des beaux-arts.
Endnotes
"Après la mort de Manet, j'avais eu l'idée de faire photographier tout ce qui restait dans l'atelier. Je me suis adressé à Lochard, photographe connu des artistes. Je ne voulais pas faire trop de frais ayant encore à payer les cadres. Il fut convenu entre nous que pour un certain nombre, le prix serait de tout. Les factures sont dans l'inventaire. J'ai donc établi un registre numérote de 1 à 327…Ces numéros se retrouvent entre eux c'est ce qui fait que tous les renseignements correspondent ensemble." Translation by Daria Rose Foner.