Hatchlands is an estate in Surrey with a handsome brick manor notable for the interior decoration designed by Robert Adam. William Brightwell Sumner purchased the property in 1770, after having made a fortune in the East India Company. His eldest son, George Holme Sumner, inherited it in 1791 and hired Repton in 1800 to recommend the improvements recorded in this album. A member of Parliament and colonel in the Surrey militia, the younger Sumner may have learned about Repton's achievements through word of mouth, printed accounts of the Picturesque controversy, or direct observation of other Surrey estates refashioned by the master.

What he made of his Red Book is hard to tell, but he seems to have followed at least some of its instructions. In Repton's opinion, the road came too close to the house, the front of the house deserved a more fashionable facade, and the view from the dining room window would have been improved by building an orangery on an empty stretch on land. By tending to these matters, Sumner could change "a large red house by the side of a high road, to a Gentleman-like residence in the midst of a Park." Such an argument would have been hard to resist, but Sumner decided that he liked the red brick facade the way it was. He did succeed, however, in renovating his parkland, which survives today as a National Trust property of four hundred acres, including a flower garden designed by Gertrude Jekyll.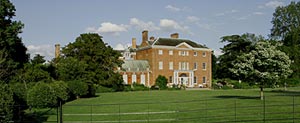 Hatchlands. Photograph courtesy of Alec Cobbe, Cobbe Collection Trust, Hatchlands.